Sasha DiGiulian is a barrier-breaking, champion rock climber. Her many credits include a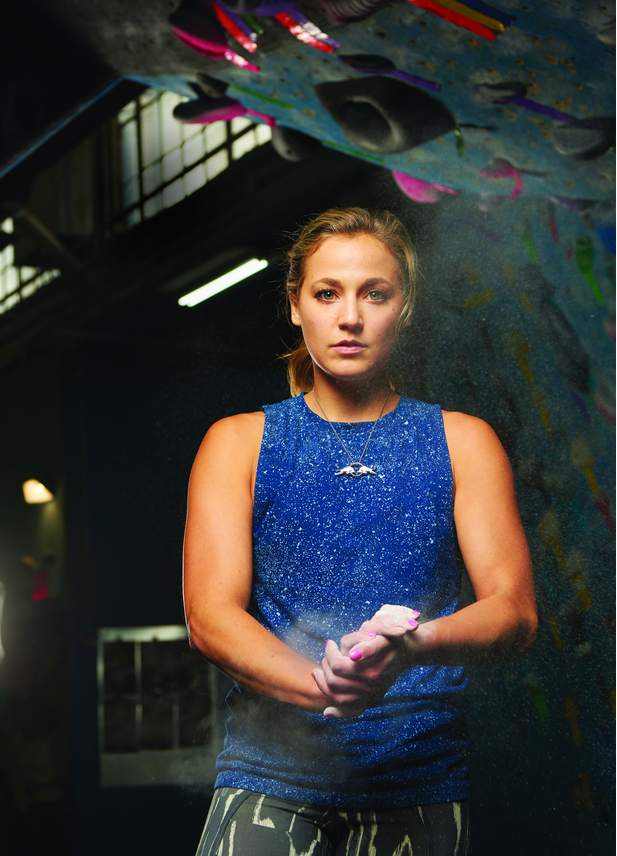 World Championship; three U.S. National Championships and she is the 2004-2014 undefeated Pan-American champion. She has more than 30 "First Female Ascents" to her name, meaning she was the first woman to climb a specific rock face, and eight significant First Ascents. Her career highlights are too numerous to mention in this space.

Sasha obviously has a fierce competitive drive. The foundation for this ambition, and for her successful climbing career, is a deep passion for being outside in nature. Her TV show 10 a.m. on a Tuesday explores various topics that relate to making a living outside. In one poignant episode, she urges congressional lawmakers to protect America's public lands through legislation. In 2021 though, her show will focus on corporate conservation, such as the AriensCo project to conserve 150 acres of native ecosystem at its headquarters.

Out Working caught up with Sasha to talk about her snow blowing skills, discuss the unseen benefits of yard work and learn how companies can help lead the next wave of land conservation.
Out Working: Your life and career are focused on being outdoors, what drew you to this lifestyle?
The majority of my childhood memories are around organized sports. I started skiing when I was three and started climbing when I was six. I grew up in Alexandria, Virginia, but my family also spent a lot of time at a house in Mont-Tremblant, Quebec, Canada. We did a lot of skiing, but we had to shovel a lot of snow there. I wish we had a snowblower back then! Outdoor recreation is what I think of as fond childhood memories, and I think it's why I care about protecting the environment for future generations.
OW: Now that you are a professional rock climber, where do you make your home, and does it still entail a lot of yard work?
I live in Boulder, Colorado, and it's a little utopia of sorts for sports and outdoor lovers. In Boulder we get a lot of snow in the winter and we get luscious green summers. I fully get both seasons. Snow blowers are definitely part of the lifestyle where I live. All of my neighbors have them. It's how you get by in the winter. It can snow 6 inches or more overnight here and if you don't have a snowblower, you'll be stuck. I had never tried a snow blower before I had an Ariens, so it was all new to me when I started snow blowing. I have a long, steep, daunting driveway that no one would dare try and climb when it's covered in snow and ice. Now, I have an Ariens Deluxe 24 snowblower and it's a great solution.

This driveway sits between my house and my training facility, the "DiGi Dojo." It's a two-car garage that we gutted and dug downward into the property to make it steeper inside. I have lots of training and climbing equipment in there, and all of my friends come up to train. So, using my Ariens snow blower literally helps me get to work, even though it's only a 50 ft commute.
OW: Like you, many of our readers work outdoors. What benefits do you see from being outside so often?
Climbing has been an awesome way to experience a large variety of outdoor landscapes around the world. When I'm climbing, I'm not trying to multitask and be on my phone. It's this total digital disconnection that is really nice. Being outside gives you this space around the chaotic nature of day-to-day digital life. I think being in the outdoors is a grounding experience. There is fresh air, sunshine — you're in the natural elements and not in an artificially controlled environment. My body definitely responds well to being outside.

I think this holds true when I'm doing yardwork or snow blowing, too. It provides a cathartic experience where you are one with the elements of nature that you are dealing with. You are outside and you are involved in a task, whether it's climbing, mowing your lawn, snow blowing your driveway, walking your dog or taking a hike — it's all this connection to doing something, rather than being absorbed into the technological landscape that seems to drive our lifestyle. Your body is doing something, and your mind is focused on that task that you're trying to accomplish. It's refreshing and invigorating.
OW: It's interesting to think that outdoor work, even though it's physically demanding, is actually giving us energy and recharging our "human" batteries.
That's right. It's incredible, screens and digital experiences make me exhausted, but when I'm outside I feel alive. I feel awakened. I can spend the whole day outside and feel totally revved or I can spend the whole day on Zoom meetings and feel totally drained. I feel like creating those spaces in your daily routine to spend time outside, whether it's time to mow your lawn, use the snow blower or to go on a hike is really important. There's that universality to being outside and doing something that is using your mind and your body that is stimulating.
OW: What are some of your favorite outdoor places in the U.S.?
I'd say that around Boulder, Rocky Mountain National Park is a really beautiful location. Yosemite, naturally as a climber, when you drive into the valley there is this magical energy that makes you feel really small, and you feel the significance of nature. I also grew up climbing in the Red River Gorge in Kentucky, and when the leaves are changing in the fall with all the deep reds, yellows and oranges, it's a very special place.
OW: AriensCo recently earned a prestigious Wildlife Habitat Certification® for its effort to restore and conserve 150 acres of native ecosystem at its headquarters in Brillion, Wisconsin. As someone that frequently promotes conservation projects and lobbies lawmakers, what are your thoughts on corporate conservation efforts?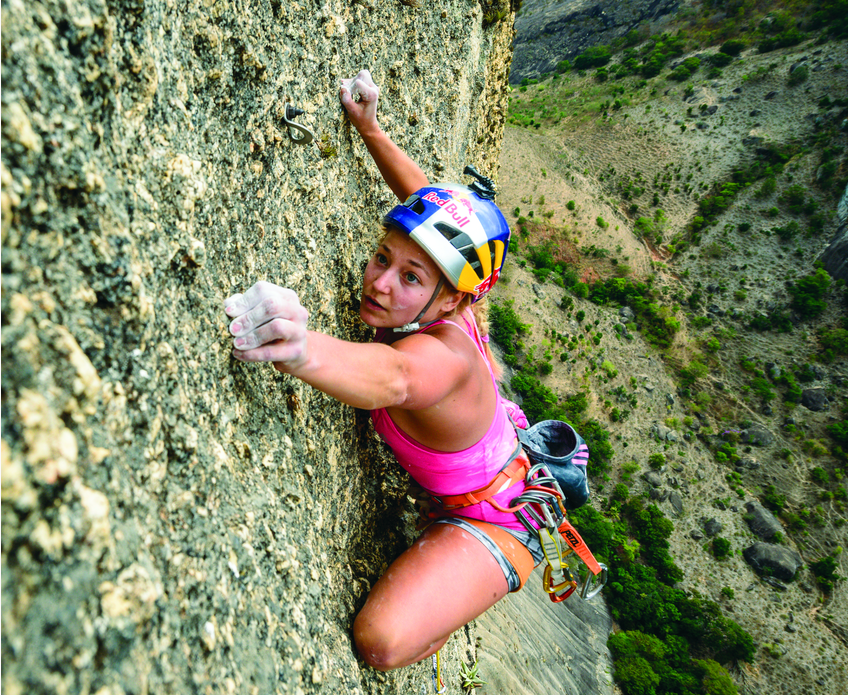 I think that we can all do our part to help conservation and keep the planet green. Securing nature for future generations is a very deeply layered topic. Governmental legislation is one piece, and what interests me a lot is corporate sustainability. Corporations really have the capacity to move the needle in a very effective way because money talks. If we can cultivate a greener economy than we can make significant strides in protecting our environment. From the way we approach responsible sourcing to food production, water and air quality, everything is connected.
The reason it matters so much to me is that I've made my living from this connection to being outside and this sport being such a passion of mine. I grew up in an urban environment and I love being in cities. I also love being outside of cities in nature. I think you can still affect environmental change. AriensCo's connection to the Wildlife Habitat Council and the fact that the company has set aside so much acreage in its own community to foster a conservation project that will benefit the people that live in and work there is a really inspiring approach to how other companies should be functioning as well. Approaching the corporate landscape as if we're all family and protecting the future for this family is really important and not all companies are doing it. When companies like AriensCo take the lead, other companies will follow.
OW: When we're talking about conservation, it's often in regard to really large pieces of land. Do you think this topic is relevant for the average homeowner or landscaper?
Sure. I would venture to say that you go to a national park and you have a really incredible experience, and it fosters this kinship with the outdoors, then you return to your own space and you look at it differently. You see this connection with what you and your family got to experience in a place that was professionally taken care of, and you get home and think, "Well, I can take care of my own piece of the pie and continue to foster this relationship with nature with the land I live on."

Plus, I think that keeping the vibes positive and chill and appreciating where you are outside — keeping the cell phone off and disconnecting — is something as a society we don't do enough of. Getting outside and having some space to clear our minds is a positive, and I say fully commit to it. Turn off the phone and leave it inside, embrace the day, have fun with it. Mowing lawns and snow blowing don't have to be "chores," they are great opportunities to be outside, do physical activity, be alone with your thoughts, get some fresh air and be in nature.
OW: You have a new partnership with AriensCo, and besides its conservation efforts, was there anything else that attracted you to working with the company?
I really appreciated that AriensCo has been working on more environmentally friendly equipment, like the Gravely Pro-Turn EV electric mower. I think that is really important. As an athlete in the outdoor space, it's really important that the brands I align with are undertaking sustainable practices because not only does it directly impact my community, it's also part of what I think is important for all companies to do moving forward.

I have a show called 10 a.m. on a Tuesday that airs on Red Bull TV and Outside TV, and our whole lens for Season 3 is corporate sustainability, athletes turned entrepreneurs and family-run companies. AriensCo's background of being a family-run company definitely resonated with us. The company's conservation projects, green equipment and family ethics are three values that really connect with how I approach my career.