If this is the first time you've heard of AriensCo's intriguingly named FusionCore, you could be forgiven for thinking that Back to the Future's Doc Brown was the inventor of a new battery system. That honor, however, falls to an entire team of technicians who helped to create its concept. They do at least share Doc's passion for intellectual curiosity and engineering breakthroughs, though.

FusionCore is AriensCo's new battery technology for electric-powered equipment. It's debuting this year in the Gravely Pro-Turn EV, an all-electric zero-turn mower, and it will eventually be introduced in several machines across the Gravely and Ariens brands.

FusionCore's journey to the market is the result of nearly five years of work for AriensCo's engineers. Back when the project began, there was one particularly thorny problem under discussion when the team begin its mission to create Gravely's first electric mower: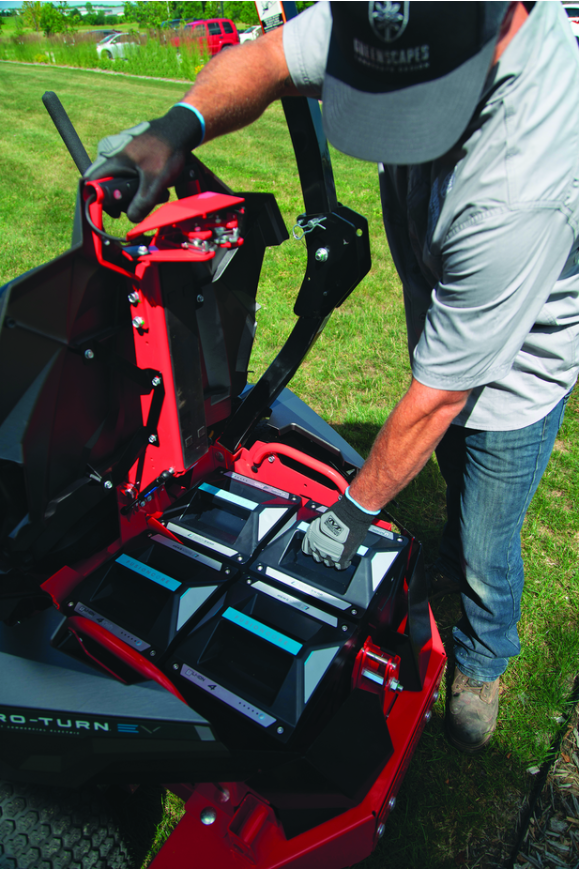 "It would have been practically impossible to get landscapers to consider electric technology if, when the battery died, they had a machine that would have to sit connected to a charger for the rest of the day," said David Hintz, leader, FusionCore at AriensCo.

The answer — besides some particularly durable and powerful batteries — was QuikSwap, a system of compact, swappable batteries that work together to generate enough juice to power commercial-grade equipment. With the QuikSwap breakthrough, FusionCore has been able to hit the market to great acclaim in 2021 as the driving force behind the Pro-Turn EV.
Charge Points
The idea of quickly dropping a spare set of fully charged batteries into a vehicle has been commonplace in the lift-truck industry for decades — the downside for applications in other industrial machinery being, of course, that you need another forklift to install and remove the heavy packs.

So the obvious, yet ingenious, solution for landscaping machinery is to make the batteries smaller, portable and easy to switch out with a freshly charged set.

"Instead of refilling the mower's tank from a gas can, now you can just walk up with another battery or two to get back to mowing in a matter of minutes," Hintz said.

"The Pro-Turn EV comes with four, compact 4 kWh lithium-ion batteries, giving performance equal to that of our gas models, although it can even run on just two or three. The full set typically provide five hours of cutting time, which will be sufficient for most customers — but when it isn't, they can drop in a spare pack from the off-board charger. This unit recharges batteries in 12 hours, or just six hours using the optional fast-charging kit."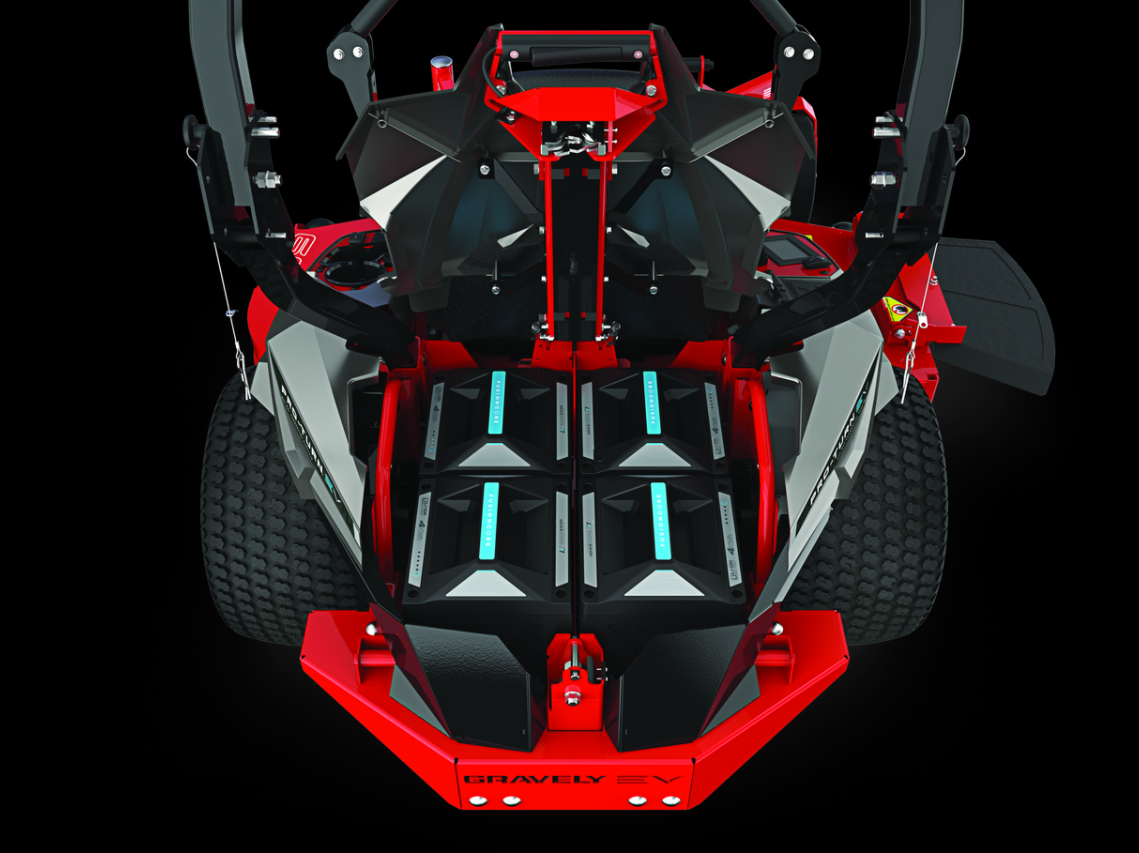 With a high return on investment being a key design requirement, the worst-case scenario after 1,000 charge cycles is a battery pack with 75% capacity remaining, assuming the battery was fully exhausted before each charge. Habitual recharging from 25-50% capacity would deliver an even longer lifetime.

"FusionCore is an AriensCo in-house development, and the batteries are being manufactured by a partner battery company," Hintz explained.

"There's nothing comparable out there. No one made a swappable battery pack as small as this, or powerful enough to match the performance of a gasoline machine, which was our aim right from the start."

The biggest challenge in bringing FusionCore to life was power management. A combination of batteries with different charge levels tends to be extremely inefficient, so the team had to come up with a solution. To support the aims of the QuikSwap concept — for instance, offering the ability to combine two fully charged batteries with two at just 30% — the team created a clever battery management system that automatically balances out the packs, so they all operate at the maximum possible efficiency.

Clean Machine
As you might expect, ride comfort on the Pro-Turn EV is exceptional. But this didn't happen automatically, Hintz said. "One of the challenges was ensuring it didn't feel jerky, like some of the competition. Electric components offer so many parameters to change, but you have to be able to fine-tune them."

At just 84.2 dB of noise volume (the equivalent of a kitchen blender) and with zero emissions, the benefits of FusionCore aren't just restricted to operator ergonomics. With noise potentially no longer an issue, the workday can be extended with earlier or later operation — or, perhaps even shortened, given that school contracts may no longer have to be undertaken at night.

Still, going "back to the future," what is in store for FusionCore?

"We built the technology with future battery cell developments firmly in mind to ensure FusionCore won't be obsolete," Hintz concluded. "There is great scope for it to be carried across to our other products like snow blowers and consumer-grade mowers to extend these benefits even further."
A Better Build
The benefits that FusionCore provides to the Pro-Turn EV also extend to its construction and maintenance.

"Although it's a completely new manufacturing line, and we had to design our own proprietary drive motor and gear box assemblies, manufacturing the Pro-Turn EV is quicker than building other mowers because there are significantly fewer parts," Hintz said. "Having this proprietary technology on the shelf will enable us to adapt FusionCore into future products."

Aside from the obvious improvements to maintenance — such as reduced downtime, no belts, pulleys or filters, and fewer oil changes — fixing any unexpected performance issues becomes much easier, too.

"You don't need to be an expert mechanic," Hintz said, "You can just analyze the error code that's presented and instantly work out what is wrong."
FusionCore
• Currently powering the Gravely Pro-Turn EV
• 4 removable 4 KWH batteries for 16 KWH total power
• Each battery is 50 lbs
• Batteries can be charged on the mower or an offboard charger
• Optional charger can recharge all four batteries in 12 hours
• Fast-charge accessory can recharge batteries in 6 hours
• 110/220 volt power cord and EMI filter connect to standard wall outlet
• Digital screen on mower shows percentage charged
FusionCore batteries are lightweight and easy to handle, making swaps a breeze.