Snow Power for Homeowners
Ariens is releasing two new snow throwers uniquely designed for homeowners who may be new to outdoor power equipment. The Ariens S18 features a bold, modern design in Ariens' signature orange that recall American muscle cars. The Ariens Crossover has a more traditional look and offers the power of a much larger machine. Both products are compact enough for the tight working quarters of urban environments and easy to operate. The S18 and Crossover will be available through select big box stores and Ariens dealers this fall.
"With the S18 and Crossover, our goal was to design a new generation of Ariens snow throwers that are compact, easy-to-maneuver and feature eye-catching designs that appeal to new homeowners or customers buying their first piece of outdoor power equipment," said Stephen Ariens, director of product management, snow, at AriensCo.
Ariens S18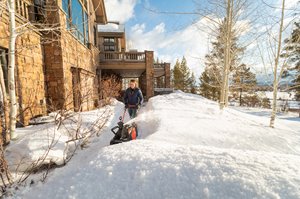 The S18 is a single-stage snow thrower with an 18-inch clearing. It's the narrowest model that Ariens has ever designed, which makes it ideal for small yards, navigating obstacles and passing through narrow gates. It will do well for areas outside of major snow belts that still get good amounts of snow. It's sleek and lightweight at 57 lbs., easy to maneuver, and the innovative paddle system cleans all the way to the pavement for a finished look.
Ariens Crossover

The Ariens Crossover offers the auger-to-pavement technology of a single-stage snow thrower with the power and performance of a two-stage blower. It throws snow farther than the S18, and it has a 20-inch deck, large 14-inch wheels for easy maneuvering and three handlebar heights that make it customizable for every user. This all-steel machine is ideal for snow belt regions that see a lot of precipitation.