Whether you're a seasoned landscaper or just getting your start in the industry, it's important to understand how OSHA impacts your company. OSHA is the Occupational Safety and Health Administration, a government body that enforces the best safety protocols for nearly every industry in the U.S. Complying with OSHA is the law, and understanding how its guidelines affect your company is the difference between running a safe work environment for your employees or getting hit with costly fines that can wreak havoc on your revenue and reputation.

OSHA's rules for the landscaping industry were created to limit workers exposure to hazards both on and off the job site, and to prevent accidents. OSHA guidelines should be clearly posted in a visible place where workers often gather so that they can see and understand the safety protocols designed to keep them safe. Posting these guidelines is required by law.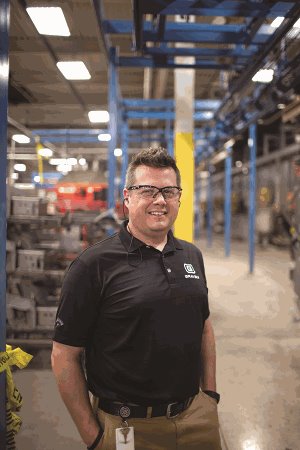 Experts say that the displaying of OSHA guidelines is only the first step in complying with its rules and that employers should seek out a variety of sources to help educate their employees on proper safety practices.
"There is an abundance of safety information for landscaping located on the OSHA webpage," said Benjamin Kohlbeck, safety manager at AriensCo. "Lawn care businesses can also request safety information from their insurance company. They typically have a risk management department that can provide consultations along with corrective actions."

Kohlbeck also recommends employers keep up to date with safety periodicals, such as the Mowing and Trimming Safety guide by Kansas State University. This grant-funded publication displays regulations in easy-to-understand language. Seminars and learning courses are also great ways to stay on top of current regulations and, again, Kohlbeck suggests that companies keep in close contact with their insurance companies, which can provide annual feedback and resources for employers. Companies should immediately pass on these changes to their employees.

"Keeping these procedures handy in written form enables a company to quickly reference both employer and worker regulations and responsibilities," Kohlbeck said. "Additionally, training videos can ensure that the entire company is informed and complying with OSHA rules."

Practicing protocols
In the lawncare industry, personal protective equipment (PPE) is a safety priority. This includes all equipment designed to protect eyes, face, head and extremities from potential injury. According to OSHA, employers are responsible for purchasing and supplying PPE to workers and ensuring they know how to use it effectively.

Machinery use is another focal point, particularly when it comes to outdoor power equipment, which must be operated correctly and safely to avoid injuries on the job site. When it comes to mowers, snow throwers and JSVs (job site vehicles) there may not be a specific requirement by OSHA. That means the guidelines revert back to the manufacturer's recommendations. Typically, they're presented in the form of warning information that is placed directly on the equipment. They're also described on the service or operator manuals.

For equipment that AriensCo makes, local dealers are a great source of safety information, and speaking with them is usually a good place to start. Also, the owners' manuals for each piece of equipment will have specific information about that product. Additionally, AriensCo customer service can provide safety information to users and its YouTube channel has videos with helpful safety tips.

"OSHA requires that companies be very familiar with operating and safety manuals of machines and power equipment, and to include any warning signs or decals on the equipment that the manufacturer suggests," Kohlbeck said. "These are important, as they draw attention to crucial operating mechanisms that operators should watch closely.

Avoiding fines
OSHA regulations are expansive, described in meticulous detail and can be quite costly if companies fail to follow them. Violations publicized by the media can severely damage a company's reputation, particularly if an injury occurs and is found to be the result of noncompliance with OSHA guidelines. In these cases, the blame falls squarely on the employer.

"Again, businesses can rely on their insurance company to help them outline what the company is responsible for," Kohlbeck explained. "They can provide a list of requirements that can be turned into a guide for compliance and improvement and help establish a written safety program. Failure to do so is perhaps the most common violation in the industry."

While compliance with OSHA standards is important to guaranteeing a safe work environment for workers in the landscaping industry, following OSHA guidelines can protect a business financially, too. Citations can range from hundreds to many thousands of dollars, and typically a business receives multiple citations for different violations at the same time.

Companies should have safety programs for landscapers that they can provide to OSHA that include its company policies, procedures and the descriptions of training it has provided. They should include protocols around hazard communication and accident investigation. Designating a safety committee that meets regularly can help keep workers informed and documents up to date.

It's worth noting that training must be provided in a worker's preferred language and in terms they understand. OSHA inspections will review a company's documents, and also interview workers on what kind of training they have received. Special attention is given to their instruction on how to correctly use power equipment.

"Make sure you're keeping a vigilant eye on the upkeep and state of your equipment," Kohlbeck said. "It's crucial to be very familiar with how best to operate a piece of equipment, use the correct replacement parts and properly service your equipment in general. This should all be top of mind during routine OSHA inspections."