When Zvonimir Cvitanušić set up his power equipment company Scheda in Zagreb, Croatia, in the summer of 2008, he didn't expect what came next — a massive financial collapse and global recession.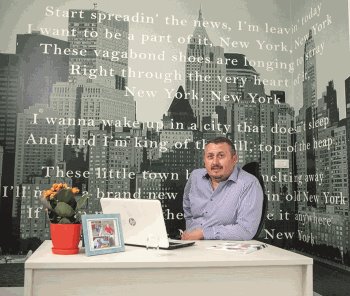 Firm in his belief that things would eventually turn around, Cvitanušić persevered for the first few years as Scheda's only employee. He focused on building the foundations of the ideal outdoor power equipment business that he was envisioning.
"I started with the sales of spare parts, which was less risky, financially speaking. It didn't require large upfront investment," Cvitanušić said. "I just had to focus on building and maintaining connections with suppliers and customers. Over the years we became a dealer for several brands and got into the distribution business. That is how we found AriensCo."
Cvitanušić's previous experience in sales and distribution gave him the confidence to march forward. In time, he hired more people and built a highly experienced team.

"I hired accomplished people who had experience with different kinds of power equipment. My first employee, Senka Tomušić, is still with us," Cvitanušić recalled. "We followed the same procedure with each new employee and now we have different specialties within the company."

In 2017, a partnership with AriensCo brought Scheda new opportunities. The company began selling lawn and snow Ariens products in Croatia. Soon after it expanded into Serbia, where it runs a showroom and distribution center, and into Bosnia and Slovenia, where it has representative offices.

"As a distributor we have to ensure a certain level of yearly sales in our business plan. Adding Slovenia, Bosnia and Serbia to our territory gave us a market of about 15 million people. This secured the potential," Cvitanušić said.

Croatia and Slovenia are members of the European Union, which greatly facilitates trade, but Cvitanušić also wanted to expand to Bosnia and Serbia, which are not EU members. This scenario required Scheda to be creative in its approach.

"We took over a small Serbian company whose sales representatives were experienced in developing networks. That was the proper and most efficient way to do it," Cvitanušić said.

Scheda's clients includes dealers from across Croatia, Slovenia, Bosnia and Serbia, and the company is working to expand its network of after-sales support throughout the region.

In late 2018, Scheda received a large cash infusion from investors, bolstering its finances and enabling Cvitanušić's vision of expansion to continue. Given Scheda's motto — "Provide the maximum, don't be afraid of challenges and always look ahead" — the company is aspiring to a promising future in the Balkans and beyond.

Ever since AriensCo announced the production of Ariens zero-turn mowers at the company's factory in Great Haseley, Oxfordshire, United Kingdom, having a European hub has increased value for distributors like Scheda, and for dealers and customers in the region. This is particularly true of its training program, which provides education to AriensCo distributors.

"We've seen significant improvements since the factory opening in the UK, and expert training has been the most valuable aspect of it to us," Cvitanušić said. "Our staff have been trained there, and the level of expertise goes really deep. It's very comprehensive. After attending training sessions, our staff said they were hugely impressed with the level of the detail offered."

Scheda's staff training in the UK included unboxing, repairs, parts sourcing, maintenance and warranty management.

"Sometimes training can be just a box-checking exercise, but this one was really top-level, as it should be. Theory, practice, and supporting literature were all there," he said. "Our mechanics got all the answers, recommendations and skills they needed. They were really happy to have taken part."

As Scheda became AriensCo's distributor in the region, Cvitanušić met with Massimo Caner, AriensCo international sales manager for Europe. Caner's strategic location in the Venice area of Italy means he's within 2-3 hours from most of his clients in neighboring European countries.

"In the UK we're building tractors and zero-turn mowers that were only produced in Brillion until recently," Caner said. "For our Europeans distributors, it is faster and easier to get products and parts deliveries. In 15 days or less, you can get your product manufactured and delivered."

To better service the region, AriensCo maintains "buffer" stocks for Ariens snow blowers in Austria and Norway, where the company has a subsidiary. Due to the specificity and price of the products themselves, Cvitanušić claims having access to stock products is a big advantage, especially in markets outside the European Union (due to additional paperwork, he says, the competition has long delivery times).

"One of our goals is to have enough stock to be better than the competition and provide the customer with the product they are looking for — immediately."

"From Austria and Norway we can serve Scheda in Croatia and Slovenia, and then all our other European customers. Normally, our customers place orders and they'll come from the U.S., but in the winter, if demand is high, they can get additional products in 3-4 days from our warehouse in Europe," Caner added.
ZERO-TURN GROWTH
AriensCo has the first zero-turn mower manufacturing operation in Europe and reports exceptional demand from the continent. This follows similar trends in the U.S., where sales have more than tripled since 2003. In Europe, zero-turn sales have grown more than 30% since 2016, making them the fastest-growing category of ride-on mowers and third fastest in the lawn and garden power equipment sector.

Croatia's climate is typical for Central Europe, with green springs, early summers and snowy winters. Lawn mowing begins in April and lasts until October. Snow can be quite heavy during winter.

"In terms of topography, 65 percent is green and flat while 35 percent is mountainous with a lot of forests," Cvitanušić said. "Our target customers are generally looking for reliable, long-lasting machines. A typical Ariens buyer is a utility company, fruit grower or someone who owns large green areas."

Scheda believes zero-turns are a better solution than other types of mowers when it comes to large green areas. And with its snow blower offering, the dealer's emphasis is on higher quality and more efficient larger models (even though Cvitanušić notes recent winters have brought in less snow).

To keep all of these machines in service and working optimally for their owners, Scheda has been expanding its network of authorized service centers for the Ariens brand in the countries it serves. The goal is to help customers keep their products well maintained and in line with their warranty requirements. The recent capital investment into Scheda from outside investors is helping fuel this expansion.
BRINGING THE REGION TOGETHER
Amid all of Scheda's growth, the company is set on maintaining its close relationship with AriensCo, and on building new alliances between the countries in which it operates.

"The cooperation we have nurtured gives us confidence in future developments, which is important because by distributing these powerful AriensCo machines, we believe we also connect people in the region," Cvitanušić said.

In the 1990s, the Balkan region was marked by a series of deadly conflicts, which led to the dissolution of the Yugoslav state and the creation of new, independent nations. An era of peace followed. Twenty-five years later, Scheda is playing a role in steering the region towards ever-brighter days.

"To be active in business in these four countries really makes me proud," Cvitanušić continued. "We are really connecting the younger generations in those countries around power equipment and lawn care. It is a true additional benefit of distributing AriensCo's products."

Partners in Education

Investing in newer generations of lawn care professionals and enthusiasts is one of Scheda's ways of giving back to the community. The distributor has enjoyed a partnership with the University of Zagreb Faculty of Agriculture. The school has been a fan of AriensCo, purchasing Ariens zero-turn mowers to help maintain its green spaces and orchard grounds. In recent years, Scheda has nurtured the relationship, providing lawn care training and support to the school's students.

"The students argue over who will get to work with the zero-turn mowers first," said Scheda's Senka Tomušić. "When we started with AriensCo we suggested zero-turn mowers to the university, and they accepted it right away — quite enthusiastically. They were pleasantly surprised, and it was something new to them. They now have three zero-turns and have been working with them in different kinds of fields. They have the university, a test field for small plants, fruit plants and a winery. They were delighted with how the machines performed in all those environments."

The students' practical learning in the fields — including using power equipment — led Scheda to see potential in them as future lawn care machine customers, or even in the landscaping business.

"This is how we came up with this idea: Maybe we could implement this knowledge of machines to promote them to students as an option for their future," Tomušić said. "If any time in their future they're going to have any kind of property, such as a winery, then they would need to have a machine to maintain all the green surfaces around their facilities."