Design Prowess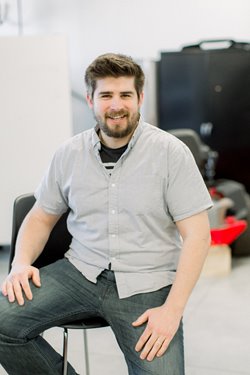 Industrial design and mechanical engineering have been central to the success of AriensCo throughout its long history. Innovation has always been the goal, and since the invention of the first American-made rotary tiller, AriensCo has continually introduced new products to the outdoor power equipment industry that blend cutting-edge technology with usercentric design. From snow throwers to zero-turn mowers, and now with the introduction of its first battery-powered mower, the EVZT, AriensCo's industrial design process has produced machines that are durable, reliable and easy to use — the hallmarks of great design engineering.
This tradition continues today at AriensCo's headquarters in Brillion, Wisconsin, where a team of industrial designers is constantly at work on the next evolution of Gravely and Ariens machines. Out Working went behind the scenes with Principal Industrial Designer Grant Gierosky and Senior Industrial Designer Andrew Donati. The two specialize in drafting the first iterations for the next generations of equipment. Their industrial design process puts the user at the center of the experience while combining leading-edge technology and marketplace trends to ideate new machines. They are masters of working with cross-functional teams from across AriensCo to create equipment that merges form, function, efficiency and cost.
"It takes several different teams from across the company to work together to build the next great AriensCo piece of equipment," Gierosky said. "It's a long, rigorous process of taking a broad idea and distilling it down piece by piece to get a final product that represents the brands well and also meets our customers unique demands."
Evolution and revolution
The design process tends to be both evolution and revolution for AriensCo — new equipment designs are built upon the designs of previous models in a state of continual evolution. Often the industrial design team is tasked with updating a current model in the Ariens or Gravely range to accommodate changes in users' habits, emerging technologies, marketplace trends or breakthrough innovations. Completely new products, like the upcoming EVZT electric zero-turn mower, fall on the revolutionary side of the spectrum.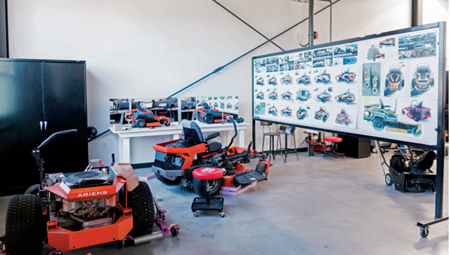 Knowing the challenge
No matter the primary reason for a new equipment design, the industrial design team always has the user at the center of the equation. The team is always trying to address a challenge: "How can we improve this element for our users?" It is not enough to simply include new technologies. The team must improve the user experience and deliver them return on investment.