Though AriensCo is a uniquely American company,the last few decades have seen the outdoor power equipment maker winning new customers on a global scale. From mowing soccer fields in South America to clearing snow from roadways in Europe, Gravely and Ariens machines have been proving their quality time and again across the world.
This global momentum shows no signs of slowing. AriensCo recently expanded into China through the Countax brand and continues to improve its product and service offerings in all regions. A great example of this can be seen with La Casa del Jardinero, an AriensCo dealer in Puerto Rico.
"Ariens and Gravely machines are a perfect fit to meet the increasing demand for reliable, efficient mowers in Puerto Rico," said Pedro Gerena, general manager of La Casa del Jardinero. "They were a perfect fit for us as partners, too. We've built a reputation over the last 36 years as a trustworthy company with smart gardening solutions, so we wanted to partner with a solid, traditional equipment maker that could help us provide our customers with excellent products and services."
With so much green covering the Caribbean island, it is not surprising that the mower business is booming in Puerto Rico. The combination of high temperatures and heavy rain leads to the growth of heavy tropical foliage around the island. While palm trees stand out on the horizon, a thick, wet grass rules on the ground. The maintaining of lawns and gardens requires constant action, and the machines that work in this environment must be durable and efficient.
AriensCo began selling its equipment in Puerto Rico nearly 10 years ago, but it wasn't until La Casa del Jardinero became the island's exclusive distributor in 2018 that customers there had access to its entire portfolio of machines. This agreement has also ensured an efficient parts distribution structure and the availability of premium services in Puerto Rico, through La Casa del Jardinero's network of 20 dealerships across the territory.
Gerena explained that the company's expectations are high, as there is lot of room for it to grow, and Puerto Ricans appreciate doing business with traditional brands that have a proven history of success.

"Our clients like to know that they are working with equipment made by a company founded almost 90 years ago and that is known to care about its customers," he said. "Having a trusting relationship with the people and companies we do business with is definitely part of our culture in Puerto Rico."
Champions of customs
La Casa del Jardinero is one of the pioneering companies that brought a robust lineup of outdoor power equipment to Puerto Rico. The company was founded in 1984 by Roberto Zalduondo. He saw that Puerto Ricans did not have access to a wide variety of equipment and service parts and saw a business opportunity.
Zalduondo launched a San Juan-based distribution company to offer clients alternatives suitable to their needs. The company was called RoMar, La Casa del Jardinero — "RoMar" is a reference to the owner's first name, Roberto, and his wife's, Maripaz. While it started selling only a few gardening tools and supplies, La Casa del Jardinero now offers a wide range of products and equipment that meet all kinds of needs for gardening, agricultural and landscape solutions.
"We were able to address what used to be one of the big concerns of our customers," Gerena said. "Since we are on an island and shipping can always be an issue, the question was 'Can they get equipment and parts quickly enough for us to avoid unplanned downtime?' We have been proving to them that yes, we can."
In 2009, Zalduondo decided to retire and leave the business in the hands of his two daughters: Maripaz and María. He passed away last summer, but the core values he brought to the company remain. La Casa del Jardinero's team of 14 people and 20 dealers sells machines and offers support services to customers across the island. The company provides training to its vendors and technicians where they learn not only about products they offer, but also to listen to their customers' needs and nurture a good relationship with them.
Agents of change
Most of La Casa del Jardinero's customers are landscapers and professional gardeners who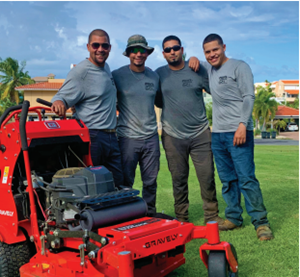 purchase Gravely and Ariens equipment because it is efficient and provides them a high return on investment. Gerena has seen a trend lately, though, where non-professionals that are passionate about gardening and lawn care are buying high-end machines for their quality and longevity
"Unlike 30 or 40 years ago, when people were just interested in keeping their green spaces clean and neat, now many of them want to create beautiful, happy spaces — especially millennials," he said. "The approach to this work has changed and so has the equipment being used."
Another trend in Puerto Rico is an expansion of agricultural activities. The goal has been to increase food supply on an island that has been ravaged by hurricanes and natural disasters. Farmers have found Gravely walk-behind mowers particularly adept at handling the country's mountainous interior, where grass and rock are constantly mixing. In these areas, many machines and mowers are hard to maneuver, but the ease-of-use of Gravely mowers enables landscapers to control their machines with precision, avoiding obstacles that arise.
For these customers, Gerena explained that the Gravely PRO-QXT mower is a big hit. This professional mower with great maneuverability is well-suited to be used in remote agricultural commercial areas. All it needs it to be equipped with the right attachments, such as blades, brush mowers and dethatchers.
"This Gravely model is beloved in agriculture because it has good traction, is sturdy and durable," he said. "Many more people are turning to farming after Hurricane Maria hit the island in 2017, so we are seeing some growing interest in this machine."
La Casa del Jardinero has been sending its representatives out across Puerto Rico to do demonstrations of the entire Gravely and Ariens product lines. The most popular models are the walk-behind and stand-on mowers, as landscapers find them easy to transport, operate and store.
In 2020 the company plans to introduce the Gravely ATLAS JSV range to the island. These job site vehicles, well suited for uneven terrain, are expected to be a success among landscapers that need to transport heavy-duty equipment to the mountainous areas.
"What we are looking for is to always offer an up-todate portfolio of AriensCo products that can facilitate our customers' work and help them to be more efficient," Gerena said. "The only thing we will never have here is snow blowers, and you can imagine why!"