Clear Communication
Bryan Rottier loves getting behind the scenes. He calls himself a "knowledge nerd" and likes to learn how things tick. Naturally, this interest extends into his professional life in the landscaping industry, for which he's always had a deep and abiding interest in the relationships among equipment makers, dealers and customers.

Rottier is an owner-operator at Ambrosius Sales & Service (Ambrosius), in De Pere, Wisconsin, about 30 miles from AriensCo's Brillion headquarters. And like AriensCo, Ambrosius is family-owned and operated. It's in its fourth generation of family ownership, totaling 66 years in business.

Rottier is one of the newest members of the AriensCo Dealer Advisory Council (DAC). In his new role, he will not only play a part behind the scenes, he'll also have the opportunity to actively shape the relationship that AriensCo has with its dealers and customers around the world. Rottier sat down with Out Working to discuss his upcoming work on the DAC.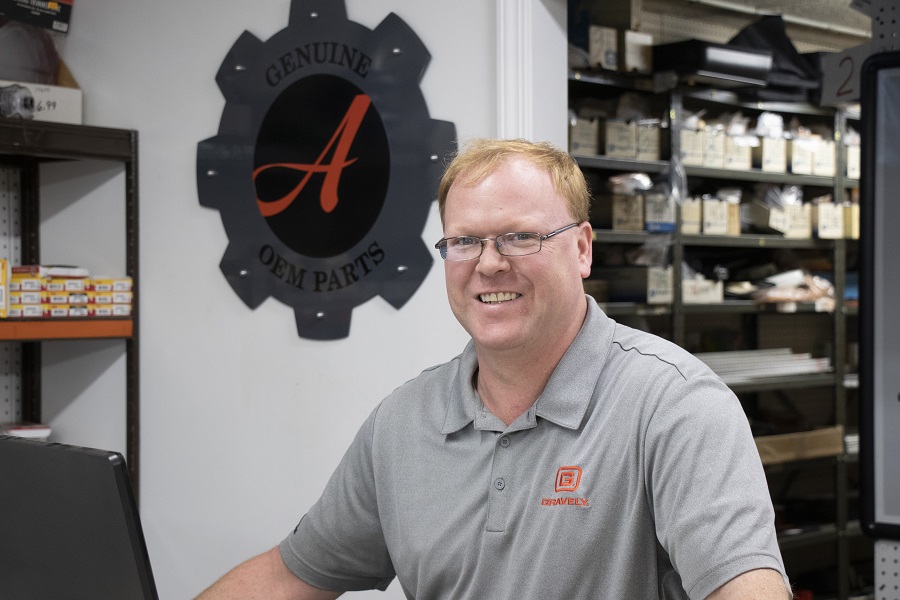 Out Working: Why did you want to join the DAC?
Bryan Rottier: I'm fitted to this type of behind-the-curtains work. I'm kind of nerdy and organized that way. I wanted to be on the DAC to have a voice. I certainly want to improve my own business, but I also want to see other businesses grow, too. Everyone on the DAC is vested in AriensCo and its product lines. We have our money and our lives on the line.

OW: What were your initial impressions of the DAC?
BR: In the past, I felt like there could be stronger ties between AriensCo and the dealer base. The DAC had been around, but it wasn't as visible as it has become today. As dealers, we didn't always know why new product lines were added or removed. Decisions made by AriensCo weren't always understood as well by the dealers, but those communication lines have improved dramatically over the last few years. Due in part to a strong DAC program, it feels like dealers' voices are heard more today than ever before.

OW: What do you think has changed?
BR: You can certainly see a commitment from the company in its focus on all groups of the AriensCo customer base. The end user is the customer, but also, the dealers themselves are certainly customers and need to be listened to just as equally. You can't listen to all 1,000 of them, but you can listen to the DAC, and this effort on behalf of the company brings everyone together.

OW: How did you find your first round of DAC
meetings at the AriensCo Dealer Summit in Huntington Beach, California?
BR: First the DAC met by itself, then we met with AriensCo senior leadership before the summit began. The hot topic was the new Pinnacle Program for dealers, which is an enormous change. It's quite new for the whole industry and it's pretty aggressive, but I think it's going to be great for everybody. I was able to give my two cents on the program, and then we talked about the company's new products and services, too.

OW: Do you have an agenda for your three-year term on the DAC?
BR: I don't have an agenda. I'm interested in the transfer of knowledge and being part of the process. I'm looking forward to learning from dealers in other regions and seeing how I might better run my own operation differently. It's about all of the companies in the AriensCo dealer network being successful.

OW: What's the best-case scenario for your DAC role?
BR: The best-case scenario is that this connection with AriensCo, these open talks and this working together continues. I would like to see more dealers utilizing the DAC, sending in more emails and asking more questions. We all want to see AriensCo be the best in the industry because it means more money in our pockets, too.