William Hellebuyck was given an ultimatum from his wife Jean: clean the lawn mowers and excess engines out of his garage — or use them to start a business. Shortly thereafter, he rented a space, moved everything from his house to a shop in Shelby Township, Michigan, and began fixing and selling nearly anything from snow blowers and lawn mowers to bicycles and other hobby items. By 1974, the operation had grown into a full-fledged business: Hellebuyck's Power Equipment Center (Hellebuyck's).

Jean and son Bill both joined him in the new business and built the company on providing quality customer service. The store performed well compared to local competition and over the years, Hellebuyck's grew. Eventually Bill took over this business from his dad and began to double down on the areas fueling the company's growth.

"The bike and mower departments of our business grew so rapidly that we quickly needed more space," he
explained. "Hobbies were more of a two-month-a-year business in the winter to keep us busy, so we stopped
stocking that stuff after about four or five years and focused on where we were succeeding."

The Ariens Sno-Thro line was particularly successful, and the company was able to dedicate its full attention to outdoor power equipment throughout the winter. Though snow blower sales are a highly weather-dependent business, the line has grown with the company ever since. In 1999, Hellebuyck's made another shift in its business and began to focus solely on power equipment.

"At that time our bike distributor had just been bought out, so we would have had to find a new bike line to sell,"
Hellebuyck said. "Couple that with the fact that many of our high school staff who worked on the bikes moved
away to college, so it was the right time to focus even more on our rapidly growing lawn and garden business."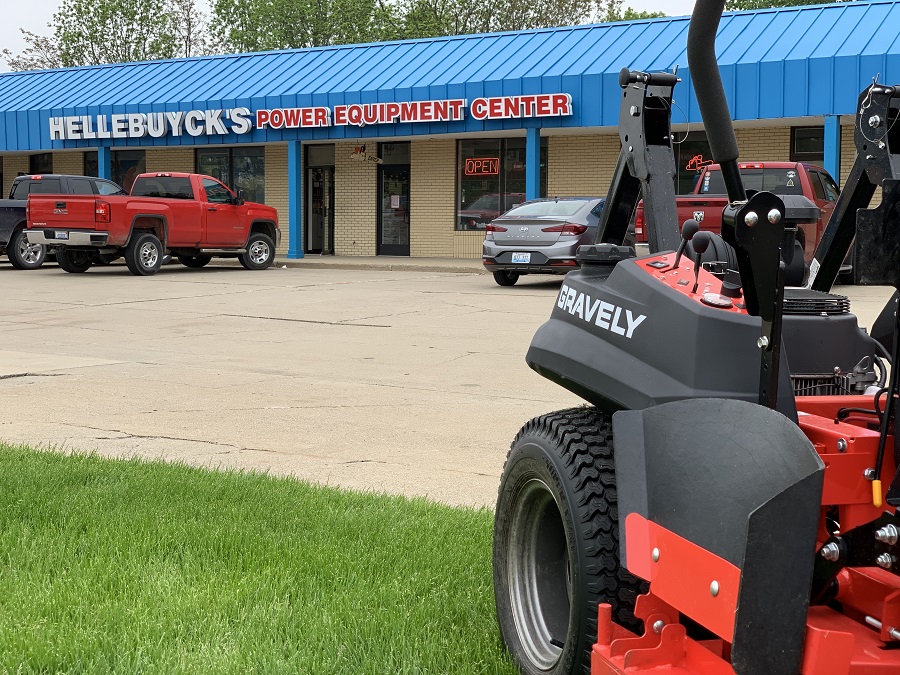 For years, the Shelby Township-based store performed well with residential equipment. Other competitors in the
area focused heavily on commercial users and not as much on residential customers. That's where Hellebuyck's gained a foothold.
A CASE FOR COMMERCIAL
Hellebuyck's opened another location in nearby Warren, Michigan, and Hellebuyck thought it would have
the same success with residential equipment that it had at the Shelby Township location. However, that
wasn't the case.

"Most of the residential customers had been established, and they already worked with other stores to get their
equipment serviced," he said. "But we noticed that some commercial guys driving past would stop in to see if
we could quickly fix something rather than going to a competitor on the other side of town. We would quickly
fix it, and then they would come back the next time."

Hellebuyck said the commercial lawn equipment business spread like wildfire at the Warren location, so that's when he struck a balance with the Shelby Township store more focused on residential power equipment and the Warren dealership geared more towards commercial landscapers.
DEALER ADVISORY COUNCIL
While Hellebuyck's had been a longtime Ariens dealer, it didn't immediately start selling the Gravely line of commercial lawn mowers. But when the company added Gravely around 2000, it began to have success because of, as Hellebuyck credits, the brand's commercial durability. Though Gravely has always performed well, Hellebuyck acknowledged that through experience, there were areas where he could help.

"I saw some room for improvement with the commercial mowers because we were fixing them pretty often," Hellebuyck said. "The sales rep convinced me to check out the new line at the GIE+Expo that year, and if I didn't like it, they would pick up the rest of the equipment. Well, I liked it and have been selling it since."

Hellebuyck is partial to high standards, and as an outgoing AriensCo Dealer Advisory Council (DAC) member, he has always been honest when sharing his thoughts. From products to programs and other elements of the manufacturer/dealer/customer dynamic, he has looked out for the interests of AriensCo and other dealers together because he believes that attitude strengthens business ties.

"When they asked me why I wanted to be on the DAC, I said first of all to preserve the good things and the benefits we have now, and then to enhance the things that could be better," Hellebuyck said. "What works for a big company doesn't necessarily work for a small dealer, and vice versa. You've got to look at all sides
of it to make sure you're not leaving anybody behind."

During his two terms on the DAC, he has always taken full advantage of opportunities to discuss what he has heard in the field and respond to it by addressing areas of concern. For Hellebuyck, the DAC is a win-win. It's a way to not only improve his business, but that of other Ariens and Gravely dealers, too.

"I was on the DAC for three years, and when I was about to be done, AriensCo Group President Larry Weyers asked all of us to stay on for a second term," Hellebuyck said. "That continuity has enabled us to make real progress. I want to help both my business and AriensCo grow, and that doesn't happen if we're not thinking about the industry as a whole. We can't leave anyone behind. We all face the same challenges, so when we're helping each other, we're making the whole industry better."