For a company like AriensCo to exist for nearly a century, it must remain in a constant state of renewal and revitalization. Just as AriensCo can't use the manufacturing processes of the 1920s today, other methods that are mere decades old are already on their way out, too. Renovation and rejuvenation are the keys to staying on the leading edge of the lawn and garden industry.

It's with these concepts that AriensCo announced a $30 million investment to push its manufacturing capabilities in Brillion, Wisconsin, to levels not yet seen in the industry. The company has made significant progress in transforming its Plant 1 facility to accommodate the technologies and processes of the future in order to improve its product production, both in terms of quality and efficiency.

"We are improving our manufacturing capabilities with new technologies that will enable us to produce the next generation of high-quality products," said Pat Weller, senior director of operations. "And throughout this process, we are maintaining a high level of production to honor our commitments and deliveries to our dealers and customers. We are both preparing for the future and making sure we continue to keep our commitments to our customers at the same time."
Driven by Growth
One reason that AriensCo is updating its factory is to meet the surging demand for Ariens and Gravely zero-turn mowers that have become increasingly popular over lawn tractors. The company is projecting this trend to continue and is preparing its facilities to produce more equipment at a faster and more efficient clip than in the past.

Aside from the release of nine new product lines in late 2019, there are lots of reasons to expect demand to grow. In 2020, Gravely's battery-powered EVZT commercial zero-turn mower will launch, becoming the most coveted product in that segment for landscaping companies asking for products with reduced emissions and lower noise pollution.

"We have very aggressive plans to fill the marketplace with innovative products and those that are designed with the feedback we receive from our dealers and customers," Weller said. "For these two factors alone, we need to update our facilities to not only build new machines, but machines that conform to the demand of our customers."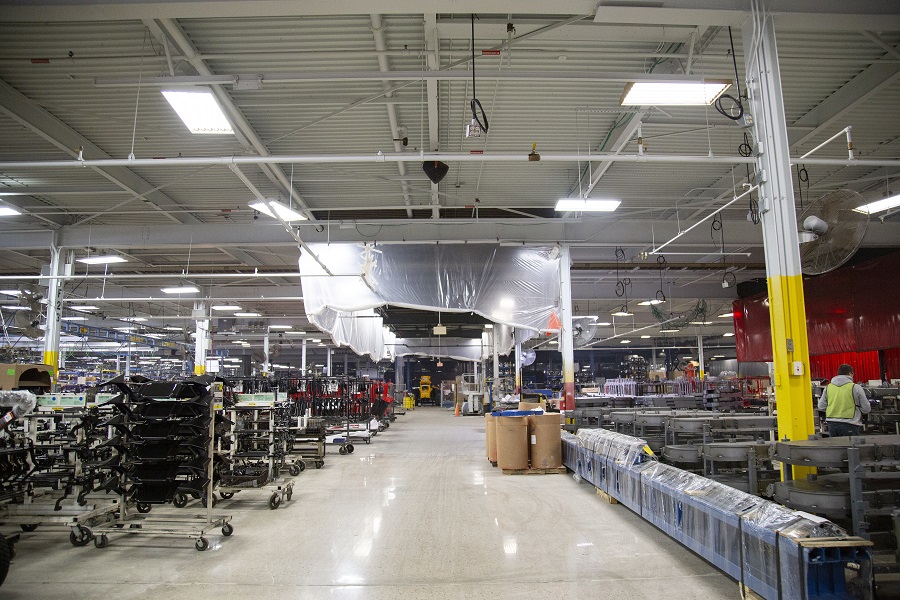 Further to those demands is the need for more people in AriensCo factories. Though the unemployment rate around its Brillion headquarters is very low, new hires are attracted to AriensCo's welcoming atmosphere and long-standing family tradition of the company's Five Core Values: Be Honest, Be Fair, Keep our Commitments, Respect the Individual and Encourage Intellectual Curiosity. AriensCo has been a pillar of the Brillion community for nearly a century and expects to keep it that way.

"AriensCo provides a great way for people to establish a career in manufacturing," said Tony McNamara, AriensCo recruiting lead. "We may be a big company, but we are still family-owned and members of the family work here. We try and retain that small business feel."
Factory Forward
Plant 1 spans 320,000 square feet in Brillion. Nearly every element of the factory has been in the process of being overhauled over the last few months. So far, millions of dollars have been invested in the technology that produces Ariens and Gravely equipment, including a new paint system, robotic welders and new metal-cutting lasers.

"With the new paint system, we're doubling our paint capacity, which sets us up for future growth. And we are also able to improve the durability of our equipment to better stand up against the rigors of the job site," Weller said. "With seven new robotic welding stations, we will be able to improve our manufacturing output with even more precision in our construction to ensure the reliability of our machines."

Factories are all about flow, whether it's the product flowing down the assembly line, supplies coming into the factory or finished products going out the door. In previous issues of Out Working, we saw how the company revamped its processes to be leaner and more efficient. And with this $30 million investment, Plant 1 is also getting a new steel delivery bay at one end of the building and new shipping docks at the other so the material flow in and out of the factory is more logical. From getting raw materials into the plant to quickly shipping products as they are completed, the new intake and shipping bays enable the company to get products to dealers and customers with more speed and efficiency.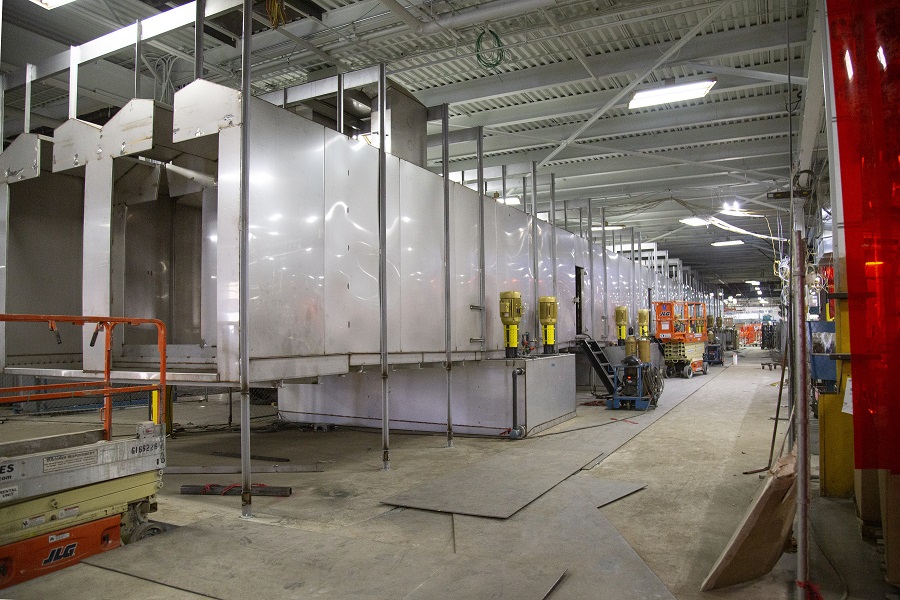 Another great benefit of the Plant 1 upgrade is the benefits for AriensCo workers. From more ergonomic machines and enhanced tools to better space and added daylights in the factory, the upgrades make for a more uplifting working environment, which keeps morale high and improves productivity. But with as many benefits as there are for AriensCo, Weller said the main purpose is to benefit the company's customers.

"The real goal of this $30 million investment is to establish value for our dealers and customers," Weller said. "We are aiming to build innovative products that are extremely reliable and durable, and they must fill the needs of the people that use them. This initiative will enable us to build the equipment that customers want at the highest standards, and then deliver those machines to them right when they need them."

Long before any AriensCo product is assembled at the factory in Brillion, an immense amount of planning, forecasting and relationship building has already taken place. All around the world, AriensCo representatives are constantly working with dealers and suppliers to predict how much product will need to be built that year and how many supplies the company will need to fulfill those predictions. Working the supply chain for AriensCo is a dynamic and evolving process that impacts every customer around the world.

Nick Ariens, senior director of supply chain, has spent the better part of the last year focused on improving the AriensCo supply chain. He joined a company effort that had already been underway for the last three years to continuously improve its SIOP program, which is comprised of sales, inventory and operations planning. The goal is to always ensure that dealers get the products they need, exactly when they need them.

"We've spent a lot of time strengthening the relationship among our sales representatives and our dealers so that they can in turn work with customers and hear their needs firsthand," Ariens said. "This ensures we have extremely accurate predictions of what we'll need to build for our customers so that we can minimize backlogs and optimize the stock available at dealerships."

Much of this work lies with AriensCo itself, which has been teaching its sales team new information-gathering and prediction skills that improves forecasting and communication among its stakeholders. The company has become better at anticipating market needs and translating those back to manufacturing plans.

Ariens said dealers and customers are definitely noticing the company's improved capabilities. One example is the positive feedback he has received on a new algorithm the company created to give dealers an "exact promise date" for when their new equipment will arrive, which they can then communicate to customers.

The companies that supply materials and components to AriensCo also benefit — they now receive forecasts, predictions and orders much sooner and with more advance notice, which helps them plan their output and deliveries with more accuracy.

"We operate a global supply chain, so we're moving parts all around the world," Ariens said. "By providing these forecasts sooner, it helps mitigate international factors that could affect production, whether those are due to weather, politics or other issues, which reduces supply outages. And then by having these parts on hand, we can better plan production runs, which makes our manufacturing much more efficient than before."

For Ariens, it's all about helping build a company that is better positioned for future growth — not just for AriensCo, but for all of its suppliers, dealers and customers. He's looking at the next 10 years and aims to help AriensCo grow over this period with the best infrastructure possible.