West Virginia has a long history of industrial innovation. The Mountain State has been providing energy to the United States for decades and it's sticking to that tradition in the new millennium. The winds of change are bringing new economic opportunities to Appalachia in the form of wind energy, and Gravely is there to support the growing trend.
POWER EQUIPMENT
Invenergy, a global developer and operator of sustainable energy solutions, began assessing the potential of wind power at some of West Virginia's highest elevations back in 2010. These are lands that rise up to 4,400 feet along the Allegheny and Appalachian Mountains. As the company discovered, Greenbrier County's abundance in natural resources isn't limited to just coal and timber, but also wind.

"We did a wind study and found the area had a predominant wind profile," said Eric Ritchie, operations and maintenance manager at Invenergy's Beech Ridge Wind Farm. "We'll typically do a five-year wind study, and over those five years, if the wind source is strong and the site is right, we'll look at developing a wind farm."

Invenergy built an expansive wind farm in the region, the Beech Ridge Wind Farm, to make use of its wind resources. Standing at 262 feet tall, wind turbines with 121-foot-long blades convert the area's strong and steady breezes into clean, efficient energy. With optimal, sustained wind speeds of 25 mph, the farm's 67 turbines have a generating capacity of 100.5 megawatts, an output that can power hundreds of homes, businesses and, of course, Gravely EVZT zero turn mowers.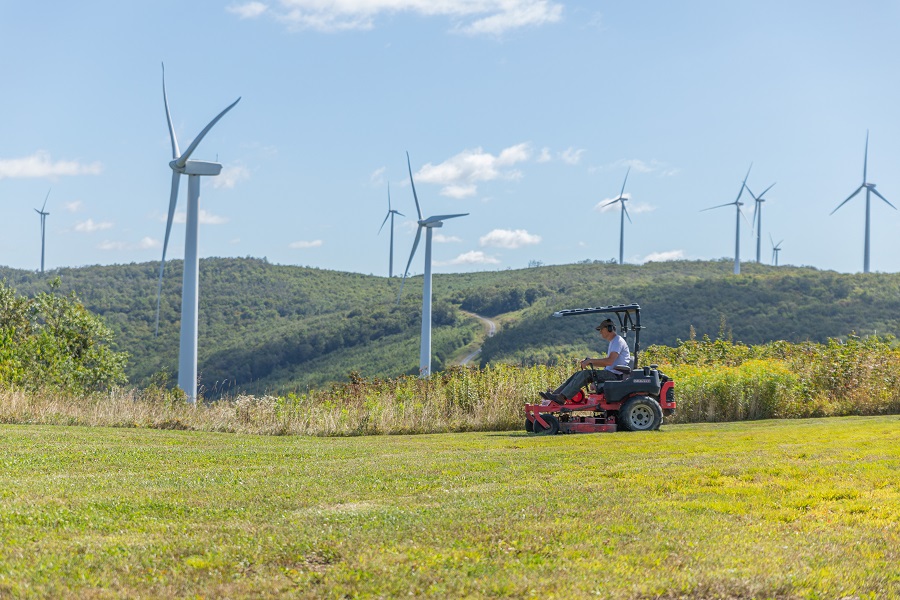 Although sustainable energy sources have less of an environmental impact than conventional sources, they are still subject to environmental compliance and regulation. Positioned on the edge of the migratory path of the endangered Indiana Brown Bat, the wind farm goes through ongoing surveys conducted by the U.S. Fish and Wildlife Service to ensure the mammal's population remains unaffected by the wind farm.

Performing this study requires clear visibility in the search areas, something nature doesn't provide on its own. Each pad, or the immediate area beneath the turbine, is between one and three acres of uneven, rocky field that needs constant maintenance. It's some of the bumpiest, most challenging terrain known to mowing mankind, and it needs to be cut from April through November. That's where Gravely comes in.
A CAREER CHANGE
In 2011, the Beech Ridge Wind Farm needed help keeping the wind turbine work sites clear to enable the ongoing Wildlife Service studies. The wind farms's cutting contractor wasn't keeping up with the work and the bat searchers weren't able to effectively conduct their studies, so the operations manager at the time looked for a new service provider. After mentioning the problem to a friend of his, that friend made an impulsive and lighthearted, yet serious decision.

"I just stuck my foot in and told him, hey if you need a mower, I'll do it," said Steve Dunbar, owner and operator of Skyscapers, a business dedicated to lawn maintenance on the wind farm.

Dunbar never operated outdoor power equipment professionally and hated cutting grass, but the appeal of having his own business close to home was an attractive alternative to the 90-minute commute to his job at the hospital in Charleston, the state capital.

"After 30 years of being an operating room nurse, I decided to take a jump. I went and got a loan, jumped on it, and I've been mowing ever since," Dunbar said.

With $75,000 for a truck, a trailer and a couple mowers, he made good on his lighthearted commitment and started cutting the grass.

Being unfamiliar with lawn maintenance, Dunbar assumed the compact tractor with a mower deck he used on his family's acreage would work on the wind farm, but that mower was unfit for the application. Next, he tried a new commercial mower purchased from a local equipment dealer, and then another, but none of them survived the extraordinarily abusive terrain.

"It's very rough. It's aggregate that they crush and backfill around the turbine bases, and then they hydroseed it," Dunbar said. "There's a lot of environmental things that have to be done. Catch basins, rock flows, the whole works that we have to mow around and keep maintained because they have to search in and around them."
DURABLE DNA
Rough turf on the turbine pads is a stretch for normal mowing conditions, even for a commercial zero turn. Finding equipment that could handle unusually bumpy mowing, transportation through the rough and winding logging roads, and the wet, sometimes snowy, weather that falls on the mountains wasn't easy, but eventually Dunbar had his solution.

"The other brands lasted, with the terrain and the roughness up there, less than six months," Dunbar said. "That's when I went to the Gravely dealer and bought a couple Gravelys, and I've been using them ever since. They don't break."

Dunbar is anything but shy with his Pro-Turn models. With an intense dislike for weed eating, he mows over sandstone rocks and scrapes the deck tight against the concrete turbine platforms just so he doesn't have to trim around the edges. If there's an obstruction that he considers too big to run over, he'll drop the cutting height and push it away with the confidence of a reinforced deck edge.

"They aren't pretty anymore after eight seasons, but they're still going strong and rise to the challenge," Dunbar said.

With the closest servicing dealer over an hour away in one direction, minimizing the downtime risk of just one unscheduled trip down the mountain is critical. So as Beech Ridge Wind Farm expands through the remainder of 2019, Dunbar is trusting the strength of Gravely, a brand born from West Virginia manufacturing, to expand his fleet.

Through the end of the year, Beech Ridge Wind Farm will expand its operation from 67 to 87 wind turbines. The new turbines, standing at 295 feet tall with blade lengths of 205 feet, will generate 2.7 megawatt-hours each. As one of three wind farms in the state, it's a representation of wind's vitality in the area and a signal of change for both the energy landscape, as well as the physical landscape. With those installations, it adds balance to a region that the late John Denver once described as, "Almost heaven, West Virginia."