In 2008 humanity crossed a new threshold. For the first time in its history, more than 50 percent of people were living in cities. That trend is only going to continue, as experts predict that 66 percent of the world'spopulation will be city-dwellers by the year 2050. This rapid shift in population geography will bring major changes to the lawn and garden industry as we know it.
While there are certainly benefits to urbanization — economic growth, shared resources, cultural expansion — the way humans interact with nature could dramatically change. Forests, grassy plains and waterways could give way to buildings, houses, roads and other manmade structures in metropolitan areas. These changes are forcing people to rethink what it means to be "outside" because urbanization can reduce the amount of times humans are able to interact with nature.
For cities, this means propagating green spaces that its citizens can use for recreation and recharging. It also means increased attention on residential lawn and garden spaces, and how they should be maintained and regulated. Much of this work will fall to the lawn and garden industry as it works hand in hand with policy makers and city residents to chart the best course for the future of our outdoor spaces.
"Nature begins at our back door," said Kris Kiser, president and CEO of the Outdoor Power Equipment Institute (OPEI). "Our industry has the opportunity, and I think an obligation, to provide not only equipment, but also education in how to maintain these spaces and make use of their potential."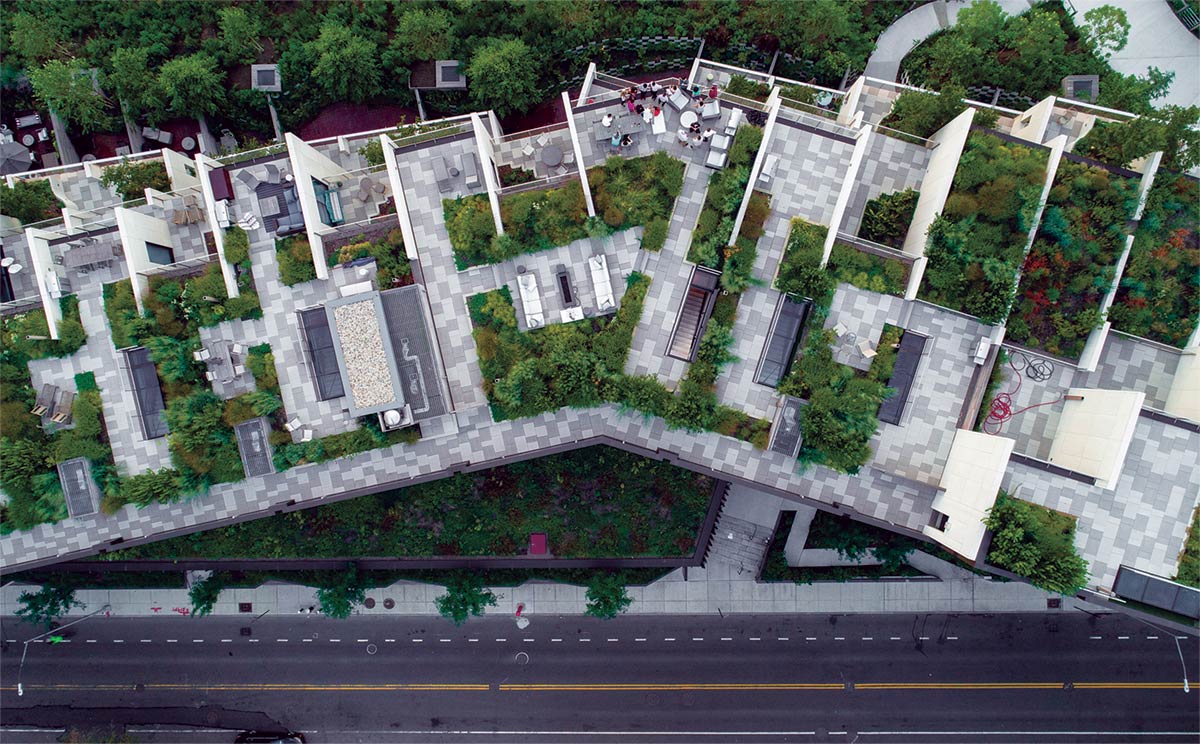 WHAT DOES URBANIZATION LOOK LIKE?
With more and more people moving to cities, does that mean there will be less greenspaces? The answer is both yes and no.
Some cities will grow outward, in what's known as urban sprawl. This is generally characterized as rapid expansion of a city and its suburbs. While these cities might have growing pains with heavy traffic and commercial development, they often have plentiful greenspaces. Houses typically have large front yards and expansive backyards. There are more parks, and most likely, more hiking trails. Think of areas like Phoenix, Arizona, Dallas, Texas, and Orlando, Florida, where buildings aren't necessarily getting taller, but the surrounding areas are continuously expanding.
For other cities, the growth will be upwards. This is what people tend to imagine with urbanization; rapid population growth, more skyscrapers and lots of careful utility planning. But that doesn't necessarily mean there will be fewer greenspaces. Instead, these spaces will consist of rooftop gardens, cityscapes and city parks. Cities like New York City and Chicago typify this.
For the lawn and garden industry, the biggest challenge will be navigating the regulations that accompany growing cities. Regulations will help shape how water is used and what chemicals can be applied and where, but as an industry, we also have to be smart about managing urban landscapes so that man and nature can coexist.
GOING COMPACT
Whether it's urban sprawl or urbanization, we can expect more people in concentrated areas. They will live more closely to one another, and in the case of big cities, on smaller pieces of land with more obstacles to avoid. This translates to tighter working quarters and raises the need for more compact equipment.
AriensCo has seen the shift and put more emphasis on its compact equipment ranges. Its redesigned Gravely Compact-Pro lawnmower (page 12) is the latest piece of equipment that was adapted to fit a more urban landscape. That means it will be easier to mow small lawns or traverse obstacles like narrow gates and garden pathways.
The effects of urbanization aren't limited to the summer months either. When there's snowfall, contractors have to be mindful of how they are going to navigate the urban landscape to effectively remove snow from the city sidewalks; also homeowners need equipment to clear the driveways and walkways on their properties. Over the years, Ariens has developed snow blowers that fit to users' needs — having bigger models meant for commercial and public spaces, and more compact, but equally powerful machines for those that work with homeowners.
AriensCo Senior Product Manager Trae Humphreys said, "AriensCo works hard to deliver products that suit both our urban and residential customers. We make it a point to have products available that can maneuver in the tight working quarters of the city or that are big enough to handle the wide open greenspaces that are more prevalent in suburbs."
GOING ELECTRIC
"As goes California, so goes the rest of the country" is a common cliché, and the industry generally looks to the state of California to predict what issues will impact it the most, as the state is progressive in its regulations and it commands such a large market share that it can shape the industry's habits and equipment choices.
California is currently leading a charge to ban engines that produce emissions. The state recently passed stricter regulations against smaller gas-powered engines, such as the ones found in snow blowers, lawn mowers and leaf blowers. This is forcing lawn and garden equipment manufacturers to develop equipment that will meet the standards set by the state and reduce pollution.
Last October, AriensCo unveiled a prototype of the Gravely EVZT. The mower is the company's first ever battery-powered commercial zero-turn. It is still in development, but the ultra-quiet Gravely mower is more environmentally friendly than its gasoline-fueled predecessors and is expected to meet California's emissions regulations.
Moreover, the move to electric equipment will reduce energy costs for many companies and it will nearly eliminate greenhouse gases produced by lawn and garden companies. That means that more companies in the industry can advertise themselves as "green" and be confident that they are using equipment to back it up.
GOING QUIET
Coinciding with air pollution is the topic of noise pollution. Cities like New York are cracking down on how loud machines are and the times at which they can operate. The lawn and garden industry can expect this trend to continue as other cities grow, absorb more population and add more noise.
Once again, electric equipment will have a role to play in reducing noise. Without the combustion engine, and in general, having fewer moving parts, electric equipment significantly reduces noise. During a recent demonstration of the Gravely EVZT at GIE + Expo, many people couldn't even tell when the machine was on because it was so quiet.
Reduced noise will not only help industry pros comply with new noise standards. It will also help them operate with more flexibility throughout the day. This means contractors will be able to work around schools, hospitals and nursing homes during more hours of the day. This could mean more opportunities for companies to grow, as they can add multiple shifts or pick up extra projects throughout the month.
"The industry is aware — and has responded — to users' sensitivity to noise," Kiser said. "Over the last twenty years, we've seen dramatic improvements in this area, as manufacturers have introduced increasingly quieter products, and we expect that trend to continue."
GOING DRY
One issue that will come to define the expansion of cities is their water supplies. Scientists attribute lessening water resources in some parts of the world to climate change, but regardless of shifting climate patterns, water and irrigation have always been central to the livelihood of cities. Look no further than the droughts that have effected California in recent years for proof that water is very much a 21st century urban issue.
As lawn and garden pros, water is vital to the survival of the industry, too. In coming years, contractors will have to consider these water issues when consulting with clients working with customers on "smart" systems that make use of web-enabled watering systems and smartphones, for example, for optimal water practices.
"Water is crucial part of our business, whether it comes naturally during rainfall or from a sprinkler system," Humphreys said. "It's what makes the grass grow and what makes the wheels turn in our industry. In the future, we may be looking for innovative ways to conserve more water, and that may look something like subsoil irrigation systems."
When water does run low, it's important that lawn and garden professionals trust nature's resiliency and don't overuse water in times of drought. While having a perfectly kempt greenspace may be the goal, it doesn't supplant the need for smart water practices in urban areas. As many experts are learning, a region's natural plants may be the best defense against droughts.
GOING NATURAL
Shifting trends in the global marketplace may signal changes for how the lawn and garden industry uses fertilizers, weed killers and other chemicals. Millennials are proving to be more cautious when making decisions about product purchases, factoring in their environmental footprints and sustainability factors.
Furthermore, recent court decisions against weed killer manufacturers regarding their effects on human health could have wide-reaching effects on the market. This could mean a big boost is coming for products that are more "natural" or organic, and rely less on chemical compounds for results.
"Younger generations are looking for natural alternatives that are good for the environment and enable kids and pets to play on their lawns," Kiser said.
EPA reports embrace the benefits of filling lawns and greenspaces with species of plants that are native to that region. The plants are more naturally resilient to the local climate and weather patterns, and cultures with more biodiversity tend to support the local ecosystem more effectively, including local wildlife. This means that often, fewer chemicals are needed to maintain a healthy landscape. It will be up to the lawn and garden industry to consult with clients on appropriate choices for their green spaces and how best to treat them.
"We all have this idea in our heads of having those perfectly-groomed green lawns, so we dump chemicals on everything that isn't grass to kill it," Kiser explained. "But we need that other stuff, too. The cloverleaf attracts bees, and we need those bees to pollinate other plants. We need diverse species of plants that work well together in a certain environment. Maybe we need to rethink what it means to have a good lawn."