In October 2018, Gravely introduced updates to its Compact-Pro series of commercial zero-turn mowers. Both the Gravely Compact-Pro 34 and Compact-Pro 44 models got a redesign, and while they retain their smaller geometry, the facelift incorporates design features consistent with Gravely's more recent innovations and styling.
The product offering, both new and old, gives commercial users a solution for navigating tight work spaces on residential properties, especially those in densely populated cities. While the 34-inch deck option is narrow enough to slip through a standard 36-inch gate opening, it's spec'd to the standards of lawn care professionals.
"The Compact-Pro is a small, nimble machine ideal for commercial work in urban areas," said Trae Humphreys, senior product manager at AriensCo. "This mid-mount zero-turn mower is small enough to get through gates with excellent maneuverability, enabling the operator to cover a lot of property quickly."
The new Compact-Pro series adopts several winning features known well to other Gravely models. The same easy-to-adjust deck leveling system of the Pro-Turn series has been shared with the redesigned Compact-Pro series, enabling landscapers to quickly make deck level and pitch adjustments for superior cut quality. A new fuel tank design for both models increases stability and improves machine handling and visibility to the left and right edges of the mower deck. Additionally, the machines are equipped with a proven Kawasaki FX engine that touts a heavy-duty canister air cleaner for optimal performance in all cutting conditions.
Among the mower's features, the most notable is in the introduction of Sidekick™, a control panel integrated into the armrest that places the throttle, PTO, choke and ignition within immediate reach of the operator.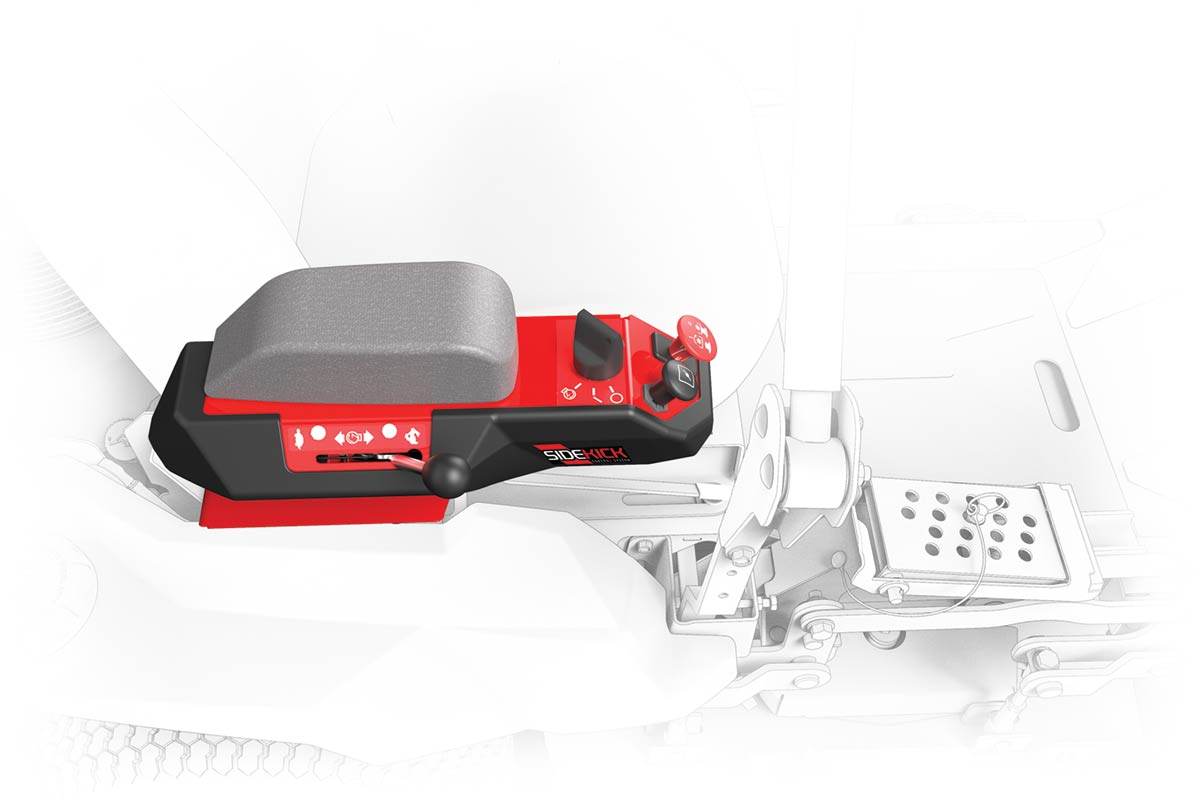 TESTING THE NEW COMPACT-PRO
Jared Crouse has been mowing lawns in Milwaukee, since he was 13. Now just five years later, the young entrepreneur is a Gravely brand ambassador and owner of Lawnscape, a quickly growing landscaping business specializing in urban lawncare.
Crouse recently put the new Gravely Compact-Pro through its paces, trying out one of the models on his customers' lawns.
"I started working with the Gravely Compact-Pro 34 a month ago, and it has been a terrific product for working in smaller areas," he said. "I have the 34-inch deck size, which enables me to fit through 36-inch gates. It's more productive than a push mower and it helps me get in and out of jobs quicker while still providing quality results."
Crouse noted how much he liked the user-friendly Sidekick control system. Everything an operator needs is "right there at your fingertips," he said, adding that the new, sleek gas tank is a definite upgrade over the previous design. On Instagram @lawnscape.llc

COMPACT-PRO 34
Kawasaki FX481 engine
15.5 horsepower (hp)
Hydro-Gear ZT-3100 transaxles
7 mph maximum forward ground speed
7.2-gallon fuel tank capacity
1.0 – 5.0-inch cutting height
0.25-inch cutting height increments

COMPACT-PRO 44
Kawasaki FX600 engine
19 horsepower (hp)
Hydro-Gear ZT-3100 transaxles
7 mph maximum forward ground speed
7.2-gallon fuel tank capacity
1.0 – 5.0-inch cutting height
0.25-inch cutting height increments