In 1991, Ernie DeWinne left the outdoor power equipment industry. After starting a new job, those who knew DeWinne from his previous job at a local equipment dealership convinced him to offer service, part-time. His nighttime garage operation was so popular that two years later, DeWinne and his wife Debbie built a shop in their backyard to accommodate increasing demand. Debbie worked full time during the day while Ernie did repairs in the evening. Business was so good that they blew out walls in their home to build a showroom.
After 10 years of growth, Ernie returned to servicing equipment full time. His strong work ethic, treatment of others and teamwork has since turned DeWinne Equipment Co. into the largest Gravely dealer in the region, operating with selflessness at its core. Whether it's for customers, kids in school, its own employees or the industry as a whole, the DeWinnes work for everyone but themselves.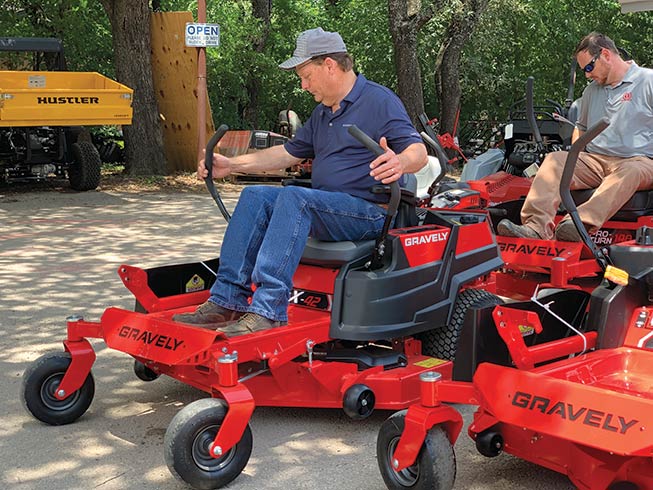 Helping customers
As critical as sales margins are for dealerships, DeWinne doesn't focus on dollar signs. Instead, he sees opportunities to help. Whether he's using his 37 years of experience to mentor new commercial landscapers, providing fast service turnaround or accepting used equipment for credit on new machines, he moves mountains to help his customers, even those who didn't purchase from him.
"If I earned the respect of someone asking us for help, when it comes to buying new equipment, they're going to come back to us to buy because they know they'll get the support," DeWinne said.
He even takes it a step further by mentoring those new to landscaping. Whereas DeWinne has seen young entrepreneurs start businesses only to make money and blow it, he nurtures them by offering advice.
"I'll say, 'Guys, listen, when you start making money, don't spend it on a four-wheel drive truck or a boat.
I want you to reinvest in your company so you can grow, because the biggest problem you run into is you're undercapitalized,'" he said. "Let me help you on the business side and make money."
Helping the trades
Knowing industry challenges, DeWinne works hard for the interests of the trades, starting in the local schools. Even though his three children have long since graduated, DeWinne has been pushing trades education to show other kids they can have strong futures working with their hands. He's currently working with manufacturers to donate equipment to school districts' technical education programs.
"If I can get them a couple of zero turns, if it's part of their program when they're teaching small engines and teaching mechanical, hey that's cool – I wanna do this," DeWinne said. "If you can get 'em when they're young, I think you got 'em."
Additionally, DeWinne is developing a $5,000 scholarship program with Alamo Community College to help finance educations in trade programs. And although agriculture is not technically part of outdoor power, it's still a trade that DeWinne has value in because it gives kids strong opportunities for their futures.
"They're our future," he said. "The San Antonio Livestock Show is the largest junior livestock show in the world. In the hog show alone, there's 8,000 hogs shown, and only 300 make the sale. It's very competitive and we make sure we go in and help kids that need help selling."
Servant leadership
While some of DeWinne's intention behind his involvement with schools, trade programs, sponsorships for little league baseball teams, rodeo and livestock shows is to direct some attention to his business, it's not for his own sake. He's looking out for his employees.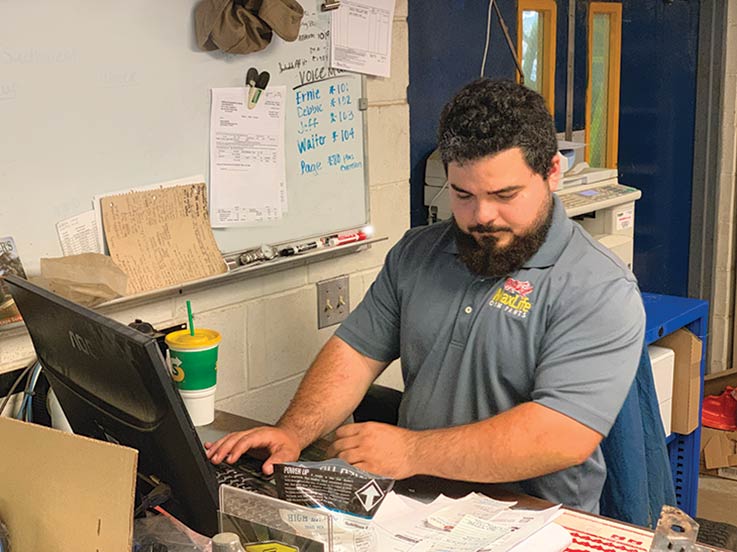 "It's not only about them, it's about their families," DeWinne said. "If they got something going on with their kid's sports teams, I'll sponsor it. I want to make them look good."
The dynamic between DeWinne and his employees is without comparison in 21st century business. There's no hierarchy; everyone from the bottom to top is on the same level. Even responsibilities like cleaning the toilet can fall on the owner because it instills teamwork across the departments. Teamwork is what allows DeWinne to reward his employees with quarterly bonuses, 401k contributions, health insurance and more.
"We do quarterly bonuses," DeWinne said. "They make a good base, but then they really make it off bonuses. The deal is it's what the store does. Not what sales does, not what parts does. Everything works together. That's how my guys are incentivized."
With labor shortages becoming more prominent in the industry, DeWinne knows the key to retaining good talent is by caring for his team, providing each member with an advancement path and treating them as assets.
The level of trust in his team goes far. The boss lets one of his employees and her husband live in the mobile home behind the business for free so they can save for a home of their own. The couple watches the property at night and in turn, DeWinne helps them toward a comfortable financial position — a goal of his for every employee.
"They're growing the right way," DeWinne said. "I've got them saving money. I'm gonna help their kids through school when they go to college to help cover the kids' living expenses, just as an incentive. There's nothing in writing, they just know I'm going to take care of them, and I'm going to be here for them — bottom line."