Texas has seen its fair share of droughts.
Parched lands are the norm in a state that lies in some of the country's driest climate zones. With extremely dry land, Texans often deal with drought's more dangerous cousin: wildfires. In 2011, Texas experienced one of the worst droughts it had seen in decades. Over 30,000 wildfires burned over 4 million acres and destroyed nearly 3,000 homes. It was one of the most destructive fire seasons in the state's history.
The potential for widespread fire damage and destruction is why the San Antonio Fire Department (SAFD) operates its Wildfire Program, putting the force through extensive training in handling urban wildfires. The department also obtained new equipment to aid in these efforts, including two Gravely Atlas JSVs.
"As a big city fire department, we're charged with protecting every neighborhood and every structure that we can," said Brian Stanush, captain of the Station 53 SAFD Wildfire Program. "It's a huge challenge for us. We have a lot of risk in this area because the city is sprawling outward, and we have more area to protect."
When the prolonged hot, dry and windy conditions associated with the summer weather systems set in, the region experiences micro droughts. These periods of little to no precipitation usually don't affect larger vegetation like trees, but can easily turn crops and grasslands into combustibles in as little as 30 days. If the pastures are primed, one small spark can cause big problems.
According to Stanush, they're always waiting for the other shoe to drop.
"If you get a day where it's been windy and there are gusts up to 20 mph to 35 mph, it doesn't take much for a field to go up," Stanush said. "It's unbelievable how fast it will go up if the fuel's right."
Controlling the burn
One of the greatest tools in Station 53's Wildfire Program arsenal is the controlled burn — fighting fire with fire.
When fire danger rises, the team intentionally sets and contains fires in hazardous areas to destroy brush and eliminate fuel. Instead of attacking a wildfire itself, the crew calculates its direction and preemptively burns foliage ahead of the wildfire before it escalates into an even more violent situation.
"We've seen fires jump four-lane highways and keep running," Stanush said. "If you're able to get there to that four-lane highway and burn out everything in front of it, it's not going to jump … in theory."
The City of San Antonio and the SAFD Wildfire Program recently began building a fleet of equipment to exert even greater control over its controlled burns. Of the city's recent purchase of 25 Gravely Atlas JSVs, two of them are dedicated to aid these efforts.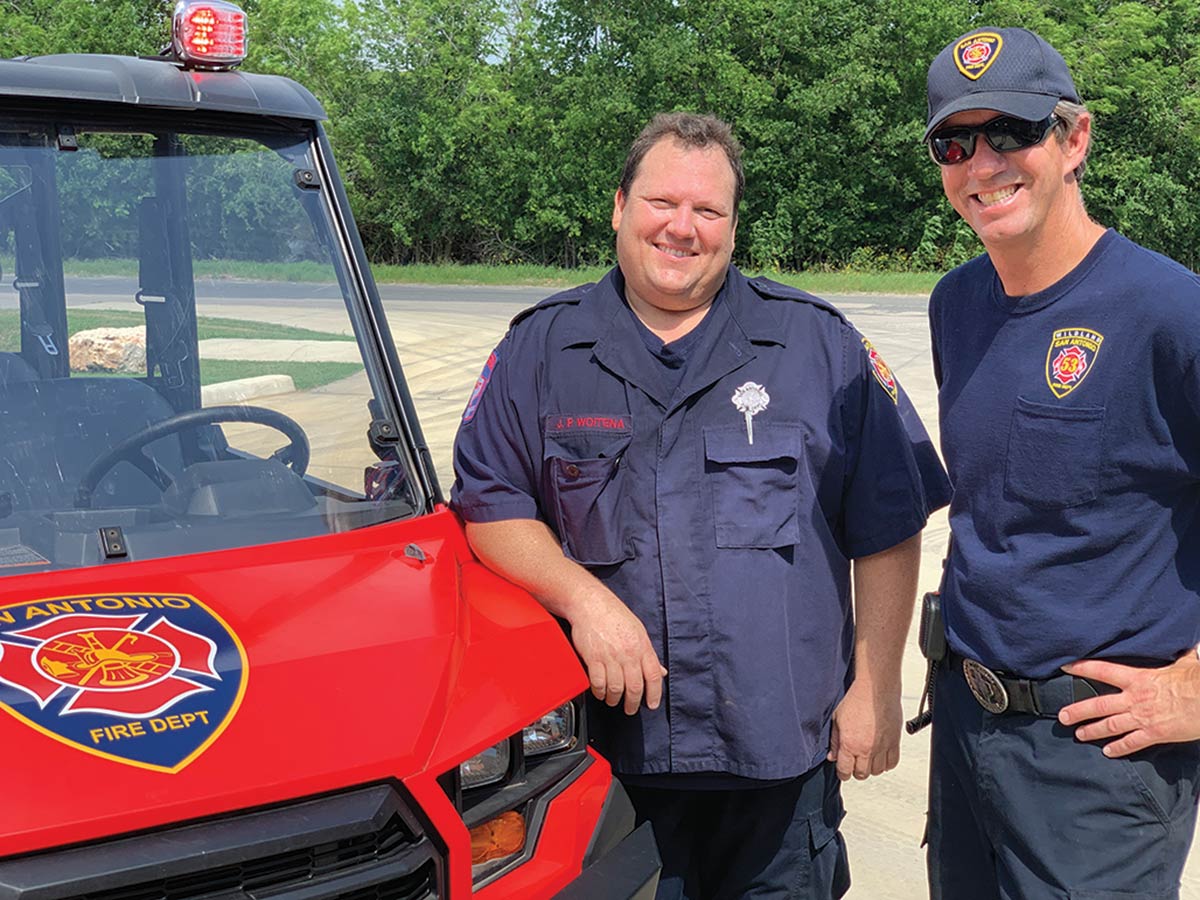 "We need the best tools and the best equipment to get the job done, especially when lives are on the line. The Gravely Atlas JSVs have been a real boost to our wildfire fighting capabilities and we plan on using them for as long as they continue to hold up to our specifications." — Brian Stanush
Whereas traditional fire trucks are large, slow to accelerate and limited to pavement, Atlas JSVs are nimble, can accelerate quickly, haul personnel and equipment, fit into tight spaces and navigate rough terrain. For the SAFD, they're used to quickly haul water and firefighters across fields or through tight working quarters when speed and mobility are most critical.
"The JSVs are mainly used for patrol, but if a fire breaks out, they act as fast-attack vehicles that can get on a spot fire and get control of it really quickly," Stanush said. "You can make a circle around the fire a lot easier on the Atlas JSVs than on a four-wheeler or truck."
Dynamic dealer
DeWinne Equipment Co. was instrumental in helping the SAFD realize its JSV fleet ambitions. The San Antonio-based Gravely dealer worked with the city to understand its unique firefighting needs, and then led its procurement department through extensive demonstrations and educational sessions before landing on the Atlas JSVs.
"We worked real close with the SAFD to ensure it was the right machine for the application," said Ernie DeWinne, owner of DeWinne Equipment. "They needed a machine that was going to be quick, powerful and reliable, but it had to have a small footprint to navigate the dangerous conditions they'd be facing. The Atlas JSV was a great choice."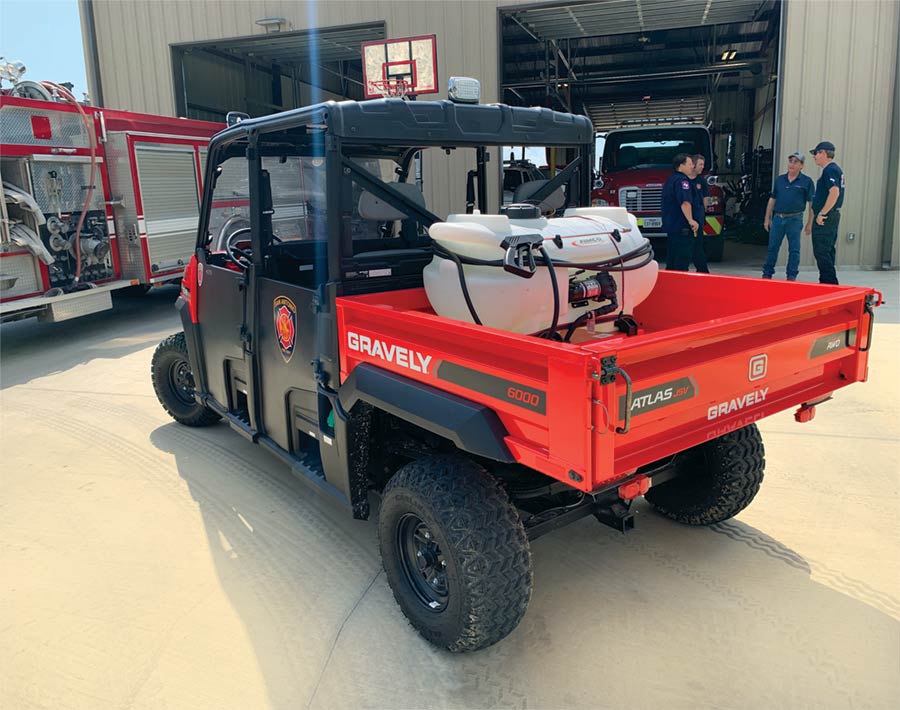 The Atlas JSVs were such a hit with the SAFD, the San Antonio Parks and Recreation Department also began adding them to their fleet for daily operations. With an all-steel cargo bed that holds 18 cubic feet of cargo space and a class-leading 1,900-lb total payload capacity, the vehicles work well for hauling equipment and people throughout the city's extensive parks system.