Over this last winter, it took only 45 days for the team at Twin Oaks Landscaping (Twin Oaks) to experience the amount of snow that typically takes a year in its region. Seeing that kind of action in such a condensed period was tough. The heavy season really brought the importance of easy maintenance to the forefront.
The record snowfall also brought Twin Oaks new business, so after landing a few new accounts, it was time to expand the company's fleet and maintenance was of chief concern.
"For 30 years, we had used single-stage snow blowers from another brand," said Twin Oaks Owner Phil Edwards. "But based on the recommendation of my team, we moved to Ariens single-stage snow blowers because of how much easier they are to maintain."
John Kolkman, director of maintenance at the company, was one of those pushing to make the move to Ariens. But rather than tell Edwards why he thought the switch made sense, he decided to show him. Kolkman set up a side-by-side comparison with company's mechanic Bill Hoffmeyer, and they demonstrated for Edwards how they could be more efficient with maintenance needs and minimize downtime on the job site.
"These back-to-back snowfalls stress man and machine to their limits."—John Kolkman
As an example, Kolkman and Hoffmeyer simulated a broken starter rope. On the old brand, the mechanic would have to take apart the entire machine to replace it—a three-hour process, Kolkman said. But with the Ariens machine, the starter rope was a lot more accessible and took less time to fix. They also showed how the design of the bar that engages the auger on Ariens held up more durably in the field.
"On our old equipment, the bar would easily pop off," Kolkman said. "It would often break in the field. While repairing it was fairly simple, the machine was inoperable whenever it broke, and we would lose productivity in the field."
Kolkman also noted that the machines Twin Oaks typically used were constructed of plastic parts that broke more easily, and Ariens snow blowers were comprised of more reliable steel parts. He also liked that the machines' handles are designed so that one person could easily lift them into a pickup truck without help.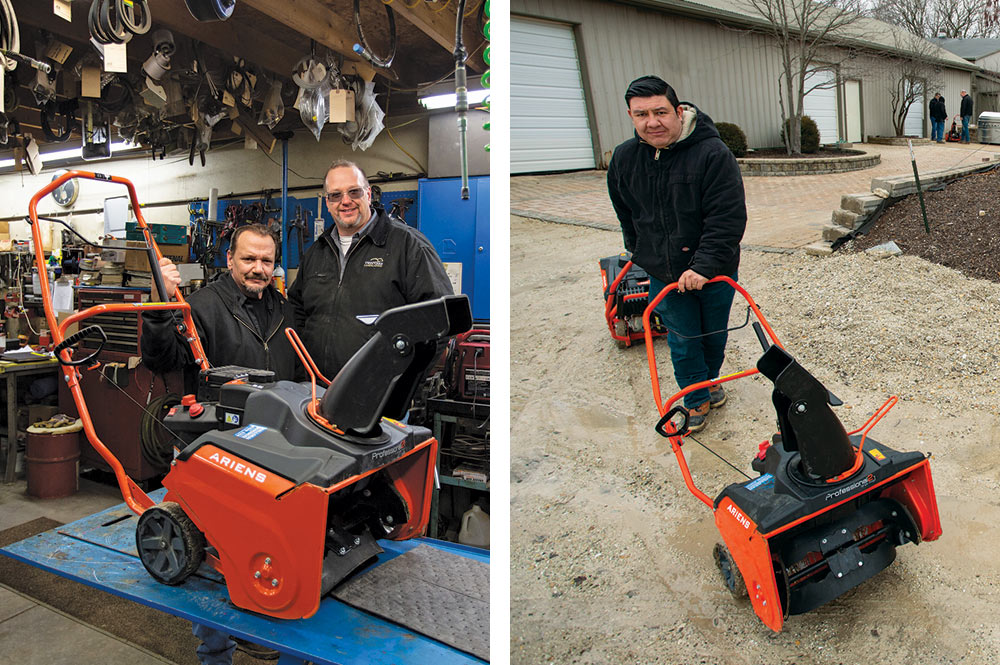 "It wasn't the price and it wasn't the warranties that convinced my boss," Kolkman said. "It really came down to differences in craftsmanship and design. That made sense to him, just like it did to Hoffmeyer and me."
Fleet expansion
Kolkman said having equipment he can rely on has been especially important this year, given the tremendous amount of snowfall. It has been quite busy for Twin Oaks because the company services customers that include homeowners associations, town homes, apartment communities, municipalities and school districts.
"These back-to-back snowfalls stress man and machine to their limits," he said. "Also, the nature of the snow has been different, with some storms bringing light fluffy snow followed by other storms that bring extremely wet and heavy precipitation. It has been extremely taxing on our crews."
Twin Oaks now employs a fleet of 25 Ariens single-stage snow blowers. Their ease of maintenance and reliability on the job site has helped the company improve productivity this season. Overall, the company reports that it has been quite pleased with its decision to change brands. As for the crews, they have latched onto the new machines. In fact, employees are allowed to choose which brand of snow blower they want to use each day. Kolkman said more often than not, they are choosing Ariens.
"When I walk into the shop during a snow storm, I see all the orange blowers are out on job sites, he said. "The guys are choosing the Ariens machines, so they see value in them and like working with them. We are very happy with our decision to switch."