Walk into any room at the AriensCo headquarters in Brillion, Wisconsin, and you will find the company's Core Values on the wall: be honest, be fair, keep our commitments, respect the individual, and encourage intellectual curiosity. The last core value is key to driving innovation and change. Great ideas can — and do — come from anyone at the company who can help move the industry toward the future.
The value of encouraging intellectual curiosity especially rings true for the engineering team, who is continually tasked with solving problems and bringing forth new and exciting ideas. Trae Humphreys, senior product manager for Gravely equipment, said that inspiration can come from anywhere, but it is also important to keep tabs on the competition and the outdoor power equipment industry as a whole.
"I know my industry segment — commercial lawn care — and it's important that I know the competition," Humphreys said. "I also try to have the foresight to see where the industry is going. Whether it's the labor shortage or fluctuating fuel costs, we're working with the engineering department to solve any challenge."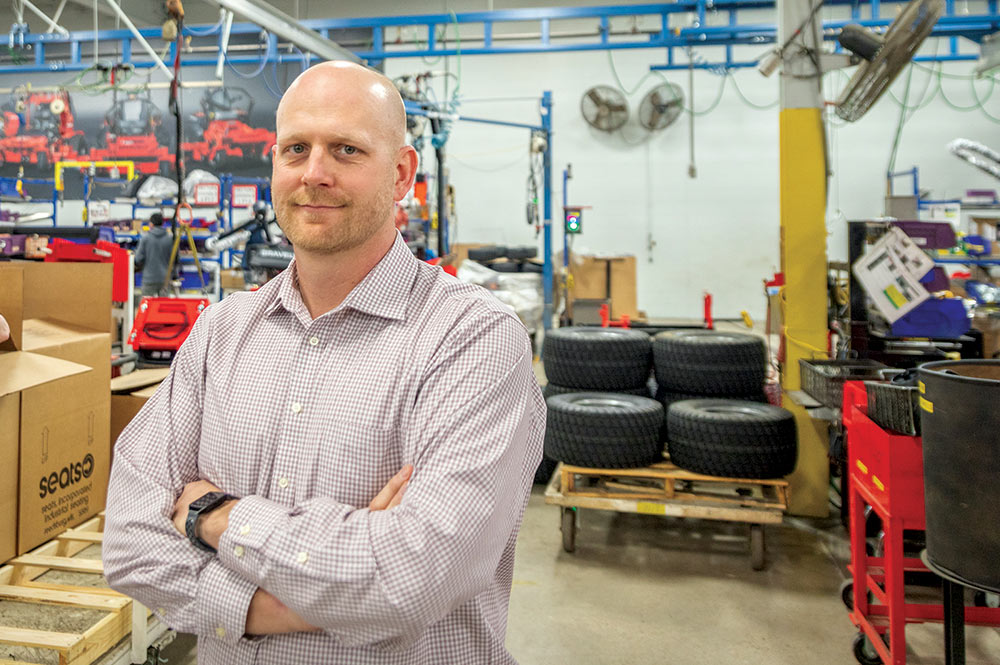 Humphreys constantly tries to foster the value of intellectual curiosity, knowing how important innovation is to the survival of a company. But it is important to look beyond one's own industry segment to watch developments across a wide range of industries, and even to study consumer trends. Citing a hand-held drill as a good example of environmental scanning, Humphreys said that the drill went from using a power cord and plug to using batteries. The change was very quick, he noted. It's this rapid kind of change that will soon transform the outdoor power equipment industry as it moves to electric machines. One great example is electromobility. With pressure from the government mounting to reduce both air and noise pollution, AriensCo is developing the next generation of lawn care equipment with commercial, battery-powered, zero-turn lawnmowers.
"The industry, the country, everyone is moving more and more to the green side. And we know we need to get there," Humphreys said. "Innovation doesn't happen overnight."
The team at AriensCo has been working on an all-electric machine for more than a year now, and the company officially unveiled the Gravely EVZT prototype at its annual dealer conference in September 2018, then showed it at GIE+Expo a month later. A lot of work went into creating the prototype alone, and there are still challenges to overcome.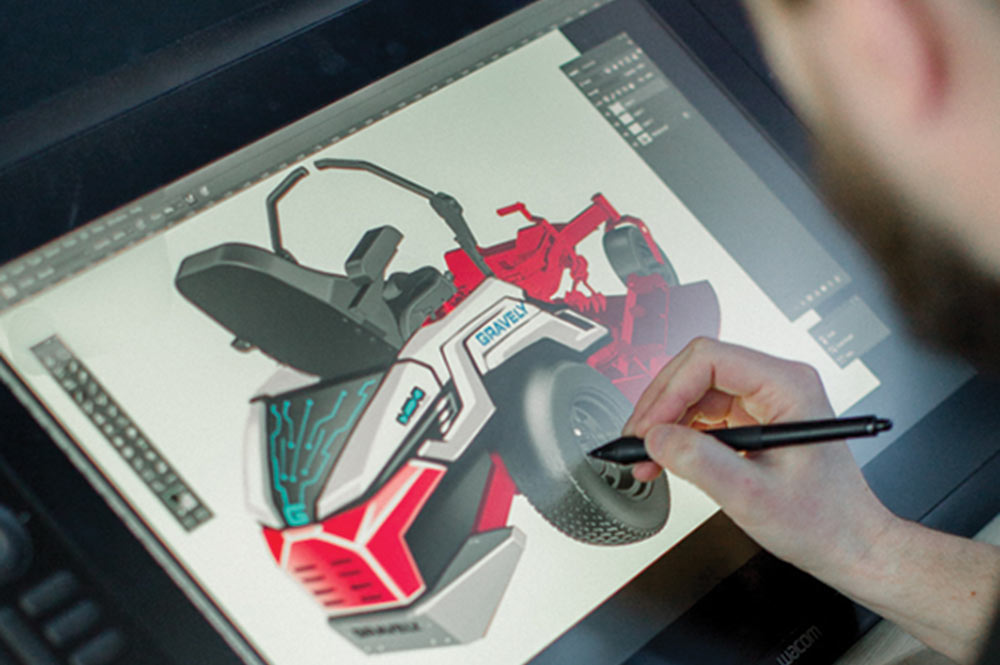 Unknown waters
It is one thing to be innovative and update a product that already has a place in the market, but being the first to market, or one of the first, is a challenge in and of itself. Not only must the technology be ready, but consumers must be ready, too. When the market already exists, there is data available that shows features to include, the functionality and performance the machine needs, and a suggested price point for the new product. When competing to be the first to the market, far more research and speculation is required.
"There isn't hard data that we can rely on when we're trying to launch a completely new product that the industry hasn't seen before," Humphreys said. "One way to gain a sliver more of knowledge is to do comparison research. For example, when first looking at battery-powered machines, we studied what the shift from gas-powered line trimmers and chainsaws to battery-powered equipment looked like."
Drawing from so many outside influences helps refill the ideas pipeline at AriensCo. By examining the experiences of other industries and studying their lessons learned, the company is able to stay on top of the trends that are driving the economy. Urbanization, environmentalism, generational changes in the workforce and dozens of other factors are shaping the lawn and garden and snow removal industry, and by remaining intellectually curious, AriensCo will be better positioned to respond with products that meet its customers' needs.
"There is a lot of change coming to our industry and we are determined to remain on the cutting edge," Humphreys said. "Whether its technological change or geopolitical forces, it's our duty to stay vigilant and learn from the world around us. There is a reason that encouraging intellectual curiosity is one of our Core Values. It helps us to remain focused on the future and ensure our products are ready for when that day comes."