Perched in the front window of Gravely Hockessin is an early 1940's Gravely motorized plow (or for you aficionados out there, an old English made, one-wheeled, air-cooled engine Model D with a sickle bar attached). This retro machine sits in stark contrast to two brand-new Gravely Pro-turn™ models on the shop's floor. For one of the oldest Gravely dealers in the country, the antique represents a hobby for store-owners John and Louise Langille, while the newer Gravely models stand as testament to the dealer's enduring success.
For as long as the Langilles can remember, there has been one challenge that sits above the others: keeping focus on selling and maintaining equipment for clients, rather than their passion for collecting vintage Gravely machines.
"It can be hard having a dealership and a hobby that are basically one in the same," John Langille said. "Here at the shop I have to have some separation. I love the old Gravelys and talking about them, but on the other hand, I need to make the current models a priority. We sell the new-model Pro-Turns™, residential zero-turns and snow blowers to keep business growing."
Gravely Hockessin, which is based in Hockessin, Delaware, is a family-run business that has been providing the community with quality outdoor power equipment and services since 1968. Gravely Hockessin exclusively sells the entire Ariens and Gravely lines, from Ariens lawnmowers, snow blowers and power brushes to John Langille's pride and joy, Gravely lawnmowers.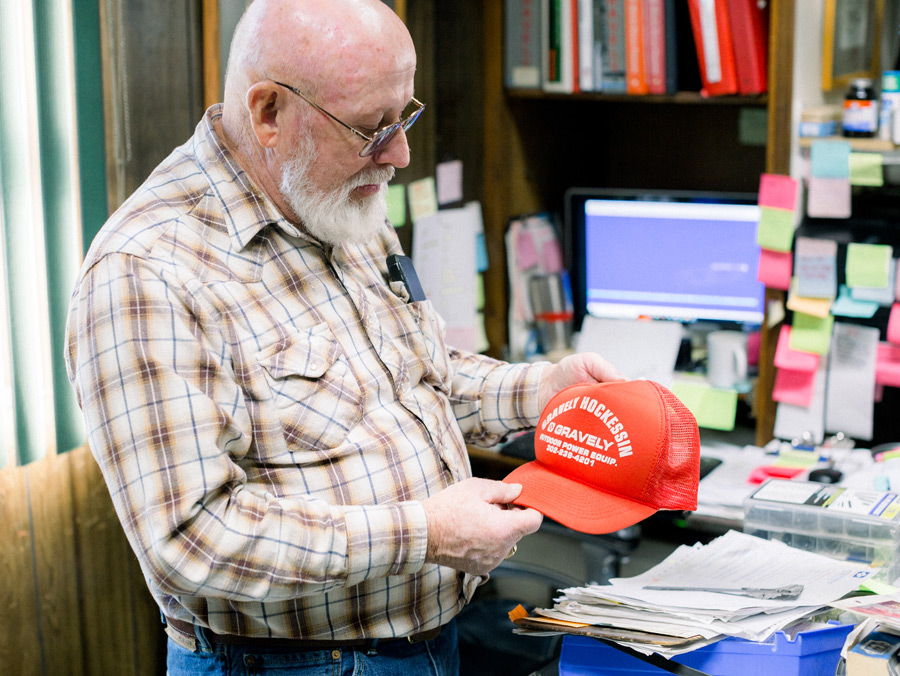 With the company's strong commitment to ensuring the best personal experience for each customer that walks through its door, and never shying away from a job that may get a little dirty, the Langilles have built the business to last. Through the ebbs and flows of business the Langilles have learned how to balance life, selling the newer equipment along with their passion of collecting the antiques. One of the toughest decisions they make upon purchasing another antique is where to safely store it. Their desire to display the vintage machines at the store is often outweighed by the need to showcase the newer equipment models that are for sale.
For that reason, the Langilles built a 30 ft by 60 ft barn at their home. Inside it features double-stacked pallet racks where John Langille can house his "oldies" safe from the elements. His collection includes such items as hay rakes, circular saws, a v-plow, seeder spreaders, a Gravely Westchester tractor and a snowblade nestled among Gravely Clean Cut mowers and anniversary tractors. But perhaps the prize of his collection is a Gravely 1924 Model D motorized plow — the oldest known Gravely tractor to exist, and which Langille still runs.
Langille also has some vintage mowers and plows scattered among friends' homes and has yet to fully finish sorting all of the Gravely pieces on the second floor in his store. He will never fully share the total number of antiques or value of his favorite possessions that he has accumulated over the years, but he will say that "there are too many to count."
People know that he loves Gravely so much that two friends bought and shipped him a 30-inch mower from France as a Christmas present one year. But one of his greatest finds was a 30-year-old Gravely backhoe. He took it apart and sent the pieces to the AriensCo Museum, where it is now on display. The 14,000-square-foot (1,300-square-meter) museum in Brillion, Wisconsin, features artifacts that span the 85-year history of AriensCo, including the machine that the Langilles donated.
"I love that I was able to donate something different to the new AriensCo Museum that it didn'​t have," Langille said. "A lot of people aren't as interested in the heritage, so it's important that AriensCo is working to preserve the history of the Ariens and Gravely brands. Being able to share my passion for the old Gravelys with others through the museum means so much to me."