When Wade Martin founded Martin Landscape Inc. nearly 15 years ago, he didn't think much about training. The Port Royal, South Carolina-based company began by specializing in smaller landscaping projects and has since grown significantly, working on large-scale commercial jobs with its growing customer profile. When Martin began closely working with AriensCo six years ago, after switching his entire fleet to Gravely, he learned about the value of professional development and employee training programs.
"When I first started out, I thought you either knew landscaping or you didn't," Martin said. "I've found that it's better to invest in your employees through ongoing training and develop a program that fosters education. No matter what skill level employees are at, ongoing training is good for everyone and ultimately better for the business."
Martin attributes much of what he has learned about the value of training to AriensCo. He began training employees with programs modeled after the instruction AriensCo offers its dealers and customers. He even opened a dedicated training center like that of AriensCo and turns rainy days into training days for his staff. The sometimes eight-hour courses touch on skills, safety, industry innovation and more.
"I toured AriensCo's factory and met with the Ariens family and that inspired me to operate my business in a similar way that they do," Martin said. "They take their training very seriously, which I think speaks volumes to running a successful business."
MANAGING THE BUSINESS​
It wasn't just training prowess that Martin picked up from AriensCo, he also learned from the way that the company monitored and measured its business. He saw the way AriensCo handled its machine manufacturing with detailed data, monitoring and predictions, and thought that sort of thinking could apply to Martin Landscape's work, too.
The company began to measure the amount of crew hours against the pieces of equipment needed at a job site, and then cross-referenced those details with project management and scheduling. Martin was able to reduce inefficiencies at his company — down to the acre — and improve its profitability.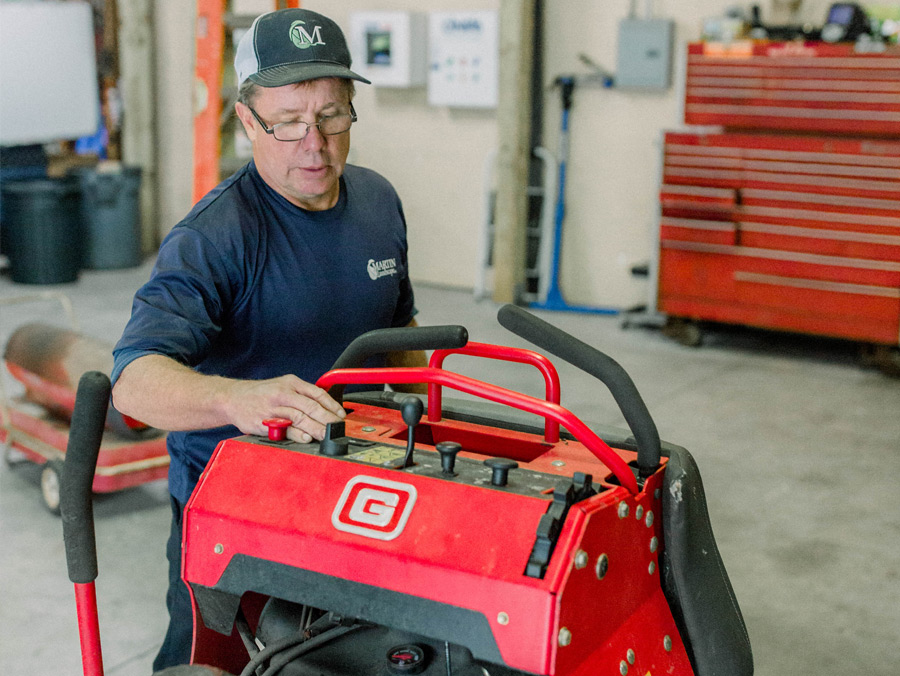 "After measuring our production and running the numbers, we knew we needed to optimize the number of our crew in conjunction with our equipment fleet," he explained. "We were able to improve our operations and boost our business at the same time, winning and completing more jobs than we had previously."
Martin Landscape is enjoying healthy growth, focusing on long-term relationships with key clients and continually optimizing its operations with training and measurement exercises. It continues to consult with AriensCo to help fuel growth and instill professional best practices into its operations.
"When I first started the business, it was just me, a pickup truck and a push mower," Martin said. "The company has grown so rapidly since then that we had to strategize how to manage the growth in the most impactful way, which AriensCo has really helped me achieve. The company has led by a great example, and we are always eager to learn."