When Lachine, Quebec, Canada-based company Matériaux et Équipements Marina (Marina) first opened its doors in 1976, it operated as a lawn and garden center. It quickly became popular among landscapers by selling trees, shrubs, soils, mulches and more. The company saw increasing success until its first big challenge arrived — the day the first big box retailer opened a store in the area.
In 1999, Marina started selling lawnmowers as part of John Deere's sub-dealer program, which consisted of 25 sub-dealers operating under a larger John Deere dealer. But again, Menniti said they were not generating the profit margins the brothers were looking for, and ultimately the sub-dealer program was not a success.
"After a few years, John Deere reviewed the program, and we were one of only two sub-dealers who were generating a profit," Menniti said. "John Deere ultimately pulled the plug on the program in 2002."
While this presented another hurdle for the brothers, they all knew and agreed who their next partner would be: AriensCo. The next morning they reached out to the company and a sales rep was in their store by 1 p.m. that same afternoon. By 4 p.m., Marina was an official Gravely and Ariens dealer.
One thing the Menniti brothers were looking for when searching for a new partner was a company that would value both the partnership and their dealership. AriensCo's core values — such as being honest and keeping commitments — aligned with the Menniti brothers' own values, and Menniti said that AriensCo truly practices t​hose beliefs on a daily basis and pointed to a number of examples over the last 16 years.
"What truly separates us from our competitors and the big box stores is our commitment to service. We go the extra mile to help our customers, even providing them replacement machines while their equipment is being fixed," Menniti said. "AriensCo operates in the same way. We both bring the same attitude to the table. We solve issues as quickly as possible to ensure the customer is satisfied."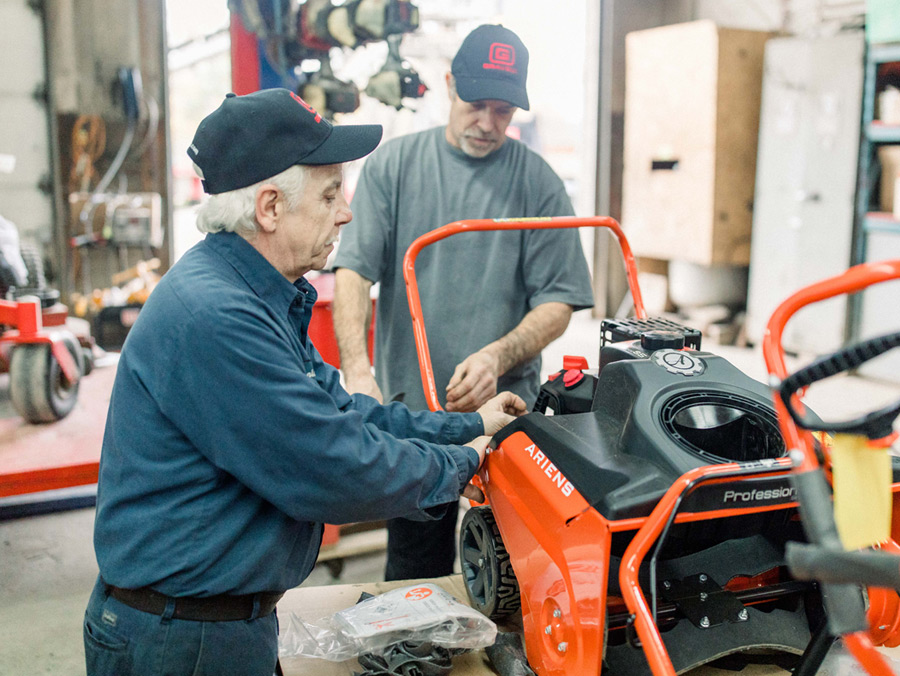 Menniti valued the partnership with AriensCo so much that he served a three-year term on the AriensCo Dealer Advisory Council (DAC) from 2012-2014. As a French Canadian, he focused on improving relations between English and French speakers in Canada and often acted as a liaison between dealers and AriensCo, increasing communication among stakeholders.
"It's important for the manufacturer's executives to understand the viewpoint of the dealers and vice-versa," Menniti said. "The DAC encourages dealers to engage with us so that we can all work together. I communicate with the dealers throughout Canada a few times a year so I can synthesize their business goals and desires for AriensCo, and then we all work together to improve our businesses."
The DAC members rotate every three years and continuously look for ways to improve the relationship between AriensCo and the dealer network. Menniti stressed that the DAC is an advisory and volunteer role, and that the main mission is to help both dealers and AriensCo grow. He is so passionate about the company that AriensCo called him back for a second term in 2018, which will run through 2020.
"The members of the DAC and the dealers all want AriensCo to do well. Its passionate employees make us feel like we're part of the family," Menniti said. "With the current leadership that is in place at AriensCo, we feel the sky is the limit." ​​