AriensCo has a long history of conservation efforts, starting with the dedication of the Mike Ariens Run for Life Trail in 2008. The company joined the Wildlife Habitat Council (WHC) in 2017 and in 2020 it earned a prestigious WHC Certification for conserving and restoring 150 acres of native habitat at its headquarters in Brillion, Wisconsin.

Two years later, the work is not only continuing — it is expanding. AriensCo has reclaimed an additional 50 acres of farmland adjacent to Stone Prairie, an AriensCo Hospitality outdoor event space that sits on the site of the initial conservation effort. The land is being converted to a mix of prairie, marshes and forest, and a wide range of wildlife proliferation efforts are also underway. This phase of the project expands the total grounds to 200 acres of preserved land.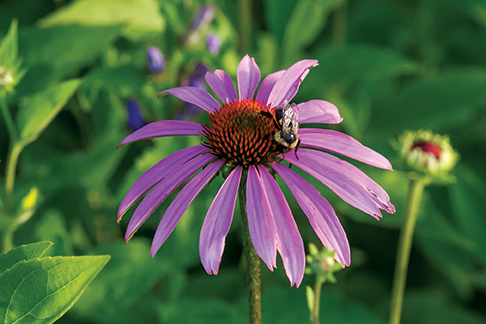 "The first phase of the AriensCo conservation project was very successful. It proved that as a company, we can embark on ambitious projects and see great results," said Ann Stilp, executive program manager. "We have seen a tremendous amount of plant and animal wildlife thrive in the area, including rare and endangered species. This gives us great confidence to expand the area and restore an additional 50 acres of land."
Convert and conserve
AriensCo has owned the 50 acres under restoration for decades (area "A" on the map). The land was used as farmland, where either soy or corn was grown, to maintain the land and keep invasive species at bay. It's now in the process of being converted to conservation land, which involves seeding the area with native plants and mulching with soybean debris. Soon, oak trees will be planted, and the land will once again become a prairie oak savanna. This unique habitat once thrived in the U.S. Midwest but is currently in peril.

Oak trees are dominant in a prairie oak savanna habitat. They thrive in an otherwise lightly forested grassland that provides a plethora of plant and animal diversity. The trees include white oak and bur oak, mixed with grass and wildflowers, such as short wildflower prairie, medium wildflower prairie, tallgrass prairie, savanna prairie and wet prairie. Eventually, the land will be home to more than 100 species of wildflowers, grasses, sedges, rushes and legumes.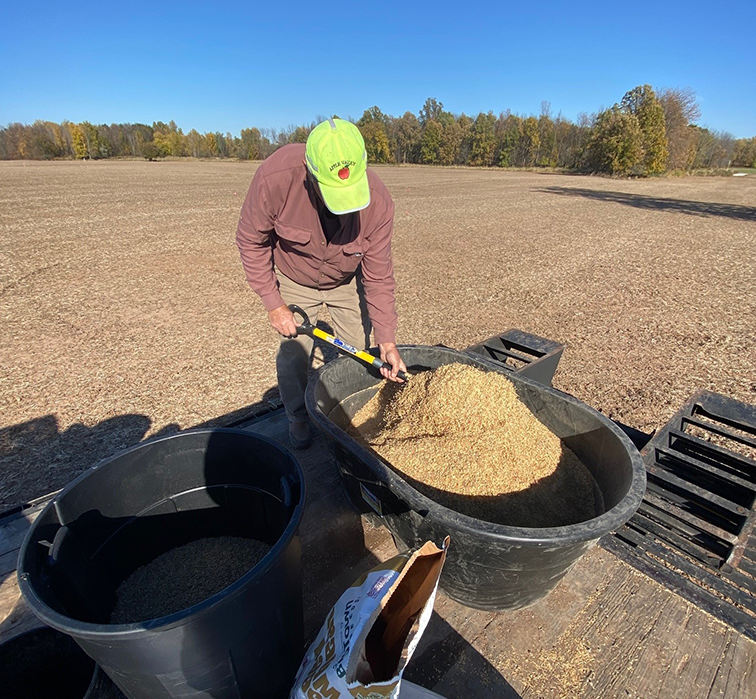 The addition of two marshes to the new parcel of prairie oak savanna distinguishes it from the remaining conservation land. Workers dug shallow marshes to about 3.5 feet (area "G" on the map). This depth was selected to attract reptiles, amphibians and birds. This marshland will filter water, improve drainage along the prairie and play host to plant and animal life. Some 4,000 aquatic plants are being planted around the marsh's edges.

"Establishing marshes in the conservation area expands the opportunity for biodiversity and the capability to support a wider variety of plant and animal life," Stilp said. "Once we gain experience with our first marsh and see success, we envision duplicating those efforts throughout the conservation grounds."
Citizen science
Employees working as part of the conservation team are actively contributing to "citizen science" efforts at the primary Stone Prairie site, for which anyone can be trained to collect and submit data on plants and animal species. This includes tagging monarch butterflies to track their migration — 50 were tagged in the fall of 2022 — and photographing bumble bees. This information is then submitted to various groups, such as the Wisconsin Department of Natural Resources or dedicated wildlife organizations. This further aids in proliferation efforts, particularly those of endangered species.

AriensCo's conservation efforts appear to be working — and worth it. A rusty patched bumble bee was recently spotted, which is listed as Federally Endangered, extremely rare in Wisconsin and globally imperiled. Volunteers have additionally identified 32 native butterfly species on the grounds. This is primarily due to a focus on planting specific host and nectar plants that enable them to prosper.

Avian efforts are one of the most important projects on the property. There are 16 cavity nest boxes on the grounds that employees monitor. Bob Ring, a tool and die maker and member of the team, is qualified to "band birds," which involves putting aluminum, numbered bands on birds' legs. This helps gather data that is used in scientific research and conservation efforts, such as dispersal, migration, behavioral and survival rate information.

"The wildlife efforts at Stone Prairie have been a success. Not only are conservation team members passionate about providing an ample ecosystem for these animals to thrive in, but they have taken extra steps to become real citizen scientists that can contribute to the greater survival of a species," Stilp explained. "It's thrilling to see rare and endangered species make a return to the area and flourish once again."
Certified Gold
AriensCo has received re-certification from the Wildlife Habitat Council (WHC) for its conservation efforts, this time at Certified Gold status on four projects. The WHC empowers companies to advance biodiversity, sustainability, employee engagement and community relations goals.

WHC Certification is based on several criteria including best management practices, monitoring and data collection, and alignment to local and state wildlife initiatives. AriensCo's four projects — Prairie Oak Savanna, Forest, Bluebird/Tree Swallow and Bumblebee — are all designated as Certified Gold. WHC Certification recognizes long-term commitment to environmental stewardship, as companies must demonstrate continuous improvement in their habitat management plans and undergo recertification every three years.

WHC certification is not just about achieving a certification status. It is about making a long-term commitment to environmental stewardship. WHC- certified corporations must demonstrate continuous improvement in their habitat management plans and undergo recertification every three years. Recertification is a testament to the company's dedication to promoting biodiversity and protecting wildlife habitats in the communities where they operate.

"When we set out to earn our WHC certification, we knew it would be a lasting commitment to restore and preserve the prairie oak savannah at Stone Prairie," said AriensCo Chairman and CEO Dan Ariens. "Our goal is to protect this land and the plant and animal life that calls it home for many generations to come. Achieving WHC Gold Certification is a significant milestone, and it reflects our deep resolve for this project's enduring success."