Social media advertising offers tremendous potential to help businesses garner attention, particularly in local markets. It's imperative that equipment dealerships or landscaping companies are present and active on social media and remain current with online trends that can help drive growth. Companies that do invest in social media are reaping the benefits.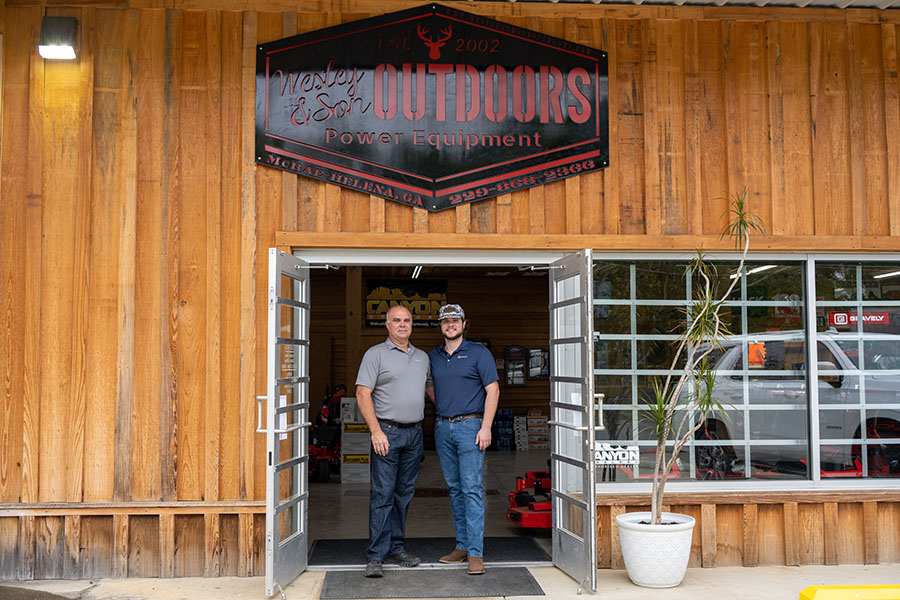 For Wesley & Son Outdoors (Wesley & Son), a family owned and operated outdoor power equipment dealer in McRae-Helena, Georgia, investing in social media has been extremely rewarding. The dealership is projected to sell $2 million in 2023, which is four times more than its revenue just four years ago. The company credits this growth to social media advertising alone.

Wesley Yawn opened the company's doors in 2002 as a used car and ATV dealership. In 2005, he switched gears and reopened the business as a lawn mower dealership with Gravely at the forefront. The five-person dealership is run by Wesley and his son, Wes, who joined the family business in 2015 as head of sales and worked alongside his father to implement a social media presence in 2019.

"When we first started, we were selling $100,000 – $150,000 in Gravely equipment. Last year, we brought in $1.8 million with our new advertising method and are expecting to see that number continue to rise," he said. The father-son duo keeps busy, selling roughly 400 mowers per year. The company's main sources of revenue comes from selling Gravely residential and commercial equipment and repairing machines in its service shop.

While most of Wesley & Son's customers are residential, it sells a lot of commercial lawn mowers to homeowners because in their rural location, an average size yard measures some 7 – 10 acres of land. Wesley says these customers prefer Gravely equipment because it's known for tackling large lawn jobs and easily handling challenging terrain.

"Bahia grass is the most common grass type you'll find in our area. It's a very tough grass to cut when it's dry, and Gravely's X-Factor 3 deck has tremendously helped our customers get a premium and consistent cut," Wesley explained.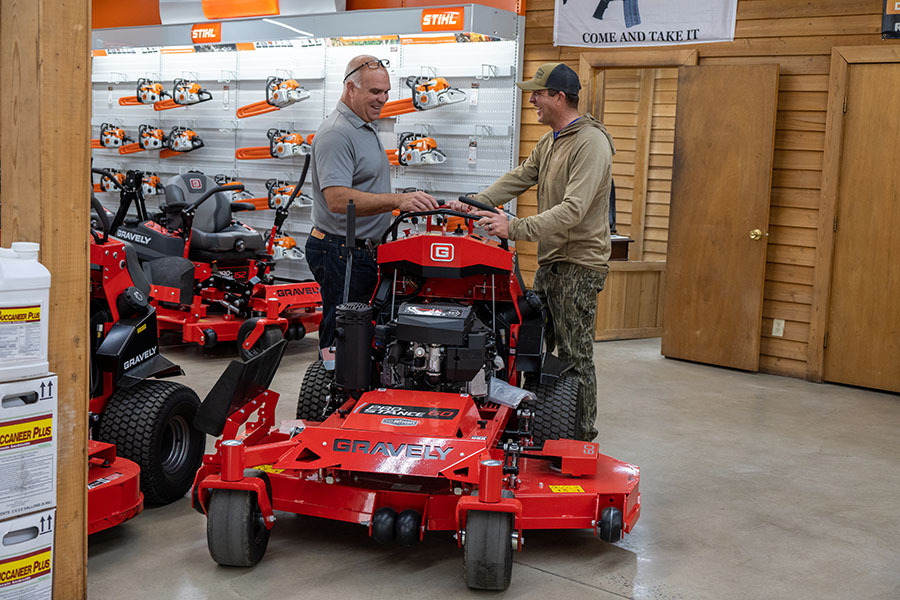 Gravely equipment isn't the only factor attracting customers to Wesley & Son. The company is known for treating customers like family. Both father and son say the personal service they provide to their clients, a service that stems from being family-owned, makes a dramatic difference.

"We're still old school in terms of business," Wesley said. "We like to meet customers in person. It's nice to explain a product to them in detail and foster that personal relationship. We want them to walk in the door as a customer and leave as a friend."

Going digital
After trying various advertising methods over the years with no success, the dealership came to realize that social media is its best form of advertising. Brand awareness is the primary goal, and it's working. The company sees approximately 50 customers a day that travel from across the state after seeing its online ads.
Facebook is the dealer's main social media channel. It is monitored by Wes alongside a third-party company that assists in creating posts, tracking leads and managing the company's website.

"We've found that posting a variety of dealership and product photos, equipment tips and links to Gravely articles maintains our audience engagement on Facebook," Wes explained. "However, the most popular social media posts would have to be our ads. Our ads are designed to display information about the high-value proposition of Gravely equipment, which really catches peoples' eyes."

The company utilizes slideshow ads, which are video-like ads that use motion and text to get a message across quickly and effectively. They also post ads that share promotions like 0% interest financing on qualifying equipment. Customers can even text the dealership for personal service.

"What amazes me with social media is that you get people from 20 – 70 years old that are using the internet and coming into our shop," Wesley said. "If you're not on the internet now, you're behind."

Wes says they hope to grow their social following and continue to see that translated into a real-life customer base. Moving forward, they want to explore posting videos on Facebook. If the company sees significant return on this form of self-generated content, Wes hopes to create a TikTok account to remain trendy and reach a wider audience.

"We're also looking at taking the information we gain from using social media and pairing it with a CRM (customer relationship management) system that will help us track interactions between us and our customers," Wes said.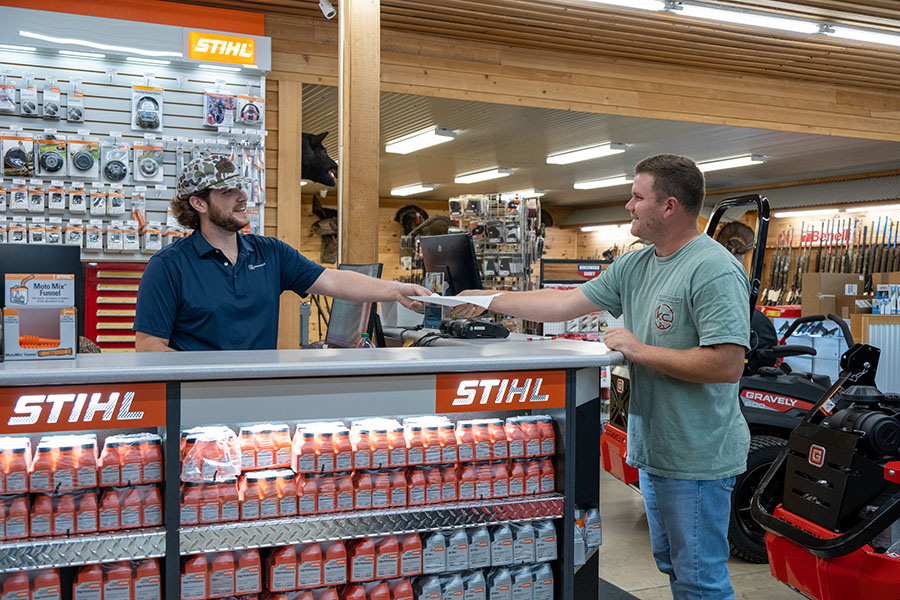 Gravely guidance
Both Wesley and Wes attribute some of their success to the immense amount of support the dealership has received from AriensCo. They say having a personal relationship and mutual commitment from AriensCo has helped them develop a better understanding of the outdoor power equipment world, and also inspired them to keep growing.

"Gravely has been amazing to us. Dan and Stephen Ariens have become great friends of ours, and we talk frequently. It speaks volumes when these guys, who are busy running a successful business, take time out of their day to have a conversation and work through customer solutions with us. Having the support from these guys makes it feel like we're part of the same family business," Wes said.

The dealership says its Gravely representative, Adam Langley, goes above and beyond. Langley is considered family and chats with the guys at any time of the day or night. He frequently makes the rounds, driving hundreds of miles across southern Georgia, southern Alabama and western Florida to ensure his customers are supported. Wes said it was Langley who pushed the company to explore social media advertising in the first place.

Wesley and Wes expect the dealership to continue growing with help from AriensCo and are eyeing more growth in the future. That may include a second location.

"Our wagon is loaded as a company; we stay very busy. We hope to expand in our own town and open another dealership in the future. I think we have the opportunity to grow with AriensCo at our side, and we know the company will support us in any way they can," Wes concluded.