Amazing Artifacts
2023 marks AriensCo's 90th anniversary. To celebrate the milestone, the AriensCo Museum dug into its archives and chose "33 Things" that reflect the company's rich history. Often, these artifacts show that it's not just manufacturing history that AriensCo has played an important role, but in the forging of America itself.

Gravely Transmission
This multi-gear, cast-iron Gravely transmission is key to the brand's durability. Introduced in 1937, this design was used in Gravely equipment well into the 1970s, essentially unchanged. It was used as late as 1990on mowers, proving the design was as durable as the cast iron the transmissions were forged from.

Gas Ration Stamps
Rationing during World War II was aimed at conserving tires and gasoline for the war effort. At the time, 90% of the AriensCo facility was devoted to war production. These "R ration" coupons enabled AriensCo to continue activities like product testing and transporting materials to support wartime manufacturing.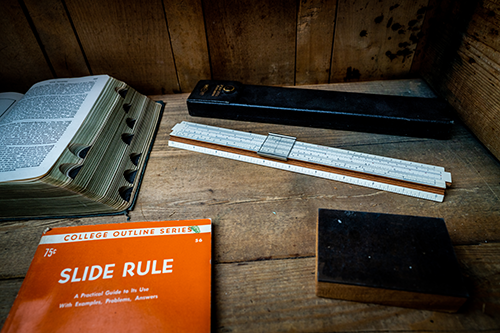 Slide Rule
For the first 40 years of AriensCo's history, this mechanical computer was the principal instrument used to design products. Before the handheld electronic calculator was introduced in 1972, a slide rule and a copy of Machinery's Handbook was found on the desk of every engineer and technician at AriensCo.