On the outskirts of Brillion, Wisconsin, AriensCo has opened a new cutting-edge Nordic skiing and biathlon training facility, Ariens Nordic Center. It provides excellent equipment for world-class athletes and welcomes visitors of all ages and skill levels.
The main attraction of Ariens Nordic Center is a 5K lighted trail system that was designed by John Morton of Morton Trails, a world-renowned outdoor design firm. In the winter, and as weather allows, all 5K of the trails are covered in snow, making it ideal for skiing and biathlon training. In the summer, the trails double as hiking routes, 3K of which are paved so they can be used for roller skiing (think of skis with wheels) and other community activities. All trails are accessible to the public.
Ariens Nordic Center is a training facility for those who compete in biathlon, a sport that blends cross-country skiing with marksmanship. Biathletes race to a rifle range on their skis where they stop and compete in target shooting. After hitting their targets, they race another loop and back to the target system to hit five targets in each of four rounds – the first two from the prone position and the final two standing. The cardiovascular demands of cross-country skiing combined with the steadiness required for the quick shooting of targets require a unique set of abilities, which also makes for an action-packed viewing experience. While the sport is still growing in the United States, it is one of the most-watched winter sports in Europe.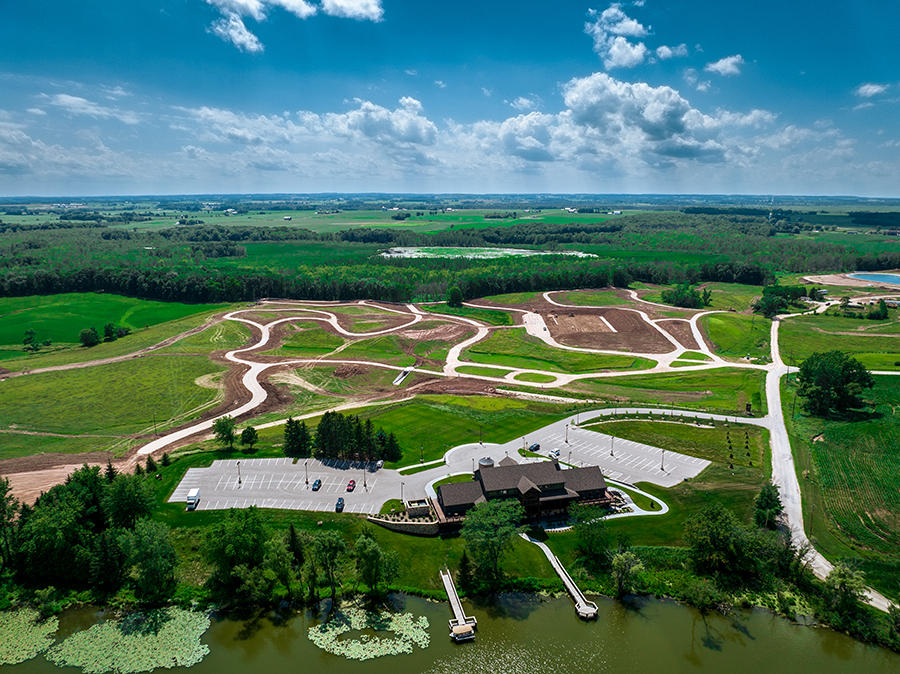 WORLD-CLASS
Ariens Nordic Center was designed to be a world-class training course. In fact, AriensCo has been a sponsor of the U.S. Biathlon Association, which supports U.S. Olympic efforts, since 2019. Over this sponsorship, AriensCo team members have seen and experienced world-class biathlon facilities worldwide, which led to the company committing to building the facility in Brillion. The U.S. Biathlon Association has since been involved in every step of Ariens Nordic Center's design and construction.
Morton, who designed the center, recognized the investment it reflected in the community of Brillion and its potential to inspire future Olympians.
"Within a decade, there will be a young person, probably currently in Junior High, that doesn't know anything about biathlon, and they'll be representing the USA in the Olympic games because of this facility," he said. "When I started in this sport in 1968, something like this was just incomprehensible."
The result is leaps and bounds ahead of most training facilities in the country. Many are simply walking/hiking trails in state parks, and athletes must fashion their own shooting targets. Ariens Nordic Center features a 20-point Kurvinen Biathlon Target System with electronic controls and a KES scoring system that can track windspeed and direction. These targets can digitally record the athletes' accuracy and timing to provide superior training experience.
Accommodations for Paralympic athletes enable competitors with impaired vision to shoot safely, too. They can use headphones to pick up a tone sent by the targets that increases in frequency as they aim their infrared-equipped rifles closer to the center of a target.
"AriensCo has provided critical support to our team, enabling the world-class training and essential support for fast skis, nutrition and recovery," said former U.S. Biathlon President and CEO Max Cobb. "Beyond that direct support, the enthusiasm of the Ariens Family for the team and the sport of biathlon means so much to all of us. It is epitomized by the new Ariens Nordic Center. We look forward to bringing the team there for training and national competitions."
Two U.S. Olympic team members, Deedra Irwin and Paul Schommer, both live within an hour of the facility and say they expect to train there regularly, including at upcoming training camps.
"To see the Ariens Family producing and creating this type of venue that will not only introduce kids to the sports of biathlon and cross-country skiing but will also give them the opportunity to train here at a very high level is very exciting. I'm hopeful we're going to see more Olympians coming out of this part of the country," Schommer said.
Member of the U.S. Biathlon Team and Olympian Deedra Irwin of Pulaski, Wisconsin, echoed the sentiment, but with a decidedly local twist.
"This is such a beautiful place. It's an amazing dream that I didn't even know I had. To be able to do biathlon in my backyard, it's just amazing," she said.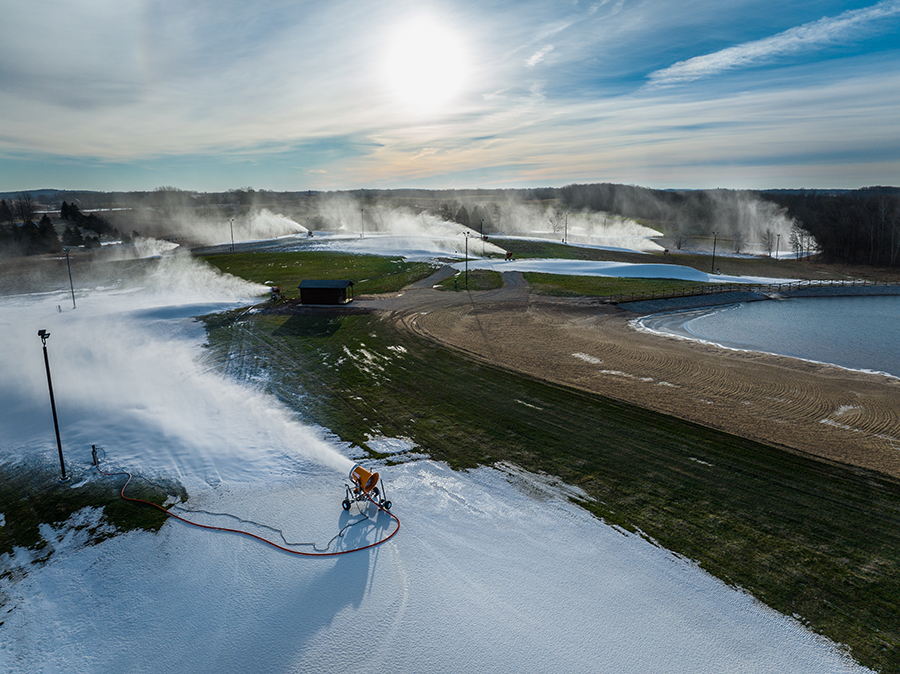 UNPRECEDENTED
5K of lighted trail network for cross-country skiing designed by Morton Trails

20-point Kurvinen Biathlon Target System

Robust snowmaking system

3K paved roller ski loop

10-million-gallon pond for snowmaking

Snowshoe trails

Nordic Playground for youth and beginner skiers

Dog-friendly during non-winter months

Retail store

Equipment rentals

Food and beverage

Outdoor patio seating
COMMUNITY CROSSING
Ariens Nordic Center isn't just for Olympic athletes. The center will have cross-country skiing classes for beginners, both adults and children, through Nordic Rocks, an experience program by Central Cross-Country Skiing (CXC), a U.S. ski and snowboard organization and Paralympic sport club. The Nordic Rocks program enables elementary, middle and high school students to experience cross-country skiing at all levels.
Ariens Nordic Center can host other recreational activities, too. It is adjacent to Round Lake Farms, an AriensCo Hospitality destination, which features 200 acres on the outskirts of Brillion. This makes it ideal for snowshoeing, hiking, walking and running — there's even accommodation for dogs. Ariens Nordic Center is also near AriensCo's 250-acre conservation project, certified by the Wildlife Habitat Council (WHC).
Ariens Nordic Center's main building will house a retail store, equipment rentals, a grab-and-go restaurant, outdoor patio seating and restrooms. A 10-million-gallonpond is used as a reservoir for snowmaking in the winter. In the summer, visitors can enjoy its beach access or use the pond for water sports.
All Ariens Nordic Center's features combine to create an ideal destination for community fellowship. It reflects AriensCo's longstanding tradition of investing in its home city of Brillion and home state of Wisconsin.
"We are committed to creating new reasons to visit and spend time in Brillion," said AriensCo Chairman and CEO Dan Ariens. "Brillion has been our home since 1893 and has supported us through the years. We are excited to bring this type of facility to Northeast Wisconsin."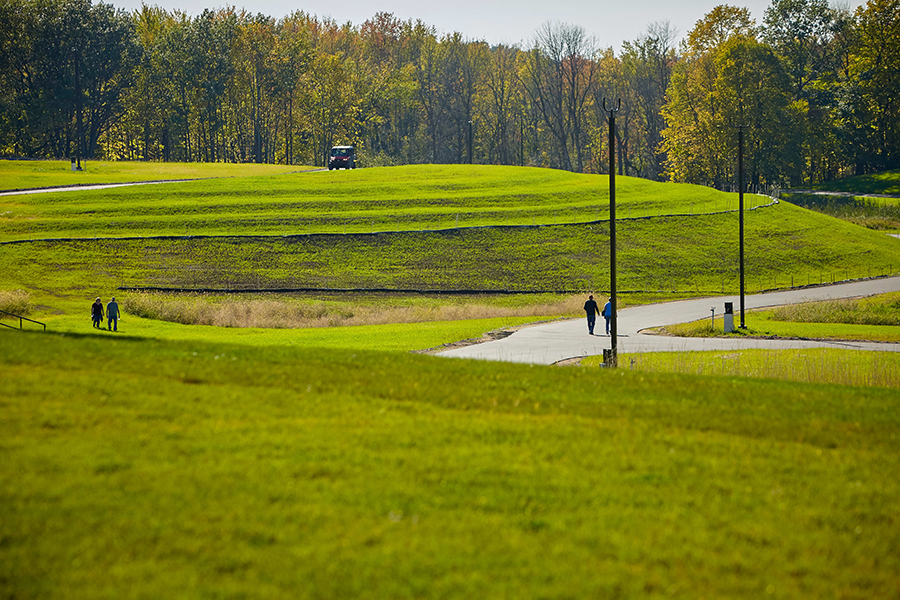 Ariens Nordic Center will be available for use year-round, enabling summer activities, too.
MEET SEAN BECKER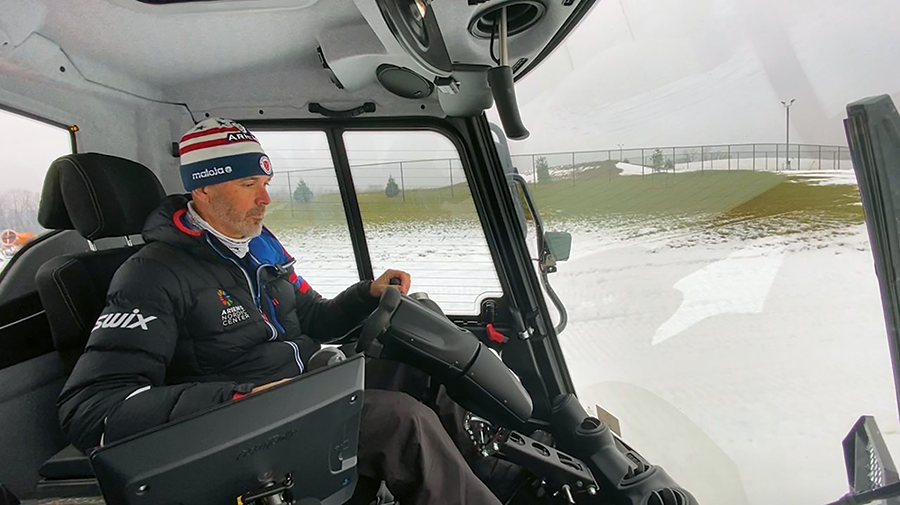 Sean Becker is a seasoned snowmaker and cross-country skier. As the general manager of Ariens Nordic Center, he leads a small crew that handles all the snowmaking and landscaping operations for the facilities year-round. They use plenty of Ariens and Gravely equipment to keep the grounds at their peak, including heavy use of Gravely Atlas JSVs.
Before joining AriensCo, Becker built, operated and maintained a snowmaking operation at the Kettle Moraine State Forest Lapham Peak Unit in Wisconsin for a decade. He also created a mobile grooming and Nordic ski lesson service to expand Nordic skiing into areas that could not naturally support it. While the work at Ariens Nordic Center is demanding, it is exactly the type of operation Becker wanted to run.
"I had friends who sent me the job listing and were telling me this job had my name written all over it. It was too good to be true," Becker said. "I'm still pinching myself every day. Making snow and grooming for Nordic skiing isn't easy but having a strong skiing background will help create a 'world-class every day' experience for skiers and biathletes of all abilities."
- SEAN BECKER, GENERAL MANAGER OF THE ARIENS NORDIC CENTER