The demand for battery-powered landscaping equipment continues to grow for a variety of reasons, including concerns from those worried about noise pollution and the potential for hearing damage resulting from prolonged, unprotected exposure to noise from an operating engine.
Electric equipment is one antidote. In addition to their reduced emissions, electric machines are much quieter. They lack combustion engines and have fewer moving parts. While most lawn mowers can be heard throughout a neighborhood, the Gravely Pro-Turn EV, for example, has noise levels similar to a household vacuum cleaner.
With a new Gravely Pro-Stance EV stand-on mower arriving in 2023, Out Working takes a hard look — make that a hard listen — at the many benefits of turning down the volume on outdoor power equipment.
Low-frequency noise
A study organized by Jamie Banks, a Ph.D. and president of Quiet Communities, a Boston-area nonprofit organization dedicated to protecting public health by reducing noise and related pollution, used acoustic engineers from a firm called Arup to compare gasoline- and battery-powered leaf blowers with equal manufacturer-rated noise levels.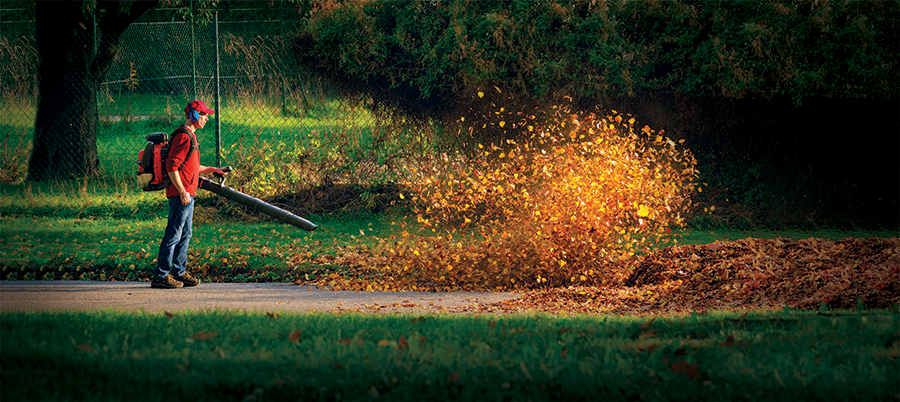 The results showed that gasoline-powered blowers produce far more "sound energy" in the low-frequency range. And it's this low-frequency noise that has enough penetrating power to be heard through walls, cement barriers and some hearing-protection devices. The study also found that in a densely settled neighborhood, a gasoline-powered blower rated at 75 decibels of volume can be heard by up to 15 times as many households as a battery-powered blower with the same 75-decibel rating.
Of course, leaf blowers are noisier than the typical lawnmower or snow blower, but the principle holds true that electric equipment has less volume penetration level than gasoline-powered equivalents. It's not just leaf blowers that are being examined, either — all outdoor power equipment is under a microscope for reasons ranging from worker health to quality-of-life initiatives.
Make no mistake, going electric is not just about carbon emissions. Researchers and legislators are specifically interested in noise-related issues. While leaf blowers are the worst offenders, they are becoming the test case for the eventual scrutiny of all types of equipment.
Noise legislation
Gasoline-powered leaf blower noise has prompted more than 200 jurisdictions to pass laws governing their use, according to Banks. The most common regulation sets time-of-day limits for usage, however total bans on gasoline-powered blowers are also being imposed.
The city of Evanston, Illinois, currently has seasonal time limits on usage, with a full ban going into effect on April 1, 2023. Starting as early as 2024, California will ban the sale of gasoline-powered lawn mowers, leaf blowers and chainsaws. The law mandates that all newly sold small-motor equipment used for landscaping to be zero-emission.
In 2018, the District of Columbia city council passed a ban on the sales and usage of gas-powered leaf blowers. The ban went into effect on January 1, 2022, after a three-year phase-out period that gave residential and commercial landscapers time to transition to electric and battery-powered leaf blowers. This legislation was spurred by efforts led by Quiet Clean D.C. (QCDC), a volunteer public health nonprofit committed to working with elected officials, public health and environmental experts, community representatives, and landscaping equipment manufacturers and operators. The goal is accelerating the impending shift to cleaner, quieter, more sustainable practices in landscaping and yard care.
Chuck Elkins is a former Environmental Protection Agency executive and a commissioner for Advisory Neighborhood Commission 3D, a non-partisan, neighborhood body made up of locally elected representatives in the District of Columbia. He's also a QCDC member. He said that QCDC advocated for the new legislation for approximately three years before the District Council unanimously passed the law. This was after lengthy hearings on the matter in which representatives of both manufacturers and lawn maintenance professionals participated.
"Quiet Clean D.C. worked hard to make sure that the District Council heard from people from all neighborhoods across the district," explained Elkins. "Quiet Clean D.C.'s advocacy for the ban was focused primarily on the health of the workers ..."
Regarding enforcement to date, Elkins said it has been very effective.
"The District Council provided that individual residents could file an affidavit alleging a violation of the Act, together with photos if they wish, and the District government would not need to send inspectors to verify the violation," he said. "The District government then evaluates the complaint, and where they find that the complaint is appropriately documented and apparently valid, they issue either a warning or a fine. In the early days of the program, almost all were warnings, but now they are moving to fines."
Recent federal legislation also makes it easier to purchase electric machines with tax incentives. The Inflation Reduction Act of 2022 includes a tax credit of 30 percent, or up to $7,500, for purchases of new, commercial battery-powered lawn mowers. This incentive is available on purchases from January 2023 through 2032 and can go a long way in transitioning a traditional fleet to electric. Additionally, state and local governments offer rebates for qualifying electric lawnmowers, so be sure to research incentives in your area.
Benefits for workers
Mark Linkletter, manager of Business Development, Commercial Products at AriensCo, has been tracking the industry's move toward electric equipment. He has heard positive input from operators who use Gravely Pro-Turn EV electric zero-turn mowers. According to Linkletter, these mowers create more comfortable working conditions and help attract and retain talent.
"Gas-powered equipment is louder, requires more physical exertion and releases exhaust," Linkletter said. "Operators who have used electric equipment such as the Gravely Pro-Turn EV zero-turn mower say they don't feel as worn out after a day's work. Labor is an ongoing issue for landscape maintenance, so companies with electric equipment can highlight the benefits to potential hires."
Ryan McLennan is the division manager for Commercial Maintenance at Dennis' 7 Dees Landscaping and Garden Maintenance in Portland, Oregon, and he and his team are moving towards battery-operated equipment to reduce the level of noise exposure to employees, reduce noise pollution in the communities they work in, reduce their dependence on gasoline and reduce carbon emissions from mowers and handheld equipment.
"The feedback from our field staff has been 100 percent positive," McLennan explained. "The machines are a pleasure to operate, and they perform at a level equal or higher to our best gas-powered mowers. Our workers are not exposed to the noise and exhaust that they otherwise would be while using gas-powered mowers."
He added that he has several 60-inch Pro-Turn EVs on order and is planning to purchase several 48-inch Pro-Stance EVs as soon as they become available.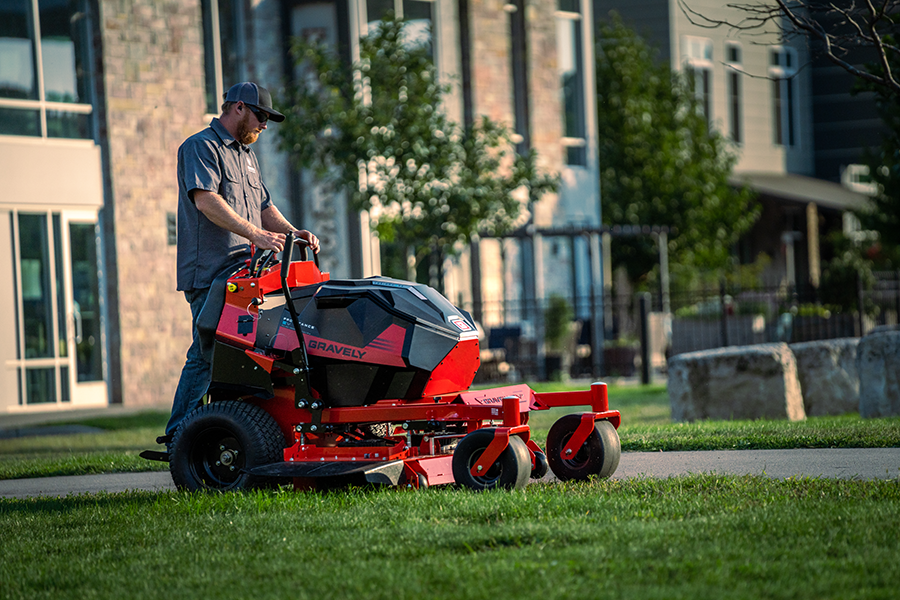 Electric mowers can help companies comply with new noise regulations.
According to McLennan, the customers definitely prefer the use of quieter machines, and some customers are now demanding it. It is becoming more common to see specifications on maintenance request for proposals (RFPs) that expect that the contract will be completed using electric equipment, he said. As far as the performance is concerned, he said there is plenty of data to support that battery-powered equipment works just as well as gasoline-powered, and they do well in the variety of conditions in the Pacific Northwest.
"We are very excited to move in this direction and we hope that others in the industry are willing to make similar changes," McLennan explained. "It seems like the landscape industry often has a reputation for resisting change, and we are trying to lead the charge and make some healthy changes to better serve the communities we work in."
Performance, quality, cost
"There is an unfortunate myth that electric mowers do not perform like gasoline-powered mowers, but it's not valid," Linkletter said. "Today's electric mowers are designed with quality and performance in mind. They are built to work like gasoline-powered equipment but with different benefits."
Zack Kline is the founder of Rockville, Maryland-based A.I.R. Lawn Care, a company that helps commercial, residential, golf course and sports field managers/owners transition to battery-powered outdoor power equipment, robotic mowing and natural, organic lawn care. According to Kline, he decided to form his own company after becoming irritated at the excessive amount of smog and loud noise that his former employer's gasoline-powered equipment created.
While the District of Columbia was debating its gasoline-powered equipment ban, Kline went on record saying that although some contend that battery-powered leaf blowers are not always up to snuff, he said that the outdoor power equipment industry has researched, developed, manufactured, distributed and sold a new generation of battery-powered leaf blowers that are indeed up to the job.
Kline runs his landscaping business successfully using only battery-powered equipment.
"The purchase and maintenance of battery-powered equipment allows me to be competitive in the rates that I charge my clients, and as a business," he said. "Battery-powered equipment, although maybe somewhat more expensive to purchase up front, comes with a much lower cost of ownership and maintenance compared with gasoline-powered equipment."
According to Linkletter, the lower ownership cost of battery-powered equipment also applies to lawn mowers. There is no cost for gas, oil changes, filters, belts and pulleys. Electric equipment has fewer moving parts that break and need repair. The batteries can even outlast the equipment itself, depending on its usage. With that in mind, Gravely's exclusive FusionCore™ lithium-ion batteries, for example, are swappable, enabling landscapers to use the same batteries in a Pro-Turn EVand Pro-Stance EV.
"The price for electric equipment (that is as powerful as gasoline) is higher than gas-powered equipment, but the long-term savings are there," Linkletter explained. "A company will pay for everything upfront, rather than over time in fuel and maintenance. Factoring the cost of gasoline fluctuations can be a headache for a business owner. The price to power an electric mower is more stable because it is based on market conditions."