Bobby Lane grew up on the waterways of Florida and began bass fishing at an early age. It was his biggest passion in life, but not his only one. Lane was also chasing another muse in lawncare. He even started a landscaping business as a teenager. Eventually, his two passions would combine. Lane is now a Gravely sponsored professional fisherman. He holds two distinguished titles: REDCREST 2022 Champion and 2017 Major League Fishing (MLF) World Champion.
Lane, his wife and three children currently reside in Lakeland, Florida, where the opportunity to go fishing or mow a lawn is always an option (or a necessity). He has dreams of conquering the Bassmaster Classic and making bass fishing history, and Gravely is proud to support his journey.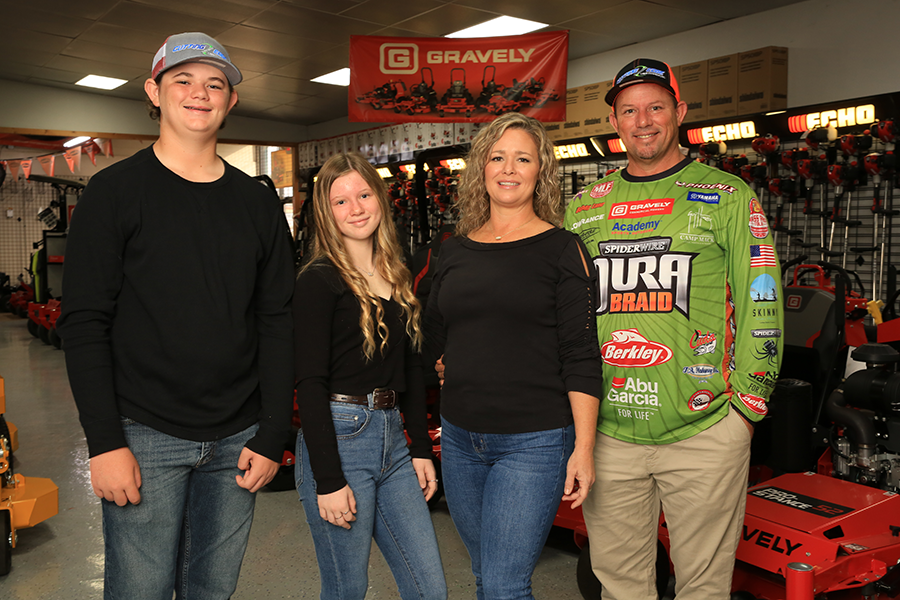 Bobby Lane and family visit Cutting Edge Lawn Equipment in Lakeland, Florida.
OW: How did you originally get into bass fishing, and when did you take your career professional?
BL:
Growing up, I lived to bass fish, and it all started with my dad and grandfather. Every chance we got, my dad would take us fishing. We lived and breathed fishing, and if there was ever an opportunity to be on the water, that's what we did. At the same time, I was running a lawn maintenance company for both residential and commercial clients. I named it Lanescaping. The very first mower I owned was a 60-inch, walk-behind Gravely!
I decided to sell my company when things got serious with fishing. In the early 2000s, I was fishing on the Mobile–Tensaw River Delta, which is the largest river delta in Alabama. That's when I got my first $10,000 check for a bass tournament, and it was right then that the light flipped on. I came back home, sold my lawncare company and pursued professional bass fishing. In 2005 I officially became a professional, and I was the first rookie to have three top-10 finishes on the Fishing League Worldwide Tour. It lit up from there, and I haven't looked back since.
OW: What are your standout moments as a professional fisherman?
BL:
Most recently, I had a huge win in Marchand won the REDCREST 2022, which is the Super Bowl of bass fishing tournaments. With only an hour and a half left in this tournament, I was in ninth place before I started catching some really large fish. With a little over two minutes to go, I caught a fish that bumped me all the way to first place and won me the $300,000 prize. It was amazing, and it's what I've dreamt of my whole life.
I am currently one of the only anglers to hold a REDCREST trophy and a World Champion trophy. If I can get that Bassmaster Classic trophy, I think that would qualify me as one of the best.
OW: Are there any similarities between lawncare and fishing?
BL:
Operating a lawn mower and fishing have some similarities for sure. The beautiful thing about lawncare and fishing is that we all share a love and passion for working and being outdoors. If you aren't mowing a lawn, the next best thing to do is to pick up a rod and reel. I still love the manicured yards and landscaping. I can smell fresh-cut grass when I'm out fishing! When I was in lawncare, I loved the grass to be cut perfectly, and that's how I've approached my fishing career. I want everything to be perfect.
It translates to social media, as well. I recently posted a picture on one of Gravely's new EVs, and I got comments asking about the type of mower I'm sitting on, the price, the batteries, etc. It's super cool to see my fan base interested in one of my sponsor's products.
OW: How did you get started with Gravely, and what does your partnership entail?
BL:
What's funny is the very first mower I owned was a Gravely, and it's crazy that I'm now sponsored by a brand that I trust and love. My local dealer in Lakeland, Florida, is Cutting Edge Lawn Equipment, and it is big on Gravely as well. I've been friends with the owner, Jeff, since day one, and I consider his whole family wonderful friends. We support each other, travel to events together and we try to make a lot of noise out there when traveling to help promote the Gravely brand.
I've been sponsored by Gravely for three years now, and I do my best to promote the Gravely name! I have the Gravely logo printed across the front deck and side of my fishing boat and my truck, and Gravely is printed across the front of my jersey.
OW: What is your favorite part about working with Gravely?
BL:
It's the personal relationships that I've made over the years. Since I've been with Gravely, everybody at AriensCo has always shared stories with me about fishing and treats me like a real friend. Stephen Ariens just sent me pictures of him with his kid and a massive fish they caught together!
It's also a giant company and growing like crazy, and to get to be a part of that is super cool. It's a brand that I trust and believe in, and it's from the USA, which I fully stand behind.
My wife has never been on a mower in her life, and it was cool to watch her sit on a Gravely mower and see her gush about how comfortable it was. She was just as excited about the sponsorship. I knew she was completely sold on the Gravely brand like I was.
OW: In terms of your career, what do you see for your future regarding fishing and your partnership with Gravely?
BL:
My next fishing goal that I'm excited about is to win the Bassmaster Classic. I've hunted for this trophy my whole life, and it's the one trophy that everybody wants. If it works out and I win, I'd love to be able to celebrate that with Gravely.
In terms of the brand, I want to continue growing with Gravely and with my local dealer, Cutting Edge. I'm incredibly supportive of Gravely and it's my job to keep catching fish, to keep helping get the Gravely name out there and to continue to get engaged with Gravely on social media.
Bobby Lane's social channels:
Instagram: @bobbylanefisherman
Facebook: Bobby Lane

BOBBY LANE'S STANDOUT ACHIEVEMENTS
2007 & 2009 - Fishing League Worldwide (FLW) EverStart Series tournaments
2009 - Bassmaster Elite Series
2012 - Professional Anglers Association (PAA) Corporate Cup
2015 - MLF Challenge Cup
2017 - MLF World Champion
2018 - Bassmaster Eastern Open
2021 - Inaugural General Tire Team Series
2022 - REDCREST Championship