To Kentucky with a Bullitt
RapidCare has expanded to a new 200,000 sq. ft. distribution center in Shepherdsville, Kentucky. Previously based in Kenosha, Wisconsin, almost 400 miles to the north, the original RapidCare facility was no longer large enough to efficiently combine catering to the increased consumer appetite for AriensCo's power equipment with meeting the demands on its service and parts division.

So now, thanks to the Bullitt County site's strategic location as a shipping hub in the central U.S., AriensCo's dealer partners and customers are already beginning to enjoy even faster, streamlined deliveries following the transfer of RapidCare distribution to this dedicated facility. The Kenosha facility is now solely used as a power equipment distribution center.

As a uniquely focused, standalone division of AriensCo dedicated to providing the highest levels of service and support to dealers and equipment users, RapidCare's commitment doesn't stop at ensuring strong parts availability, however. With an expert call center team backed by decades of real-world problem-solving experience, comprising experts in every model of every brand the company has ever manufactured — not to mention an army of trained field service technicians — its dedicated team is ensuring customers nationwide can get back on the job more quickly than ever.

"This strategic location is helping us bring our products to our customers faster while allowing us to grow," said Dan Ariens, chairman and CEO of AriensCo. "We've been welcomed with open arms, thanks to the Bullitt County Chamber of Commerce who have been incredible to work with. We're excited about being a part of the Shepherdsville community and are thrilled to have brought more than 50 new jobs to the area.

"Kentucky is a special place for us. We've been coming here for years and have enjoyed the warm hospitality from its people while attending GIE+Expo in Louisville," he concluded.

That warm, genuine approach to customer service is, of course, also evident in the new Shepherdsville facility, where the team is committed to solving your issues as quickly as possible. And, just like the original equipment, the stocked parts are of the highest quality, precisely matching the machines' required specifications and providing performance consistently above that offered by pattern parts. Call RapidCare on 877-291-7294 and see for yourself!
"WE ARE SO EXCITED TO HAVE ARIENSCO RAPIDCARE AS PART OF OUR BULLITT COUNTY CHAMBER OF COMMERCE FAMILY. WE ARE EAGER TO GET TO KNOW THEM, THEIR EMPLOYEES, THEIR PRODUCTS AND SERVICES AND LOOK FORWARD TO INTRODUCING THEM TO OUR COMMUNITY."
—ANITA STUMP, BULLITT COUNTY CHAMBER OF COMMERCE EXECUTIVE DIRECTOR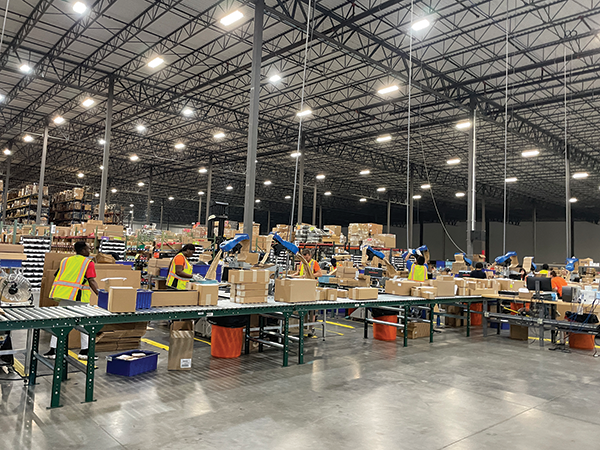 The new RapidCare center will facilitate the faster shipping of parts for Gravely and Ariens equipment.