Turning fifty is a big deal in anyone's life. It's a time to reflect on accomplishments and look to the future. For a business, reaching half a century is also an achievement worthy of celebration. It reflects a firm's dedication to its customers and its people.

For Potter Motor Company, a family-owned and operated outdoor power equipment dealer in Albany, Georgia, celebrating its 50th anniversary meant cutting the ribbon on a new location — its second. After serving landscaping business owners and residents in Southwest Georgia for more than five decades, opening a new facility is a just reward for a company that always puts people first.

Billy Tedrick, VP of Potter Motor Company, explained why, after all these years, the company is opening a second location.

"In the last four years, we've grown a lot, and it's to the point that we couldn't grow anymore without some wall knocking," he said.

Potter Motor Company's new location will expand its business reach to a larger group of local landscaping customers, both residential and commercial. Tedrick is confident the new store will boost the company's business in the years to come.

"We have roughly 60 commercial landscaping companies within the range of our new location on Gillionville Road. Eight of them are within a half-mile radius of the building," Tedrick said. "The new location will be super convenient for them to request our professional support for their Ariens and Gravely lawn mowers."

Potter Motor Company upholds high standards of customer service, which according to Tedrick is the determining factor in their success of the past 50 years.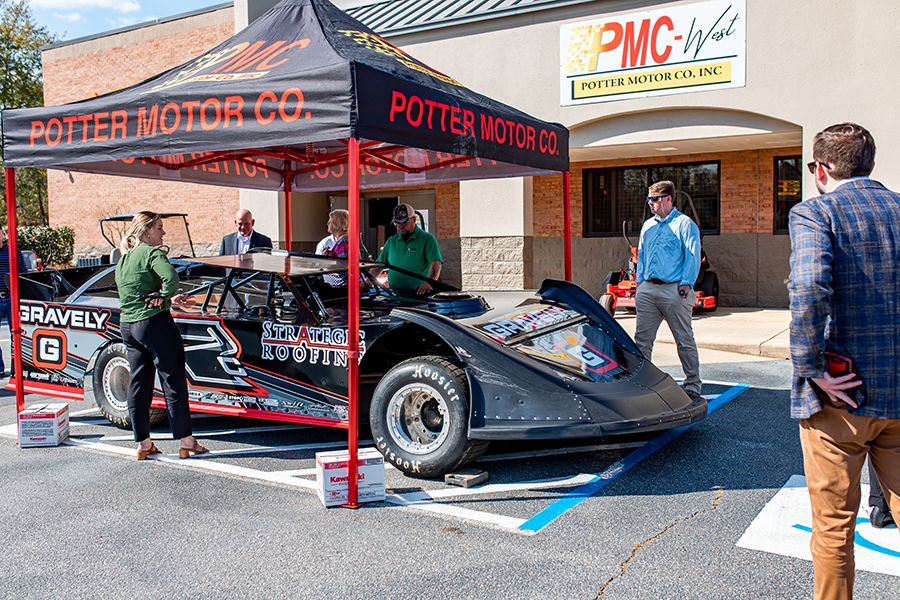 Customers check out a Gravely-branded racecar on display at Potter Motor Company.
"Attitude is what sets us apart from our competitors," he explained. "Our people have a better attitude. They greet you when you walk in the door. They are not mad if you show up with a broken-down lawn mower. A good attitude is about showing the customers our willingness to help them. In return, the customers will help our business."

With an outstanding attitude and excellent service, Potter Motor Company has built solid customer relationships through the years. For Tedrick, these relationships are the motivation that keeps the company moving forward.

"We have great folks from all walks of life. I've been working at Potter Motor full-time for more than 30 years, and the customers are really the reason I continue to do it," he said. "I get the enjoyment of meeting new and old customers alike. To me, customers' requests mean everything. If you take care of the customers, you can watch your business grow exponentially.
An exclusive partner
The family business was started by Jim Potter, a former mechanic at a Harley-Davidson dealer, who bought the company he worked at in the early 1950s. It began as an all-motorcycle dealership, then Potter Motor Company transitioned into outdoor power equipment in the 1960s after witnessing the rapid growth of the local landscaping sector and that's been the focus for the company ever since.

Joe Potter, Jim Potter's son, continued his father's work and expanded the business with the help of his cousin, Tedrick. In the 1990s Potter Motor Company took its next step forward by starting its relationship with AriensCo.

"From the beginning, Potter Motor Company was actually a dealer for a different lawn equipment manufacturer, and that put us in the lawn mower business in the 1960s," Tedrick said. "Our relationship with the previous company lasted until the 1990s when I got my hands on a Gravely. I fell in love with the machine and decided to work with Ariens and Gravely lawn mowers."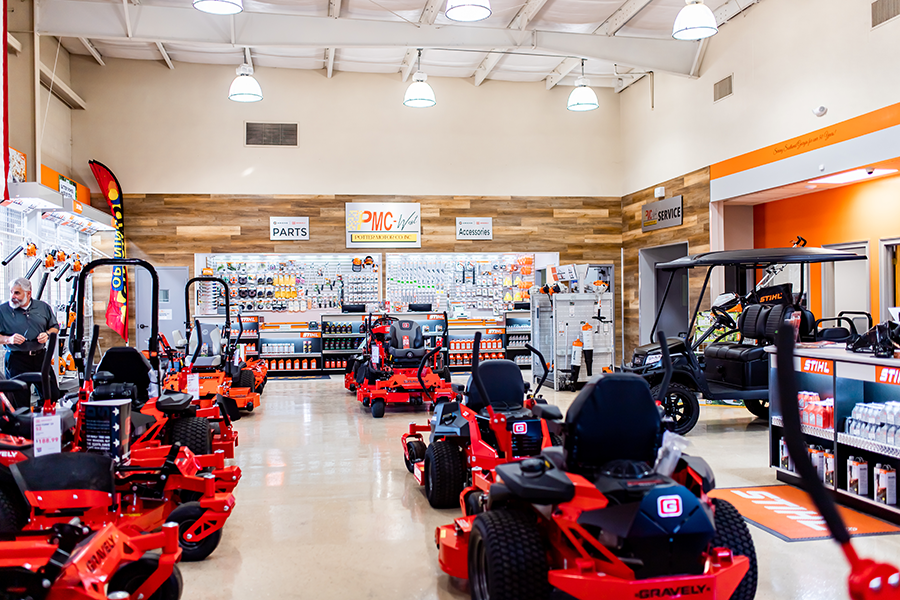 Potter Motor Company stocks Ariens and Gravely zero-turn mowers on the showroom floor.
Potter Motor Company has a strong devotion to the AriensCo brand — it's been an exclusive Ariens and Gravely dealer for the past 30 years. Tedrick points out that selling only one range of products is an advantage, as it focuses the salesperson on a targeted selection of equipment, yielding better results.

"We adopt a one-horse strategy. We believe that instead of having two or three lines, a salesman can outsell anybody with one line because he has the exclusive attention and devotion to one company." Tedrick explained. "If you put all your effort into one set of equipment you love, you can better demonstrate the benefits. If you have four or five companies, you won't be a hero to anybody. We passionately believed we could count on AriensCo when we started our relationship with the company 30 years ago and it has been a fruitful journey."
Runs in the family
Another reason for Potter Motor Company's steadfast loyalty to AriensCo is the shared family values that run in both companies' DNA. Potter Motor Company takes pride in its heritage, which has shaped the company's identity as a reliable and trustworthy partner to its customers."

We chose to work with AriensCo for its family traditions. From the outset, the company conveyed a sense of belonging," Tedrick said. "This family atmosphere encouraged us to continue the relationship with them for decades. I know we are getting bigger just like they are, but no matter how time has changed, we are still treated like close family."

AriensCo's years of dealer support have given Potter Motor Company a leg up in its growth and prosperity, encouraging and partnering with them in their success over the decades.

"I feel like AriensCo is the best company to be with as far as caring for the dealers." Tedrick said. "AriensCo has a responsive customer support team that answers all our questions and provides technical training. Our long-lasting partnership with AriensCo has served us well and we are looking forward to the continued partnership for the decades to come."

Looking back at Potter Motor Company's past 50 years of growth and expansion, the work ethic, family heritage and support from AriensCo have helped the company build the most solid of foundations. As Potter Motor Company heads into an exciting new chapter in its history, you can be sure that AriensCo will be right by its side, through whatever the future holds — into the next 50 years of success and beyond.