The state of Florida is well known for its beautiful golf courses, homes and apartment complexes that blend in naturally with the local landscape. Landscapers throughout the state are some of the most skilled professionals in the industry and work hard to maintain the scenery.
Jacksonville-based Beach River Landscapes is one such company that services hundreds of these properties throughout the year. From mowing to insect control, and from landscape design and installation to property maintenance, the company provides a full range of landscaping services to its customers. With the recent acquisition of a Gravely Atlas JSV 3000 job site vehicle, the company has been able to increase its efficiency and reduce the amount of resources it needs for numerous applications.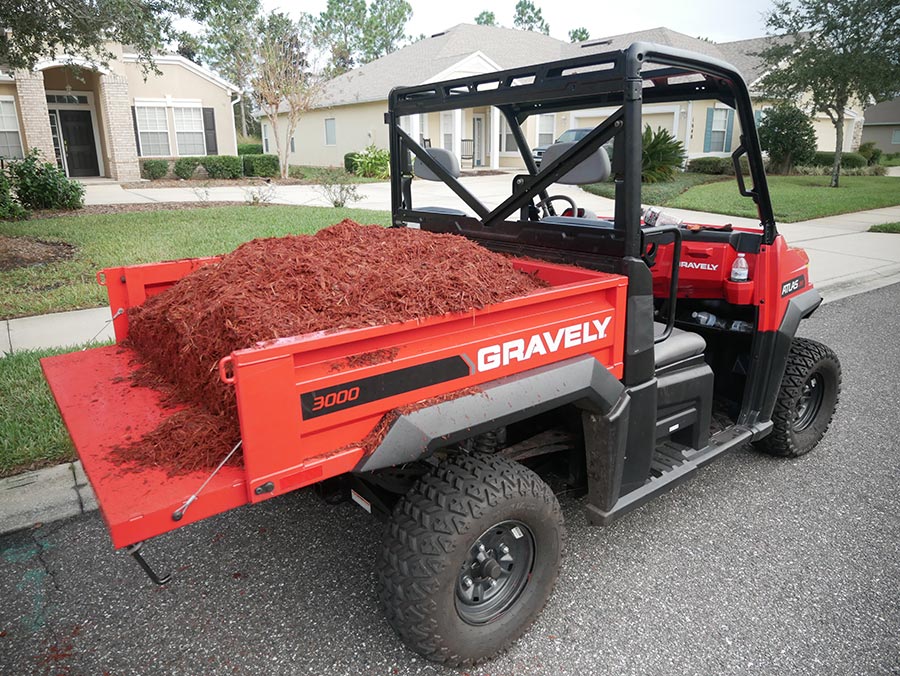 "The JSV is ridiculously efficient," said Wally Wood, owner of Beach River Landscapes. "We were able to eliminate steps in some of our processes to drastically speed up how we work. Now, we can get the job done in fewer days and with a smaller crew."
One of the more labor-intensive jobs that the company handles, for example, is the laying of new mulch in flowerbeds throughout a multi-building, 30-acre condo complex. In its old process, the company would have dumped mulch into a parking lot, then rented a wheel loader to transport and place the loads of mulch throughout the complex. The workers would shovel the mulch into wheelbarrows and manually haul the loads across the job site before finally spreading the mulch in flowerbeds or other areas. It was a slow, physically-demanding process with many steps.
Now, with the 2,000-lb capacity Atlas JSV 3000, Beach River Landscapes can quickly transport the mulch across the job site to place loads directly where they are needed, even driving across lawns, as the Atlas JSV doesn't damage job site grounds. The process is a lot more efficient because it no longer involves using a wheel loader, and it eliminates the laborious process of using wheelbarrows.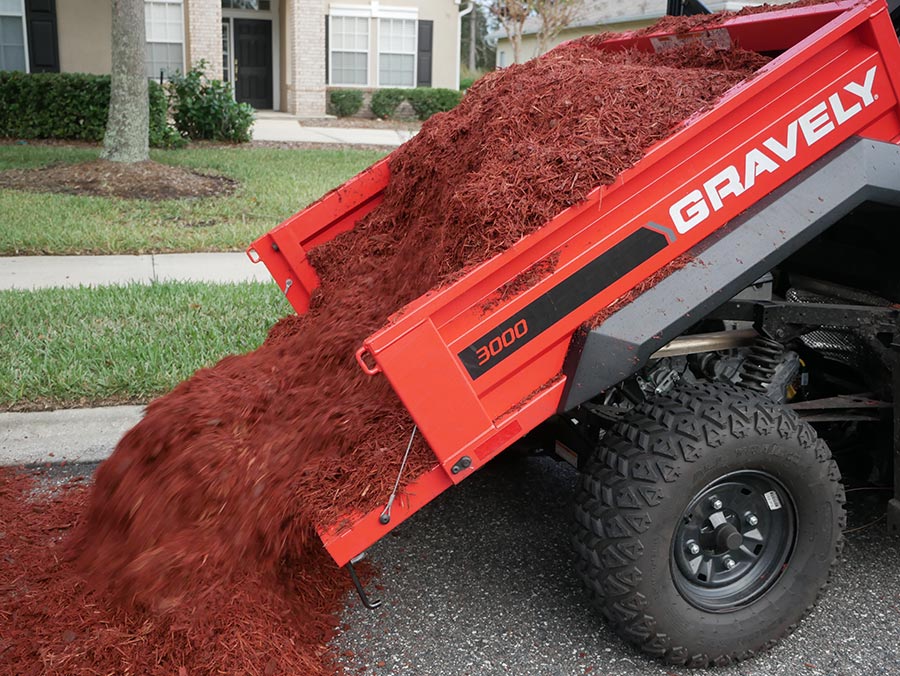 Wood said that the Atlas JSV also helps the company beat the Florida heat by cutting down on manual labor and reducing the number of crew needed to complete many applications. "The biggest challenge is labor and fatigue when you do jobs like these," he said. "It's a very physical job, especially in Florida when the humidity makes it feel like a jungle. Sometimes it can be hotter in the shade than out in the sun."
The increases in efficiency and ROI brought by the Atlas JSV have already had a big impact on the small but growing company. Not only does it make a huge difference when its crew of six people is able to operate more efficiently, the company can spend more time competing and winning for new business, further bolstering its bottom line.
"When you're a small company, you really have to think carefully about every purchase," he said. "These vehicles are certainly an investment. When I think about the money we save from not having to rent a wheel loader and the improvements in our work efficiency, our JSV has already had a high return on investment. I just wish that we had it earlier."