If you happen to be whizzing past Brillion, Wisconsin, this year and catch a fleeting glimpse of the latest Gravely concept machine, you may feel like you've gone back in time. That's because a new line of equipment bears a striking resemblance to the Gravely Motor Plow, the company's first one-wheeled cultivator. 106 years later, another distinctively small, triangular machine is making a debut: a compact utility loader (CUL) called the Gravely AXIS.

This latest addition to the family comes courtesy of AriensCo's acquisition of Thomas Equipment, a pioneering Canadian machinery manufacturer. The Gravely AXIS will be available in three diesel-powered and two gas-powered models.

The new CULs will be ideal for those working in landscaping, hardscaping, light construction and agriculture applications, among others. They will be available for purchase, or for rental through Gravely dealers.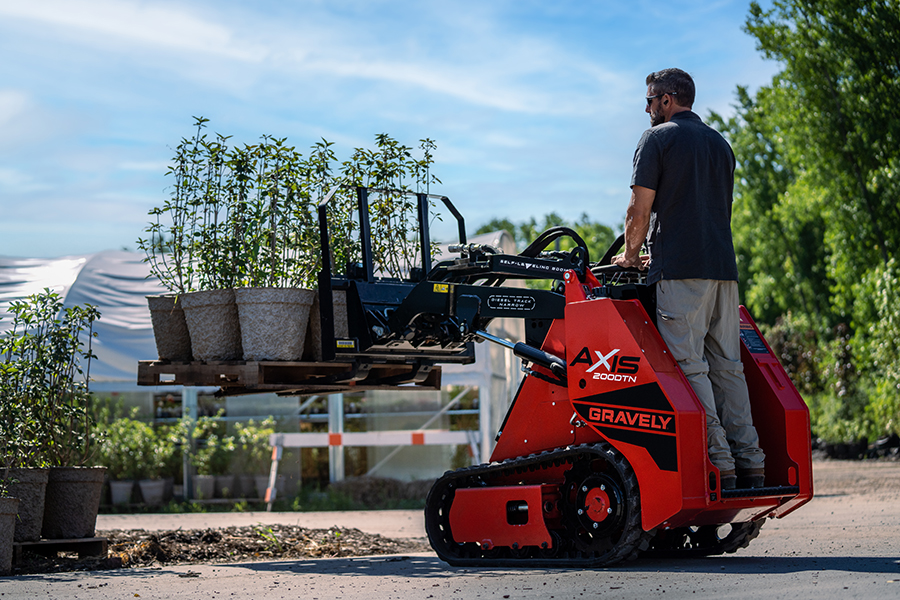 "We think this is a perfect extension of our Gravely product line," said Dan Ariens, chairman and CEO of AriensCo. "This multi-tool piece of equipment is great for hardscape work with accessories like a tree auger, stump grinder, pallet forks, etc. It's a powerful tool but is small and compact so it can fit through a gate and can be hauled on a trailer with other mowers. We think it will be a great offering for commercial landscapers, making the construction of water features, retaining walls, and other architectural items much more efficient."
Go anywhere, do anything
The new product line will also undoubtedly be of interest to the agricultural market, where farmers, ranchers, and homesteaders will likely be attracted by its cost-efficiency and versatility for tasks such as digging, loading and trenching. Its value for light construction tasks can't be overestimated, as some people are avoiding high real-estate prices and expanding their own properties by excavating basements or digging foundations for rear extensions.

As with many of AriensCo's other product lines, there will undoubtedly be a strong appeal to the residential customer — whether as a rental or an aspirational purchase that simplifies and speeds up a multitude of common tasks around larger properties.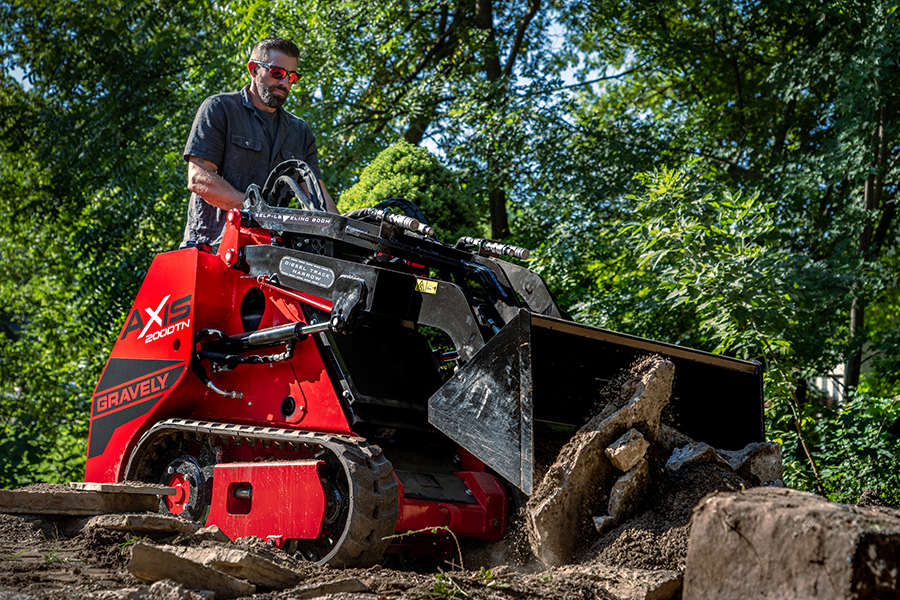 Cross-border colleagues
Al Downey and Leon Butterfield, owners of A-L Parts, Inc., which purchased Thomas Equipment in 2013, will continue to remain invested in the new compact utility loader line, with production of the Gravely-branded models continuing in their well-equipped facility in New Brunswick, Canada. AriensCo will provide management support for the production ramp up.

"The AriensCo Team is professional, pleasant, easy and comfortable," Butterfield said. "We met with many other companies, but it just never felt right. When we spoke with Larry (Weyers, AriensCo president and COO) that first time, we hit it off immediately. There was just something about AriensCo; something driving the conversation that was far more genuine than we had experienced."

"We knew right then, this company's core values are what they embody and live by, not just words," Downey added. "And it's been like that with everyone we have met and worked with throughout this entire process. Words cannot express how excited I am to get this going."

Having introduced the world's first hydrostatic-drive compact utility loader in 1969, Thomas Equipment has manufactured high-quality outdoor equipment for much of its 79-year history. From its origins as an agricultural repair business founded in 1943 by three Thomas Brothers, the company quickly progressed into the manufacturing of agricultural and construction equipment. Unfortunately, during the early 21st Century, production of its popular eight-model, wheeled utility loader series came to an end.
What should we expect from the Gravely AXIS?
The AXIS will be a multi-tool machine that puts a heavy emphasis on "multi." It performs a ton of jobs but its main one is maximizing a crew's time in the field. With its list of attachments and capabilities, it's not a machine that will sit idle: pallet forks, general purpose bucket, 4-in-1 bucket, auger, stump grinder, brush grapple, etc. You can also customize its hydraulics to put its brawn where and when you need it. Simplicity has long been the mantra, along with an aversion to the use of electronics — in fact, Thomas claimed that its machines virtually never broke down, and saw much less downtime than competitors due to their quick and easy maintenance. Longevity was another proud boast, with many models still in use after 20 years, which is three to four times longer than rivals.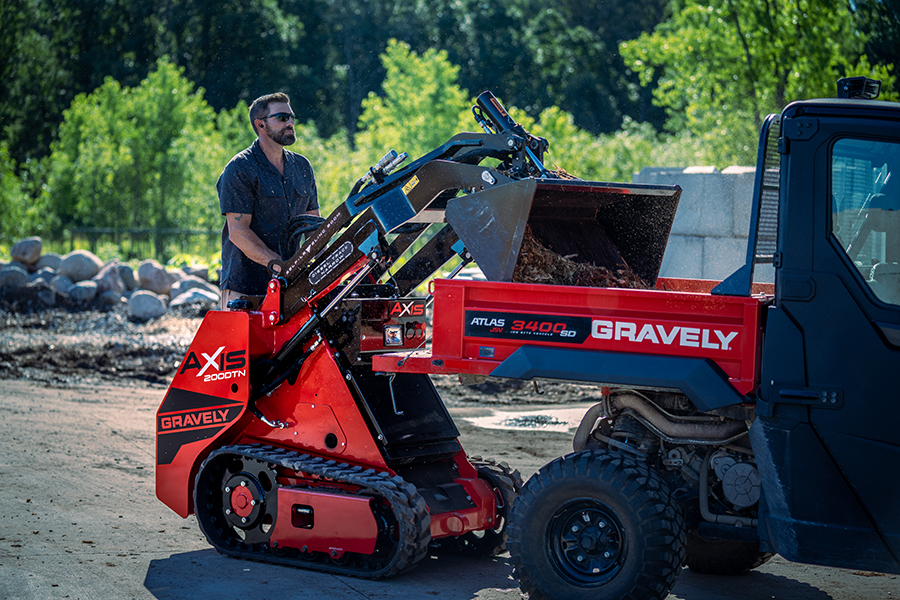 The last compact utility line Thomas Equipment designed highlighted the huge performance potential of compact tool carriers, with the 35DT offering greater breakout force than many full-size compact utility loaders, at 2090 lbf. Powered by a 25hp Kubota diesel engine and large-displacement low-speed high-torque motors, its 9-inch rubber tracks provided high stability, increased floatation and outstanding traction that supported true digging capability.

Offering more than 620 pounds of lifting capacity with a clever bucket self-leveling system, the 35DT was no simple lift-and-carry machine. A single joystick offered the operator easy control of both drive and hydraulic systems for maximum performance and productivity, and a wide range of attachments were compatible with its universal attachment system.