Sidan will celebrate 50 years of partnership with AriensCo this fall. Located less than 65 miles from Milan in Brescia, Italy, Sidan is the exclusive distributor of Ariens snow removal and lawn and garden equipment in the country.

Owner Danilo Sivini has been an integral part of Sidan since 1982, when he joined his father, Mario, in the family business. Today both father and son continue to work together as their business grows beyond its deep roots in snow removal and expands its roster of grass offerings.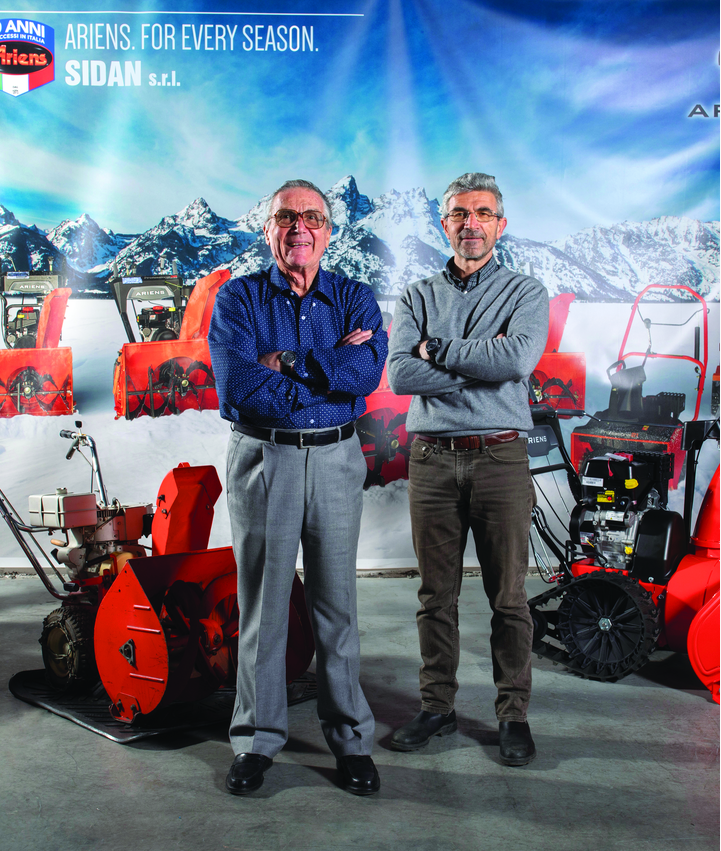 When Sivini joined his father to help run the business (then called Ditta Sivini Mario), he focused primarily on customer management and sales. He worked to evolve the company with advances in marketing, exhibition, point-of-sale systems and new communication methods. As he got more involved in the company, his father scaled back. In 2012 Sivini took the helm, and the company was renamed to Sidan (derived from Sivini Danilo).

"As the founder, my father is still very committed to the company," he said. "At 89 he can't travel as much, but he still comes into the office and is in charge of the accounting and billing. And of course, he knows all of the customers."

What started nearly half a century ago as a supplier of snow removal equipment, Sidan now works with a network of 200 dealers that sell both snow and grass equipment to residential and commercial customers.

Snow removal equipment and maintenance remains the bulk of Sidan's business — up to 70% to 80% of its revenue in a big snow year. Not only does Sidan provide the widest selection of snow removal equipment in the region, but the company's location in northern Italy near the Dolomites and the Alps is a key factor.


Exceptional customer service helps, too.

"I have customers who have said, 'You are the only one delivering snow blowers during Christmas vacation,'" Sivini said. "The snow doesn't care that it's Saturday or Sunday or lunch or midnight. We have to deliver these machines as soon as possible and continue to support them. The snow doesn't take breaks."

According to Sivini, last year was a typical season with adequate sun and rain, so the pandemic didn't have a negative impact on the lawn or snow removal business. "Pandemic or no pandemic, the weather is going to happen and the grass is going to grow," he said.

Yet one of the big takeaways from the year spent at home is something Sivini didn't see coming: a renewed appreciation for gardening in communities and higher equipment sales to go along with it.

"This was a big surprise, because in general, we often talk about how there is a certain lack of passion for the garden," Sivini explained. "And yet with COVID-19 keeping most people at home, they spent more time in the garden and they realized they like it!"

Massimo Caner, AriensCo international sales manager, works closely with Danilo and added that with Italians stuck at home, the money they would have been spending on entertainment and travel was redirected to home and garden.

"They started upgrading their machines and they were ready to spend a little bit more for units that offered features such as lower noise, more comfort and ease of driving," Caner said.

Both Caner and Sivini anticipate the home garden upturn will continue through the spring and maybe summer, but as soon as it's safe to go out, Italians will resume their spending outside of the home.

"The Italians like to have a drink after the workday that we call an aperitivo, and I think as soon as we can be together again, people will be spending their time and money going out like before," Caner predicted.

A boost in gardening sales wasn't the only pandemic-driven business shift. For starters, one of the big differentiators for Sidan is the company's focus on live demos, which were suspended last year. With lockdowns in place, the company had to pivot to virtual product demonstrations, and it set up a small showroom with video equipment.

"We have an employee whose sole job is to do demos, which is not something our competitors offer," Sivini said. "And we are willing to do demos 365 days a year."

Sidan employees had to adapt quickly to working remotely. What started with simply bringing their laptops home expanded into a larger commitment by the company — one that included purchasing new printers and scanners, along with a transition to virtual meetings. One practice that has remained in place is the mid-day lunch break, an Italian tradition, from noon to 2 p.m.

"Because of restrictions on how many customers a retailer could have in the store at a time, dealers didn't want our sales reps physically in the store," Sivini explained. "The dealers and the sales reps had to change their way of working together from in-person to email, which wasn't something they were familiar with."

On the upside, instead of time spent on the road visiting a few dealers, the sales reps could reach many more customers via email. On the downside, the face-to-face sales experience was lost, limiting the ability for a sales rep to engage in deeper conversations. One interesting outcome of this, was that dealers primarily sold the models they were already familiar with.

"We had a good season, but we did see a trend where those dealers who were more familiar with the Ikon 42s, for example, sold mostly Ikon 42s," Sivini said.
A grassy future
With exceptional customer service and quality products at its core, the future looks positive for Sidan. With an eye towards continuing to expand its grass business, Sivini said he thinks the company will see an expanding niche for steep slope, high-grass cutting. He also said he believes there will be an ever-growing focus on battery-powered equipment, both for zero-turns and garden tractors, to reduce emissions and noise pollution and to increase comfort.

Sivini is well aware of the unpredictability of snow seasons from year to year and wants to invest more time on the grass side of the business for stability. A dry season may decrease lawn business by 15 percent, as opposed to the much wider fluctuations that occur with snow.

Caner is looking forward to helping Sivini with this effort.

"In 2018 we had more limited product lawn and garden lineup, but in the last few years we have increased our zero-turn offering and we will soon be introducing new rear discharge decks, rather than side discharge," Caner said.

"While snow removal should be the icing, lawn and garden should be the cake of the business. AriensCo's mission is to give Sidan the best product lineup to meet that goal."

Sivini smiled: "I agree!"