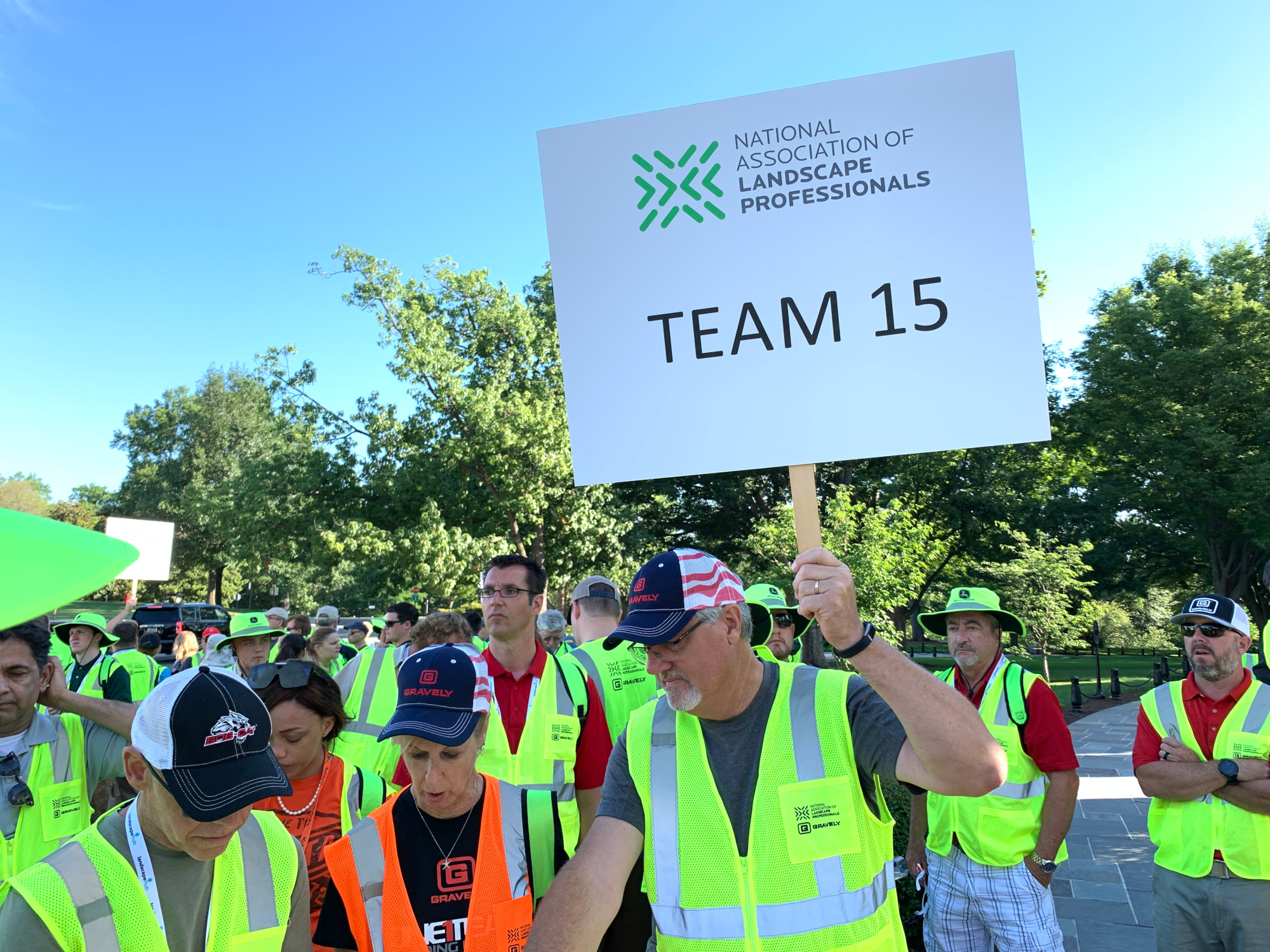 On Monday, July 15, AriensCo joined nearly 600 volunteers from across the landscaping industry to participate in the 23rd annual Renewal and Remembrance in Arlington National Cemetery. Since 1996, the National Association of Landscape Professionals (NALP) has called on equipment manufacturers, landscape contractors, irrigation specialists, hardscape installers and their families to participate in grounds beautification at the resting place of over 400,000 U.S. service members and their spouses. The cemetery, which is operated by the U.S. Army and the U.S. Department of Defense, is located just across the Potomac River from Washington, D.C. in neighboring Arlington, Virginia.
Though mid-July in the nation's mid-Atlantic region is usually sunny and oppressively hot and humid, it doesn't stop the aeration, pruning, liming or hardscaping projects across the cemetery's 624 acres. With sponsorship dollars and donated equipment, 19 teams, including a supervised children's team, started their mornings at the Memorial Amphitheater for the opening ceremony and welcome from industry leaders, event organizers and military personnel. After a group photo, teams of volunteers young and old boarded buses for transportation to their work areas where they picked up their equipment and began working.
As the largest annual volunteer event in the industry, organizers come prepared with a plan to not only do groundskeeping work, but to patrol the grounds with water, trash bags and safety kits to ensure the project is both safe and sustainable. Part of AriensCo's commitment in this effort was by sponsoring the worker safety vests, sunscreen, safety kits and by providing two Gravely® Atlas JSVs® used to deliver water to each volunteer section. After work assignments were completed, AriensCo volunteers stood watch over the waste receptacles at the lunch tent to ensure all papers, plastics and aluminum waste products were correctly sorted into recycling containers.
Though the event only lasts a few hours, the NALP's success comes from its strength in numbers. Each year, Renewal and Remembrance has grown, and each year, Arlington National Cemetery gets a little more special for those who visit to pay respect to a loved one that sacrificed for their country and our freedom. AriensCo is honored to partner with this project today and for years to come.
Scroll through the pictures below to see snapshots from the event. If you or someone you know would like to partner with the NALP and help advance the industry through workforce development, sustainability, volunteer projects and more, visit www.landscapeprofessionals.org.