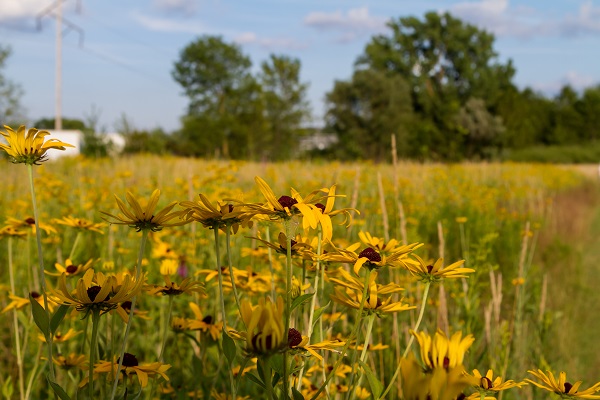 ​Ariens Company has been working to establish conservation projects on its 250-acre campus for the last several years, and all of the projects are coming into full bloom this summer. The campus includes all of the land around and between the company's two manufacturing facilities in Brillion, Wis., demonstrating how conservation efforts can take place alongside manufacturing and business.
Over the course of the past several years, improvement efforts to the company's campus occurred in many stages, beginning with an extensive five-mile walking trail (which is open to the public), followed by the installment of bee colonies , and ending with restoring much of the land back to its natural prairie state with the planting of hundreds of wildflowers. Throughout the process, more than 300 trees have also been planted on the property.
This year, Ariens Company took it one step further and planted a sprawling garden with an orchard of fruit trees on the property, with the goal of providing fresh produce to area restaurants and employees located at the company's corporate headquarters. While the garden is in its infancy, it has already produced a wide array of healthy food options for employees.
Employee volunteers this year are collecting their third harvest of honey from the nine bee hives located on the property. Ariens Company tends to more than 75,000 bees, which are expected to produce about 40 to 45 gallons of honey this season. The honey is then bottled and made available for sale to employees and through select local businesses. As the company's bee colonies grew larger and stronger, the need for more wildflowers and prairie was needed for pollination. This inspired the company to plant more than 11 acres of Wisconsin prairie on its grounds, as previousl y mentioned. The prairie flowers are currently at their peak with a wide variety of species lining the walking paths. ​
The campus also is home to a small pond, and employees at Ariens Company have recently put effort into restoring the health of the body of water by installing aquatic plants. The plants work to help maintain clean water and oxygen levels in the ecosystem.
For Ariens Company, this is just the beginning of its plans for conserving its campus' land. All of these projects are a great example of how manufacturing and conservation can exist – literally – side by side.​