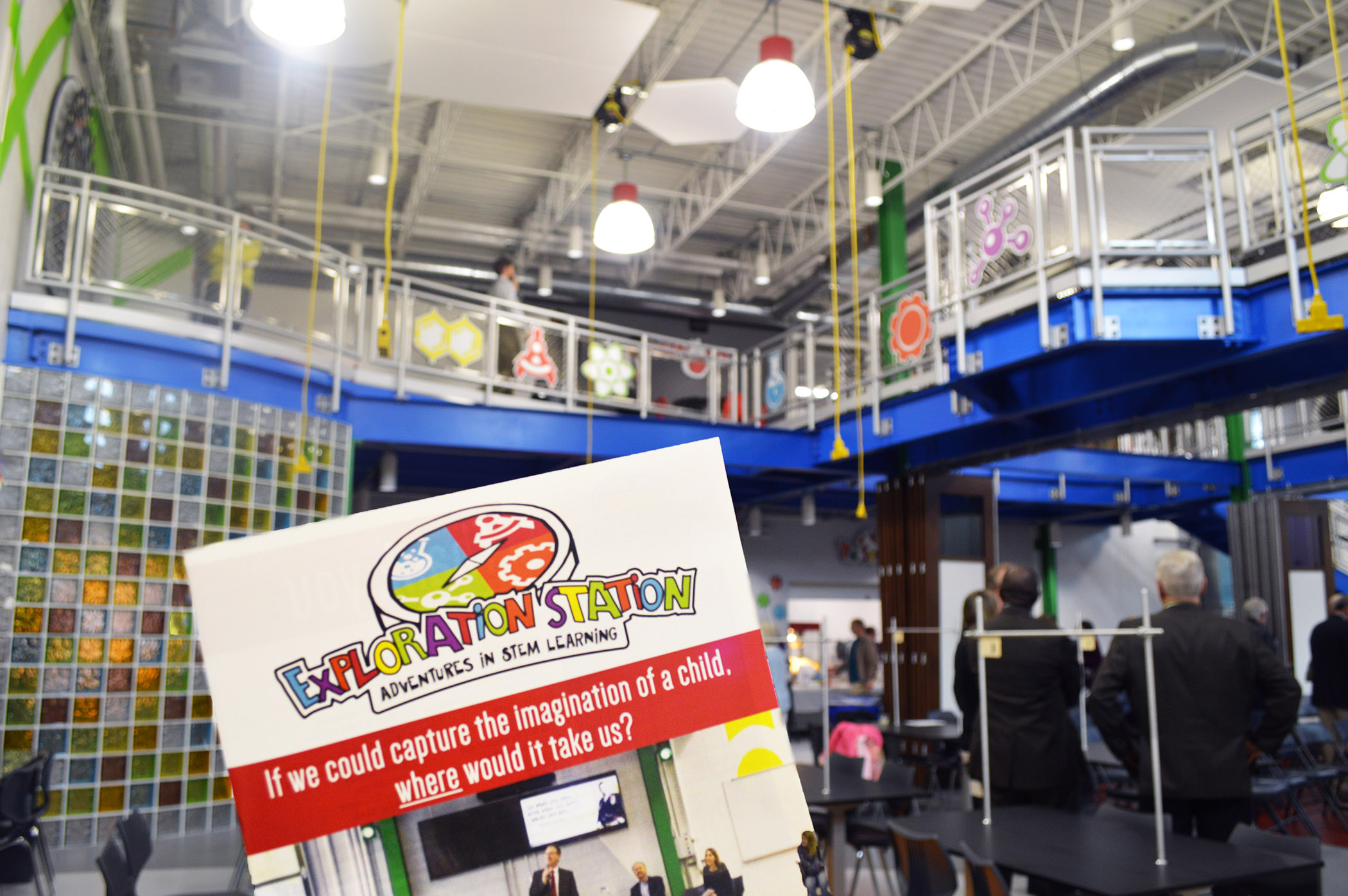 ​The Brillion School District hosted the dedication of its new STEM (Science, Technology, Engineering and Math) education center at Brillion Elementary School. The $1.5 million 'Exploration Station' is the centerpiece of the district's nationally-recognized STEM education initiative that began at the high school level in 2005.
The two-story, 5,000 square-foot multi-purpose area at the school has been re-built into a flexible and creative learning space where students can collaborate over hands-on projects, learn problem-solving skills, record data, and professionally present their results. Students and teachers have been using the facility since late January as they prepare for its first full year of use during the 2017-18 school year.
"Some people might be surprised that we start STEM education in kindergarten but we have found this is the perfect age to learn STEM and start teaching problem-solving skills," says Dominick Madison, Superintendent for the Brillion School District. "Young people come into school and they are extremely creative. They haven't been told 'no.' When you challenge them with problems they come up with solutions you would never expect."
The new facility allows for an integrated approach to learning where all subjects can be taught together so that a project might include science and math but also other subjects like English and music.
"This new Exploration Station allows students to be active in their own education. This space has made it possible for students to work together, to move around, to use tools and to present hands-on projects," says Elementary Principal, Carrie Deiter. "We see students who were not excited about school previously begin to thrive with the way they are asked to think and learn in the STEM classes, and that is very exciting."
The Brillion community has rallied around this integrated approach to education. Brillion voters approved $350,000 for the project in a 2014 referendum. The Ariens Foundation and the Endries Family Foundation​, both of Brillion, each contributed $400,000 to initiate private fundraising, and the final $355,000 was raised through company and individual donors from Brillion and throughout Northeast Wisconsin.​
"It's a credit to what the teachers have been doing at the Brillion schools that more than 140 local businesses and individuals have contributed to this effort," says Bob Endries, retired CEO, Endries International and current owner of Professional Plating. "When the education approach comes first it's easy to support the building project. Designing and building the space is the easy part in comparison to what the educators have done to update and re-vamp their methods and curriculum."
"I think we have only begun to see what these students are capable of accomplishing," says Dan Ariens, Chairman and CEO of Ariens Company. "I don't think it is a stretch to say that by the time these students reach the world of work, they are going to revolutionize the workplaces and the careers they choose, regardless of what field they enter."
Instead of focusing solely on skills for a particular science or technology field, the Brillion School District's STEM program focuses on teaching innovative problem-solving skills that can be applied to any job, whether a student becomes an engineer, a nurse or a machinist, according to Madison. This approach helps prepare students for work in an environment where technology advancements will continually change job requirements.
"Problem-solving skills like these students are learning will help us reduce the skills gap we are experiencing in this part of the state," says Ariens. "Regardless of which career students will eventually pursue, jobs in the future will require the ability to adapt to challenges and solve problems."
The Exploration Station is the newest feature the district's model STEM education program that began at the high school level in 2005 under the direction of Steve Meyer, Technology and Engineering Teacher and STEM Coordinator. The Brillion High School STEM center, known as the Ariens Technology and Engineering Education Center, was built in 2007 and has become a national model for STEM education. Since that time, the Brillion School District has hosted hundreds of visitors – educators, administrators, businesses – from communities throughout the country who want to learn more about the Brillion approach to STEM education.
"We know we have something special here in Brillion and we take that responsibility very seriously," says Madison. "This is a model facility where we can show others how we approach STEM in Brillion and how it can change the culture of your school and the culture of your community."​​