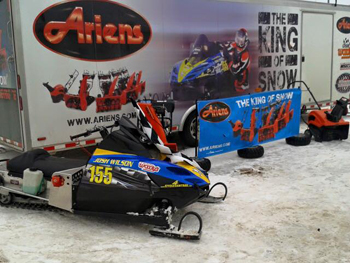 With a fully decaled trailer, Ariens flags flying overhead, and snow blowers on display for the crowds, Josh proudly represented Ariens Company at the AMSOIL INC. Eagle River World Championship Snowmobile Derby this weekend.
Here's a quick recap of the weekend's activities:
'Friday Night Thunder' was a packed house with warm temperatures, and the team spent the evening talking with Ariens fans and watching a few races under the lights followed by a fireworks display.
Saturday was race day! The final combined class pitted the best-modified 500 cc machines against the fastest production based 600 sleds. Typically the 600 cc's, like Josh's, are fast but often do not win because of the lightweight and better handling of the 500 cc sled - which makes this win extra sweet for Josh and his team.
"The whole team is so happy with two big wins at Eagle River," said Josh. "It's really wonderful to have backing from a great American company like Ariens. It was great to talk to all the customers and fans who came out to support us."
Having raced on the professional level for the past 9 years, Josh's carrier has focused mainly on the 600 class. However, he is starting to venture out into the faster, more exotic machines.
The weekend ended with another win in the Sportsman 600 Class Championship, making for a perfect weekend winning every heat and final race except for one.
Eagle River World Championships are held each year in January, attracting the best riders from around the world in a race to determine the best on an ice oval in their respective class. That person is crowned world champion of their class. This is the 52nd running of the Derby. Last year, Josh finished 2nd in the Sportsman 600 World Championship.
See below for Josh's upcoming races. Congratulations to Josh and Team Ariens!
Ariens Arrows 2015 tentative schedule
(Subject to change based on weather and injuries)
Jan 24th-25th USSA Wausau 525 races - Wausau WI
Jan 30th – Feb 1st ORA Alexandria Winter Spectacular - Alexandria MN
Feb 7th-8th USSA Frozen Clash at the Creek - 141 Speedway, Francis Creek WI
Feb 13-15th USSA Fire on Ice Races - Weyauwega WI
March 7th-8th Canadian Power Toboggan Championships - Beausejour MB