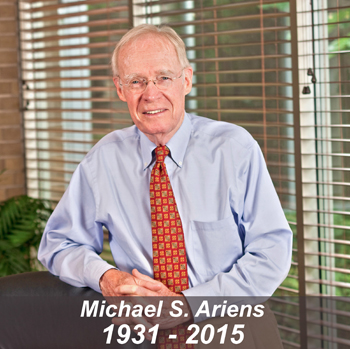 Mike Ariens loved the Ariens Company and the power equipment industry over the course of a career that spanned more than 55 years. He created a legacy of personal integrity that was the basis for his relationships with employee family members, power equipment dealers and distributors around the world. Manufacturing suppliers, and even competitors, considered Mike's standards for personal integrity, ethical character, and confident humility to be his greatest qualities. His career and his character exemplified the industry from its origins, when family businesses were at the heart and soul of so many power equipment companies. For all of his accomplishments, he never asked if you knew who he was because he always felt like he was privileged to know you.​
Growing a Family Business
Mike Ariens was Chairman Emeritus of the Ariens Company Board of Directors, past-President of Ariens Company and grandson of Company founder Henry Ariens. Mike joined the company in 1959, when the industry and Ariens Company was exploding as a generation of young American families began the greatest expansion in households ever recorded. He served as Ariens Company President from 1969-1992 and was Chairman of the Board from 1992-2014.
Mike graduated from MIT (Massachusetts Institute of Technology) in 1954 with a B.S. in Business and Engineering Administration. He spent two years serving in the Army Corps of Engineers before earning his Master's Degree in Business Administration from Indiana University. He joined Cummins Engine Company working for Chairman of the Board, J. Irwin Miller in Columbus, Indiana. It was just then his father called and asked for help. Skeptical of joining the family business run by his father and three uncles, Mike left an emerging career at Cummins to join the family business. Underlying his hesitation was a vivid memory of his father and grandfather having lost another family business during the depression in 1931. It was from the ashes of that company, the Brillion Iron Works, that Ariens Company was established in 1933.
When Mike joined his father in 1959, Ariens Company had revenue of just beyond $1 million in sales. The company experienced significant growth and expansion under Mike's direction. He managed the business through several acquisitions, hundreds of product launches, tremendous maturing market shifts and, of course, the un-predictability of the weather. One of the most successful and enduring product introductions under his direction was that of the Ariens Sno-Thro®. Of course, he loved nothing more than a great big snow storm – especially in Boston.
The most significant acquisition for the company came in 1982 when Mike led the acquisition of the Gravely® brand with its two-wheeled and four-wheeled tractor product. The strategy was to enter the emerging commercial grounds care business which ultimately proved insightful and tremendously successful decades later.
As a leader, his most endearing quality was the one-on-one relationship he had with each member of Ariens Company. Many remember his personal visits on the day of their company work anniversary. Mike spent part of each day thanking employees for their years of commitment to the company. In 2013, when asked why he spends so much time to say thank you to employees, Mike responded, "From my point of view, it's a requirement. You take the lives of a lot of people, we invite them into work, and they work every day … the least we can do is thank them for the commitment made to the company. And try to make it comfortable, make it worthy and recognize that it takes work on everybody's part. And that's just the way I think."
In November of 2014, he was recognized for his 55th year with the company by the people he considered his second family. Employees honored him with a fitting tribute to all his years of thankless appreciation.
Passion for the OPE Industry
One of OPEI's (Outdoor Power Equipment Institute) longest-serving board members, Mike took on every leadership role possible, including Chairman, Vice Chairman, Secretary and Treasurer. He also chaired a number of committees and task forces for the organization. Over that time, he took the lead on several high profile initiatives.
In the early 1980s, Mike made presentations to the Consumer Product Safety Commission and tried to initiate a more orderly conversion to new safety standards. He led the fight on behalf of manufacturers and dealers for a rational transition. He was also a pioneer in blending rational business compromise among the engine manufacturers and consumers through several landmark emissions standards initiatives. And he was a strong advocate for the creation of EXPO event, forming the OPEI's own exposition to showcase products and the industry.
Family and Community First
Mike, Mimi and their family are inherently linked to his business persona. Mike and his wife Mimi raised nine children with 23 grandchildren. As the third-generation family leader of the company, Mike also provided guidance for a smooth succession to his children, so the company could remain a family business.
As only Mike would say in his self-deprecating manner at his 40th anniversary, "A career of forty years doesn't pass with either a continuous flow of success or a series of failures but rather is a variable travel of luck, vision, pain, hope and sacrifice … I've had a great trip, much as a result of choices that were made for me as the choices I've made for myself."
Throughout his career, Mike dedicated time to serve on the boards of many business, civic and philanthropic organizations. Some of these include WPS Resources Corporation; Schneider National, Inc.; U.S. Oil Company; Calumet County Bank; Interstate Corporation; L.M. Becker Company; Wisconsin Manufacturers & Commerce, Massachusetts Institute of Technology (Education Counselor); St. Norbert College (Board of Trustees); St. Mary of the Woods College; Catholic Diocese of Green Bay; Catholic Foundation of the Diocese of Green Bay.
As a lifelong runner, Mike was a role model for fitness and an advocate of preventive health measures. In 2008, as part of the company's 75th anniversary celebration, the company dedicated the "Trail for Life" in Mike's honor. The Trail, which is open to the public, winds through an undeveloped portion of the Ariens property in Brillion, Wis. forming a total walking trail distance of 5.3 miles.
Mike is survived by his wife, Mimi, of 58 years; children Michael II (Renee), Daniel (Julie), Margaret (Marty) Denten, Kathryn (Mike) Martell, Peter (Didi), Mary (Emo) Dellanina, Christopher (Israel), and Andrew (Brooke); and 23 grandchildren.
Mike leaves with us a legacy of his personal leadership style… a strength of character that people who work with him want to emulate. As a leader he was thoughtful, and insightful with a great sense of humor. As a businessman he was pointedly committed to the company's purpose: to care for our customers like they were part of the family. He was a diplomatic and fair negotiator and respectful of everyone he worked with. His combination of integrity, professionalism, and courage of conviction are examples for all of us that will be remembered for a long time to come.
Click here to read Mike's obituary.