Ariens Company Recognizes Its Veterans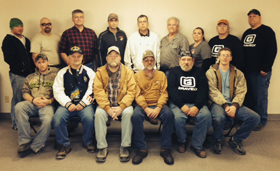 Here at Ariens Company, we are lucky to have a number of our nation's heroes employed as a part of the team in office and manufacturing locations across the country.

Our Auburn, Neb., facility celebrated today by displaying the American flag beside the names of employees who served their country. Hickory Road BBQ provided free pork sandwiches to all veterans in the community. The corporate offices and manufacturing plants in Brillion, Wis., also celebrated by recognizing all employed veterans and encouraging employees to sport their red, white and blue apparel.
According to Jeremy Mitchell, Safety Engineer at Ariens Company, "Veterans Day to me is a way to honor and celebrate all of those men and women in the past who have served our country, regardless if they have gone overseas, if they fought in the wars or if they have stayed at home. I have a lot of respect for them as I know what it takes to make sacrifices from your loved ones and friends and family. I would just like to say thank you to all the veterans out there."
On behalf of Ariens Company, happy Veteran's Day, and thank you to everyone who has served this amazing country. Your sacrifice has allowed us to continue doing what we love, and that is the greatest gift of all.
11.11.14