Two Ariens Managers Receive DOD Patriot Award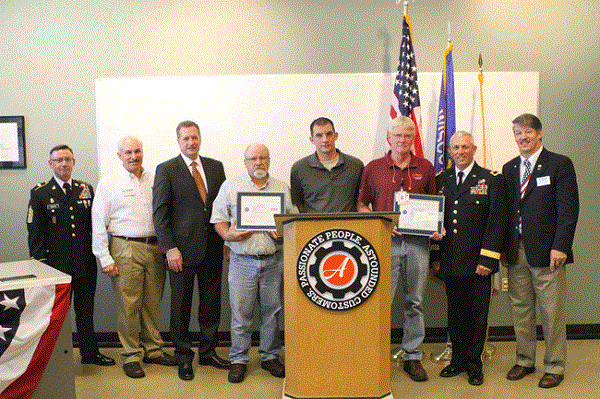 Ariens employee and Guard member, Cody Krepline, nominated the two for the award. Krepline is a Team Leader at Ariens and a Sergeant First Class in the Wisconsin Army National Guard. He has served in both Iraq and Afghanistan.
In his nomination, Krepline wrote, "My supervisors at Ariens develop exceptional people and build teams, while recognizing and honoring my military service requirement and supporting my family while I am away serving on active duty."
The three-time combat veteran has earned a Bronze Star, Meritorious Service Medal, two Army Commendations medals, three Army Achievement Medals, two Army Reserve Component Achievement medals, and a combat action badge among other recognitions.
"Dan, David and Cody have made this a very proud day for all Ariens Company employees. All three exemplify the company Core Values," says Dan Ariens, Chairman and CEO. "We also take the opportunity to publicly acknowledge our commitment to all employees who are active Guards and Reservists."
Dan Ariens signed a Statement of Support for the Guard and Reserve on behalf of Ariens Company as part of the event. Employers who sign the document agree to recognize and support Service members and their families and to provide company managers and supervisors with the tools they need to manage those employees who serve.
Brigadier General Mark Anderson, Assistant Adjutant General for Army participated in the award ceremony and addressed the crowd of Ariens Company employees.
08.11.14