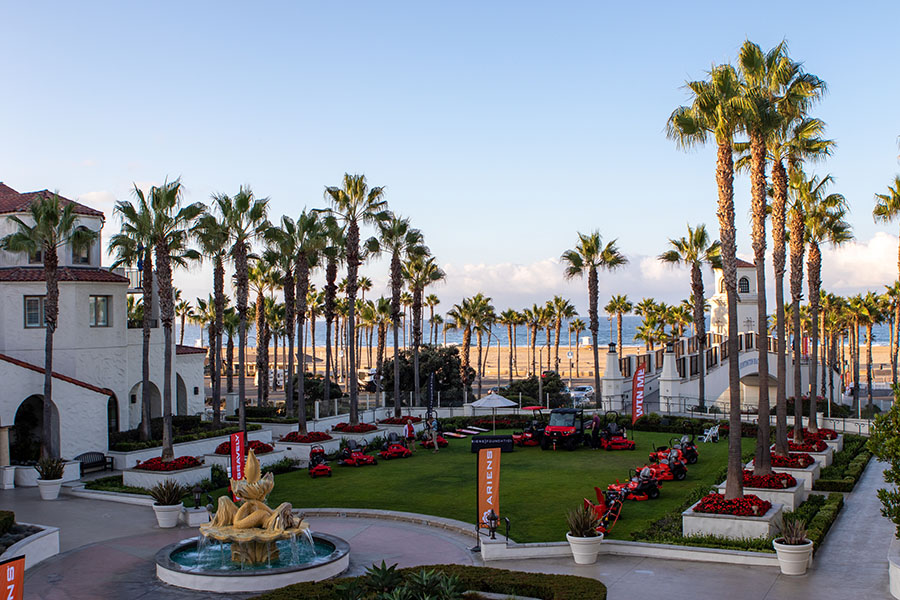 Every year, AriensCo and several of its dealer partners hold their annual meeting known as Dealer Summit. Summit is the culmination of a year's hard work by AriensCo, as well as our dealer partners. Though its primary purpose is a business meeting, it's also a very large production that highlights company and industry performance of the last year and reveals new business initiatives, practices, products and plans for the year ahead. Additionally, Summit is an opportunity to strengthen relationships. AriensCo employees, sales personnel and dealers from across the country and world converge in one spot where they can meet face to face, learn about each other, affirm each other's' successes and discuss game plans for working together in the future.
This edition took place in sunny California on Huntington Beach.
By the evening of Thursday, Sept. 19, Ariens and Gravely dealers from coast to coast and beyond had arrived at 21500 Pacific Coast Highway for a kickoff beach party with AriensCo executives, marketing, engineering and sales personnel. Rocking along to lighthearted tunes inspired by surf rock legend Dick Dale, the team enjoyed good food in the company of old friends and new. Teammates who had been working together for years but had only been acquainted through emails and phone calls met face to face, shook hands and started relationships.
Though it's hard to pry a group of hard workers, many of whom are too busy to schedule their own vacations, the first full day at summit was all business. To begin Prizefight, the 2019 AriensCo Dealer Summit theme, AriensCo Chairman and CEO, Dan Ariens, addressed the crowd with a recap of another successful, profitable and innovative year. The message: zero turn lawn mowers are better than lawn tractors – and the numbers prove it. Even with more competitive market share than previous years, demand for Ariens and Gravely zero turn lawn mowers continue to grow because homeowners are discovering the advantages of a zero turn compared to a lawn tractor.
Keeping commitments
After Ariens' opening remarks, AriensCo President and COO, Larry Weyers, and his staff highlighted their follow-through on AriensCo Core Value number five: keeping our commitments. One such example is the commitment to raising on-time equipment deliveries – made possible in part by the reinvestment into the AriensCo manufacturing plants.
All 350,000 square feet of manufacturing space in AriensCo Plant One is currently undergoing an overhaul as if it started as a blank slate. Dated manufacturing layouts are being reconstructed one section at a time, with no expense spared. Upgrading and revolutionizing the way outdoor power equipment is manufactured is turning assembly cells into more efficient assembly lines, replacing the paint system and adding more automation into the fabrication systems – all as the company looks for nearly 100 new employees to satisfy a fast-growing demand for Ariens and Gravely products.
The new equipment dealer program
Though reinvestment into the AriensCo manufacturing processes is captivating, the introduction of the new Pinnacle Program stole the show. The program, which is the first new equipment dealer sales program since AriensCo's revolutionary Partner Plus program debuted over 15 years ago, is designed to bolster the future of independently operated equipment dealers through enhanced margin opportunities that will lead to stronger bottom lines. With feedback from the AriensCo Dealer Advisory Council through its development, the Pinnacle Program offers varying levels of partnership, including an exclusive option which can provide more points in dealer margin on power equipment than any other manufacturer in the industry's segment.
Educational sessions
Though difficult to break away from California's temptations like the beaches and resort pools, AriensCo dealers come to Summit with the expectation they'll learn something. Not just the business state, but AriensCo has established a long-lasting tradition of offering educational sessions and business training to help dealers can come out of the gate swinging when they get back to business at home.
After general session's updates from executives on the power equipment industry on day one, dealers exited the grand ballroom for a vendor fair. Business partners who already have relationships with AriensCo were on hand to show dealers how their services, such as media purchasing, social media services and more that serve AriensCo, can serve dealer partner stores on individual levels. Those who started at the vendor fair then rotated to one of several educational sessions on IT security, the new AriensCo BrandCloud tool, the new Pinnacle Program and more.
Day two after opening session has more of the same educational opportunities on tools dealers can leverage to achieve growth and improved management of their businesses. These included using social media, auditing website strength, learning how to use Google Ads to grow their business and more.
New Ariens and Gravely products for 2020
A lot of Summit is introducing the new features within AriensCo business, but it's not limited there. It's also about the equipment that we develop for our dealers to bring to market. Though the official reveals on the new lawn mowers for 2020 won't be made until GIE+Expo in October, dealers had the opportunity to experience a last year and more of development on the demo site.
Like the new program and business news, new product and upgrades to our lines was very well received by dealers.
AriensCo awards
Besides recreation, relationship building, business updates and educational sessions of each Dealer Summit, the most exciting piece of the 48-hour gathering is the opportunity to honor the successes of the previous year. The hard work by AriensCo dealers is presented through awards for best performance by region, power equipment segment, as well as the President's and Chairman's awards to those who came out on top of their own Prizefight.
Scroll through to see pictures from this year's AriensCo Dealer Summit. If you want to get in on the excitement, click here to inquire how you can become an Ariens or Gravely dealer.