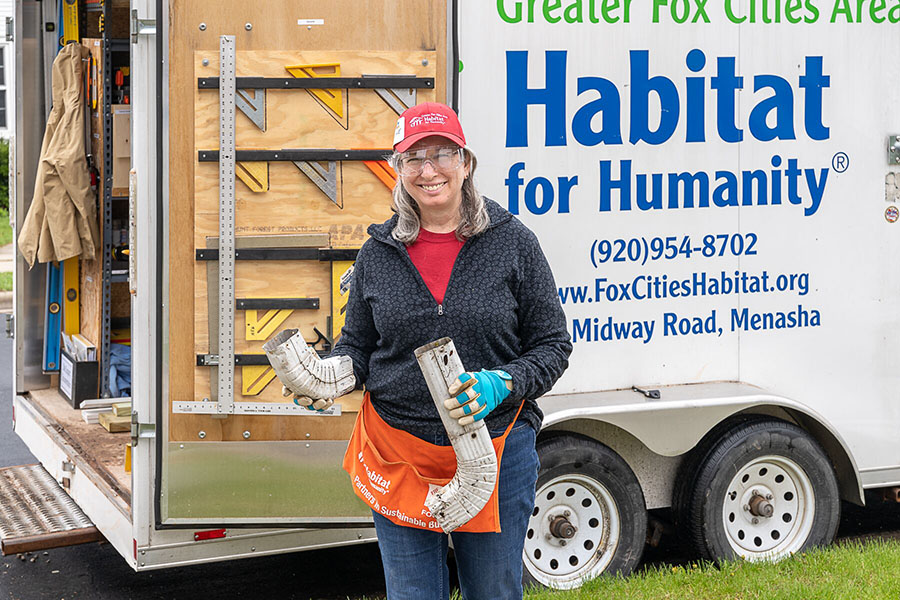 At the end of 2016, the Brillion Iron Works ceased operations and left its 342 hourly and salaried employees looking for new jobs. Though the closing of a major employer may have looked grim to outsiders, it did not shake the sprits of the small city's 3,200 residents who knew they could rely on community support to weather the storm. Just two short years later, the tide has turned for Brillion in a big way.
On Thursday, May 9, John Weyenberg, Greater Fox Cities Area Habitat for Humanity president, welcomed a group of over 400 volunteers to kick off Habitat's Rock the Block Brillion edition. Rock the Block is a community revitalization initiative that provides financially feasible solutions to lower-income homeowners who need help with critical home repairs, reconstruction and rehabilitation projects. Rock the Block's partnership with volunteers and local contractors allows most of these projects to be completed with minimum cost to homeowners and in a highly concentrated amount of time. For this event, most of the work was done in about two days. In addition to the 21 private residences that received improvements, enhancements were also made to 15 community properties like parks, schools and more.
The Greater Fox Cities Area Habitat for Humanity has been in existence since 1993, but its Rock the Block projects have only been around for the last four years. Traditionally, they've kept its focus to the immediate area of the Fox Valley, but with some convincing from local businessman, Bob Endries, community support and an organizing committee, Habitat agreed to try something new and bring Rock the Block to Brillion.
"Bob challenged us to think differently, and I appreciate him for doing that and our organization has embraced the idea and we laid out the groundwork," said Weyenberg. "We said Bob, here's what we need to make it happen and he said, John, well make it all happen, don't worry about it."
Endries, who has lived in Brillion all his life and knows its unique brand of community support, placed his bet in the right spot. Endries' friend and peer Dan Ariens, AriensCo chairman and CEO, was also eager to support and encourage a revitalization project in Brillion.
"This event taps into a tremendous amount of energy in Brillion, Wisconsin," said Ariens. "We're making a real important mark on what Northeast Wisconsin looks like and how a small community can turn a bad event into positive momentum."
In addition to the excitement around Rock the Block's kickoff, Brillion has more reasons to feel fortunate going into this century's roaring twenties. Aside from strong growth in existing employers like AriensCo, Ariens announced the development of a new business park on the property of the old Brillion Iron Works complex that will open doors of unbound potential for Brillion and the region.
Brillion Works Limited, which is strategically located central to several major Northeast Wisconsin cities like Appleton, Green Bay and Manitowoc, will accommodate a multitude of uses. Its location immediately off U.S. Highway 10 in Brillion sets the property up as a highly sought logistical setup for shipping in high volumes.
"We're kicking off the new Brillion Works, LLC," said Ariens. "We've got a lot of work in front of us with 142 acres and 19 buildings, but together with other efforts to address the community's needs with housing and events like Rock the Block, we're headed in the right direction."
Combined energy from Rock the Block, the Bazaar After Dark Brillion and the announcement of a new business park in the same week marks a turning point for Brillion. Just two years after rough news, Brillion now has the brightest outlook than perhaps any time in its history. Such a quick turnaround due in part to the spirit of those who makeup our Northeast Wisconsin communities.
Scroll below to see photos from the event.