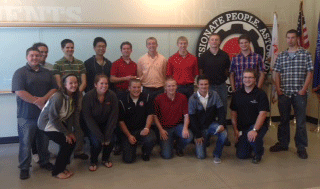 This summer, Ariens Company is excited to host 20 interns from 11 different universities around the country. They are an extremely diverse mix of students this year including both local and global participants. A student from China is working at our Brillion facility, while another intern represents his family's 4th generation as an Ariens Company employee. ​
Over 100 people applied for internship positions in Engineering, Industrial Design, Supply Chain Management, Value Stream Management, IT, and Human Resources.
To participate in our internship program, a student typically needs to be enrolled as a Junior or Senior at a university and work in a department directly related to his/her area of study. We also employ a number of students for the summer that are in high school or early in their college career who in various departments to help jump start their experience.
​
"Our internships exemplify our philosophy — 'Our Legacy, Your Future.' "It provides students a unique, hands-on experience to learn more about our company, reputation, and strong community ties. This allows them to build their resumes and prepare for future career success." states Alissa Beyer, HR Manager in Brillion.
According to Breck Byington, Industrial Design intern from Arizona State University, "I was attracted to the company's new-found focus on industrial design function. It's a great opportunity for me to have a direct impact on the company and products. I was impressed with Henry Ariens – he was a good industrial designer even before that phrase was invented. He cared about customers and had technical aptitude, which is what industrial design is all about."
The comprehensive internship program includes weekly one-on-one meetings with company leaders, mock interviews, kaizen experiences, performance evaluations, end-of-the-summer presentations to the Executive team, and extracurricular activities. Year after year, our internship program continues to provide top-notch learning opportunities for students that also benefit Ariens Company.