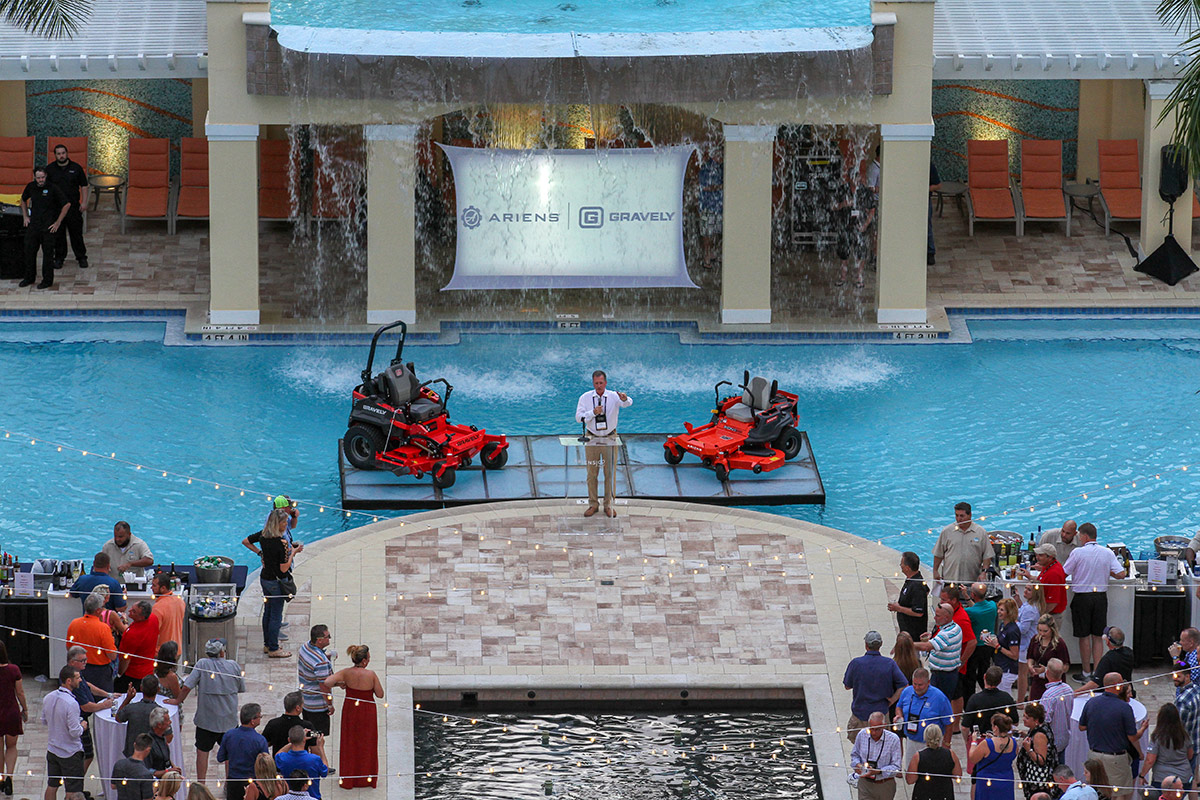 A ticket to the AriensCo Dealer Summit is nothing short of a treat. The event, which is held annually for more than 250 Ariens® and Gravely® dealers, is usually held at a resort and includes great food, networking opportunities and valuable presentations designed to enhance continued success at the dealership level.
This year's event was held at the Hyatt Regency Coconut Point Resort & Spa in Bonita Springs, Florida. Located on the Gulf Coast, it offers prime coastal cuisine, a private beach, exceptional golfing and just about everything else expected from a tropical resort. Unique amenities combined with a flanking of Ariens and Gravely brand collateral and products made it the choice setting for Liftoff.
Liftoff, the 2018 summit theme, isn't just an event, but an entire production. Though AriensCo has yet to strap a zero-turn mower or a Sno-Thro® to a rocket (someone call Elon Musk), Liftoff symbolizes the initiative of AriensCo to build on the momentum of the last year and use it to break through the atmosphere of industry leadership in the outdoor power equipment world.
Months of planning goes into summit's four-day agenda. New for this year was a day for the Gravely Ambassadors to get a sneak peek at new product. The ambassadors, who promote Gravely on their social media channels, tested and used equipment to create engaging web content for their followers.
Day two was the official kickoff. AriensCo Chairman and CEO, Dan Ariens, welcomed attendees at an outdoor cocktail party and dinner. The annual social gathering featured a live band and outdoor food stations in a casual setting.
Day three opened with general session – the official stage for AriensCo executives to personally update dealers with business announcements. This year's highlights were the introduction of RapidCare™​, the AriensCo service brand, an overview of new products and the unveiling of the new AriensCo corporate brand identity.
The final day is devoted entirely to dealers. Following a live question-and-answer session with AriensCo executives, dealers attended their choosing of more than 20 business development workshops presented by AriensCo sales and marketing staff.
To cap off the week, an awards banquet was held to recognizes dealers' efforts over the last year. Aside from awards in different categories for performance in regional top sales and top volume, coveted plaques are presented to AriensCo "Million Dollar Dealers," which, as implied, recognizes dealers who made $1 million or more in net sales. This year, 12 dealers were inducted into the Million Dollar Club, and 62 dealers were recognized overall.
Scroll below to see photos from Liftoff.